Investing in continuous learning and development of employees leads to effective task performance, and a more productive, effective and harmonious organisation. Get the 5 steps to maximise talent potential.
Developing Talent
Hiring and onboarding talent can be highly resource-intensive with tasks that include seeking out the right profile of individual to attract to your organisation, conducting thorough selection processes, and then designing on-ramp programs to ensure new hires develop effectively and efficiently in their new roles. My previous articles offered tips and insights into how organisations can attract and onboard the best talent in the market. However, it's at this point that many companies fail to realise the full potential of their new employees, who plateau or gradually lose their morale. Find out how this can be avoided by continuously developing the potential of your talent.
Investing in continuous learning and development of employees inevitably leads to tasks being performed more effectively, which in turn means a more productive, effective and harmonious organisation. An organisation's investment in developing its people can be a huge motivating factor for the employees themselves. LinkedIn's 2018 Workplace Learning report which surveyed approximately 4,000 employees globally, found that 94% of employees would stay at a company longer if it invested in their career. In turn, many of those surveyed highlighted the lack of opportunity to develop themselves as a primary reason for leaving a company.
As discussed in my previous article and demonstrated in Figure 1 below, once employees have gained a solid base of knowledge and on-the-job experience in their role, many would reach a peak in their performance and motivation, which, without further development, can lead to a dip in their productivity, morale and overall effectiveness.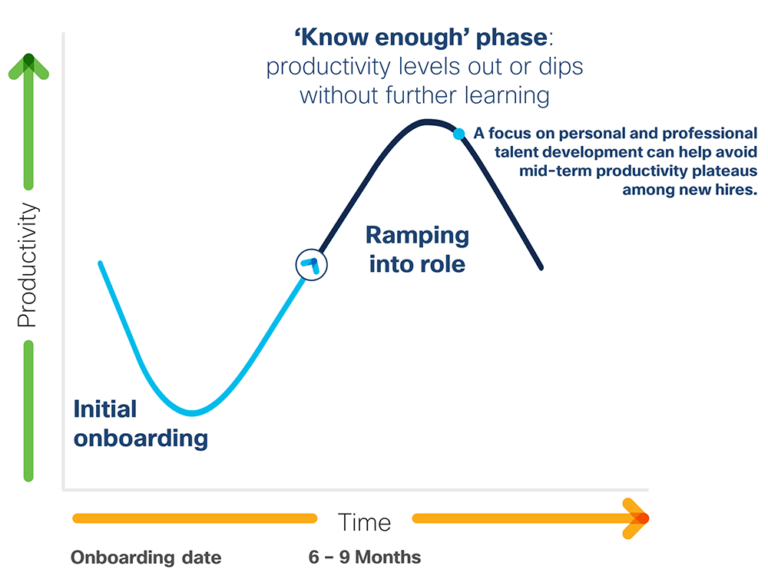 By offering diverse developmental opportunities to their employees throughout their career lifecycle, companies are investing in the future potential of their people, creating an environment that promotes self-improvement, breadth of experience and ultimately innovation. This can have an immediate positive impact on maintaining and building employee productivity. Both the financial and employee engagement benefits will far outweigh any associated costs of supporting personal development.
Whilst all this seems obvious, many companies of all sizes fail to create an effective environment of continuous talent development. Below are five practical steps any organisation should adopt to support development of their employees and maximise their talent potential:
1. Talent development must be a priority across all levels of management: Whilst most people leaders express commitment to developing their people, many simply fail to dedicate the time, or don't know where to begin. One on one revert to current business issues with development conversations being ill-prepped, rushed and with a failure to follow up. Managers, like anyone else, need coaching to excel.  Senior leaders must 'walk the talk' by coaching and supporting managers both in their own development, and in driving a strong culture of self-learning, role and career expansion across their teams.
2. Adopt a 360-degree approach to talent development: Whilst developing the core skills to do the job is essential, talent development is also about providing opportunities to expand, inside and outside of the employee's current role. Encouraging training and development across different functions, and soft skills as well as techniques to enhance personal and professional wellbeing, all play an essential role in supporting and motivating an organisation's talent.
3. Be forward-thinking and open-minded: To many organisations, talent development is about structured training courses that run at regular intervals. However, innovative organisations think beyond this. The World Economic Forum Future Of Jobs Report 2020 has predicted that 65% of today's jobs will not be around in 15 years. Developing your teams with skills that set them up for the future will help drive employee retention, but can also support innovation, and thus business longevity.
4. Empower your talent to shape their own development: Whilst providing a development framework is essential, give your teams flexibility in how they want to develop, as well as their methods of learning. In the digital age, training does not have to be face to face, or slide-based. Many individuals learn more effectively through short, often video-based content. Whilst it is critical for any organisation to help shape a learning roadmap aligned to its strategy, it is also essential to provide employees with access to a broad range of resources that support this development such as learning platforms and paid content.
5. Integrate learning into the employee experience: For any talent development strategy to be effective, it must be an integrated, supported and encouraged component of the overall employee experience. Employees should be supported in taking time to learn and develop and their managers should be reinforcing this regularly, offering ideas and approaches to integrate learning into the work day, as well as finding ways for these learnings to be reinforced and practised. LinkedIn's 2018 Workplace Learning report also concluded that 68% of employees prefer to learn at work, whilst almost two thirds want to learn at their own pace.
Managers at all levels have a responsibility to drive a culture of continuous development, which as we've discussed, can significantly enhance both an organisation's success and the engagement of its employees. However, many fail to capitalise on these benefits through lack of support, experience and resources, and in turn creating a 'missing link' in corporate and employee success. Just a few simple steps of investing in ongoing people development can lead to a more agile, innovative organisation underpinned by a happy, engaged workforce.
In the meantime, you can also browse my previous post for Cisco Viewpoints relating to Managing the Evolving Workforce or check out our most recent posts.
Connect with my team and me on LinkedIn here: