Technology is the building block of today's organizations. Whether it's the network that connects its people, the datacenters that store the information generated or captured by its assets, the workspaces that house its people, or the software that keeps workflows smooth, everything is driven by technology.
As executive leaders invest heavily in technology, they need to start seeing their sustainability goals through the technology lens. Businesses are under tremendous pressure from regulators, partners, and even customers to make progress on their sustainability agenda. – and conscious technology investments may hold the key.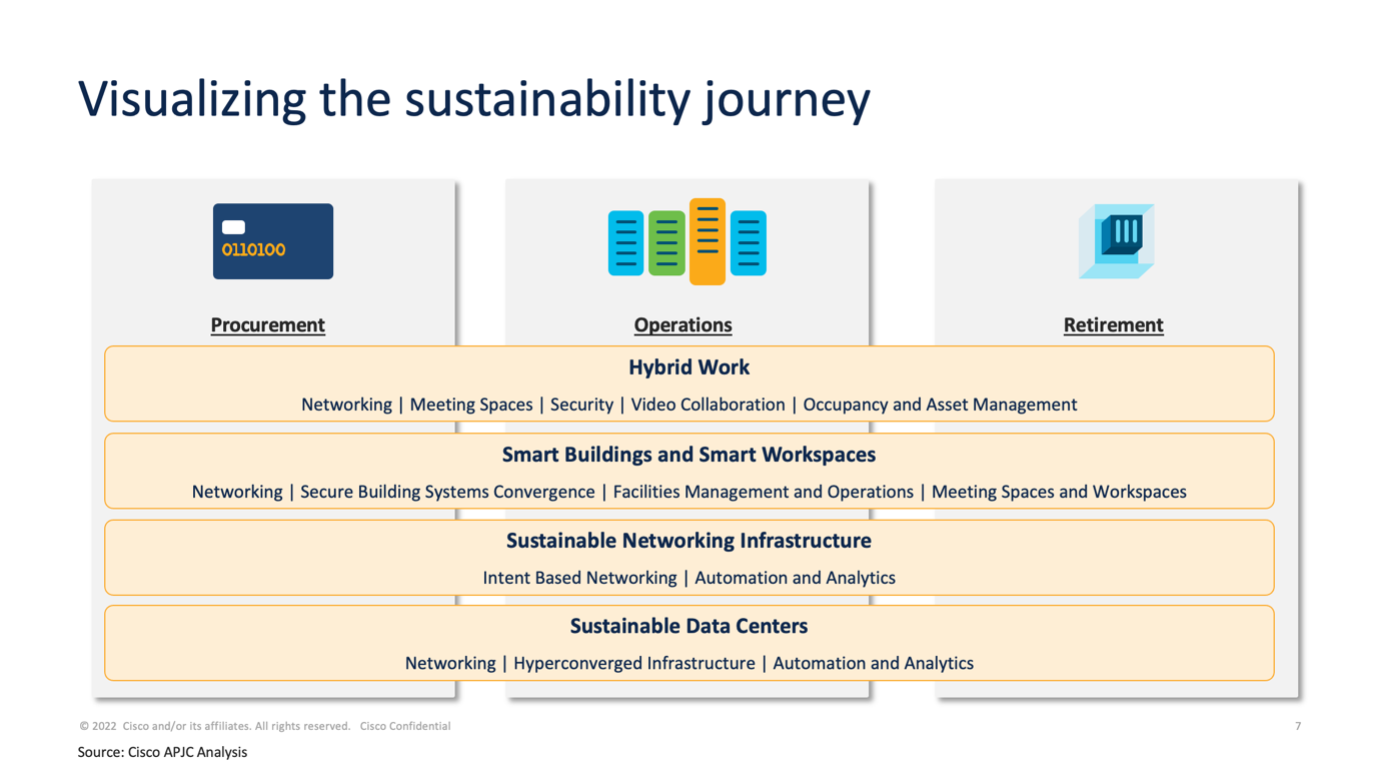 When you see through the technology lens, it is clear that achieving any sustainability goal begins with thinking about the three distinct phases of the technology lifecycle. Namely, procurement, operations, and retirement. Each one of them is equally important.
When you're procuring equipment for your data center, for example, you immediately think that the most important thing is to ensure that you assess products based on their energy efficiency ratings. This is good place to start. At Cisco, we are committed to playing our part in helping customers run a sustainable IT operation.
Cisco's data center products, for example, deliver 30% lower power consumption thanks to zone-based and liquid cooling and smaller nm chips that deliver higher throughput per watt.
But there's other avenues to help achieve sustainability goals as well. For example, the use of converged input-output leads to significantly reduced cabling needed, resulting in a savings in copper and fiber optics.
However, this is just one aspect. There are many other aspects that IT leaders should consider.  If you put your data center investments through the distinct phases of the technology lifecycle, namely, procurement, operations, and retirement, you'll realize that many other factors count towards sustainability. For example, in the procurement phase, it's probably worth thinking about the materials that go into making the product and towards packing it.
Cisco has committed to eliminating the use of virgin plastics, wet-based painting, foam- and paper-based packaging, and so on – all of which help customers see an immediate reduction in the carbon footprint of the products they're investing in. The result is a 'data center' that is built sustainably.
Finally, keeping the retirement of the products purchased in mind is important. Cisco, for example, has a strong takeback program that reuses or recycles 99.9% of products returned by customers. This helps avoid adding to the waste in landfills.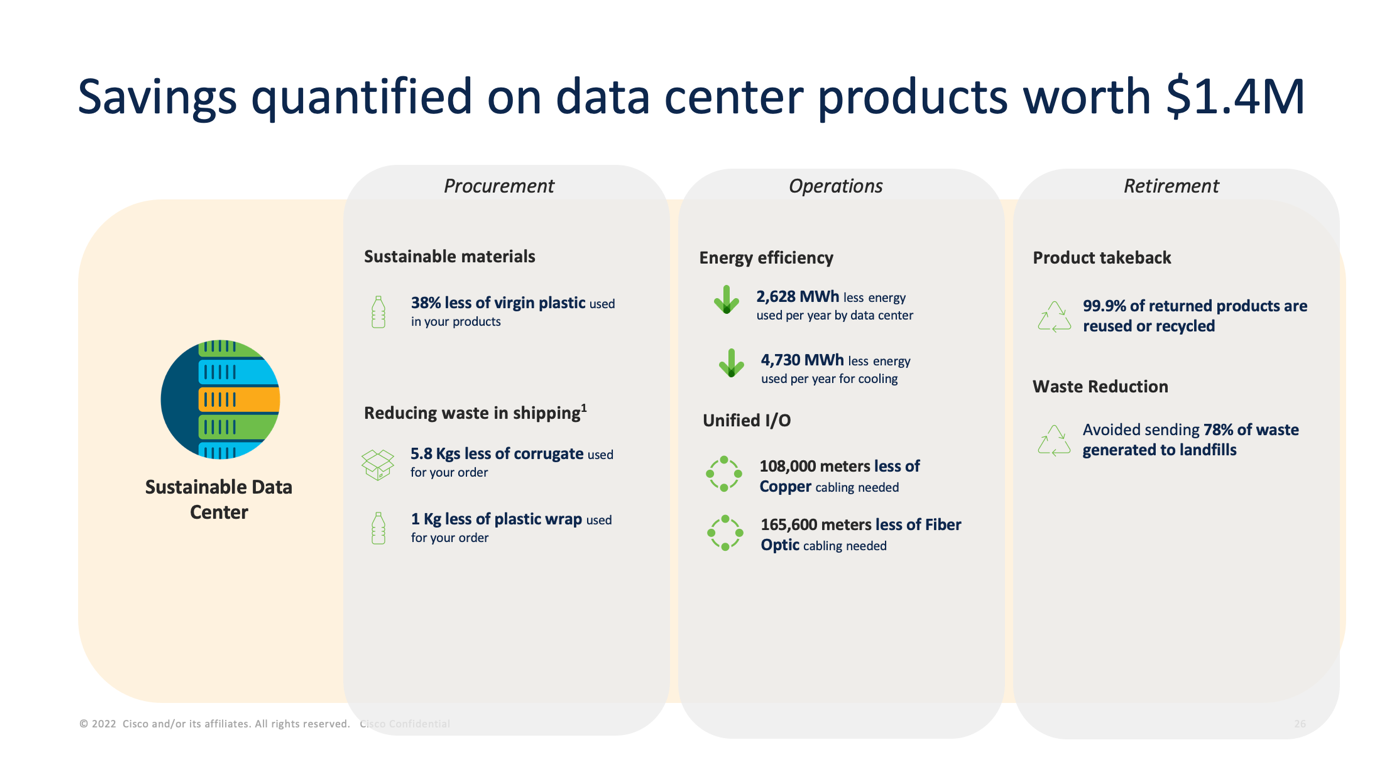 The approach discussed above pertains to data centers specifically – but the same approach can be used for networking infrastructure, smart buildings, and smart workspaces, and even hybrid work investments.
Together, these components make up the modern enterprise, and thinking of sustainability through the technology lifecycle lens, makes it possible for the organization to throttle to a state that is as sustainable as it is future ready.
The impact of the technology lifecycle becomes more pronounced when you factor in the GHG Protocol that I talked about in a   recent blogpost – where a focus on just the operations side of things helps achieve Scope 1 and Scope 2 emissions, whereas a view across procurement-operations-retirement helps see benefits on critical yet elusive Scope 3 emissions.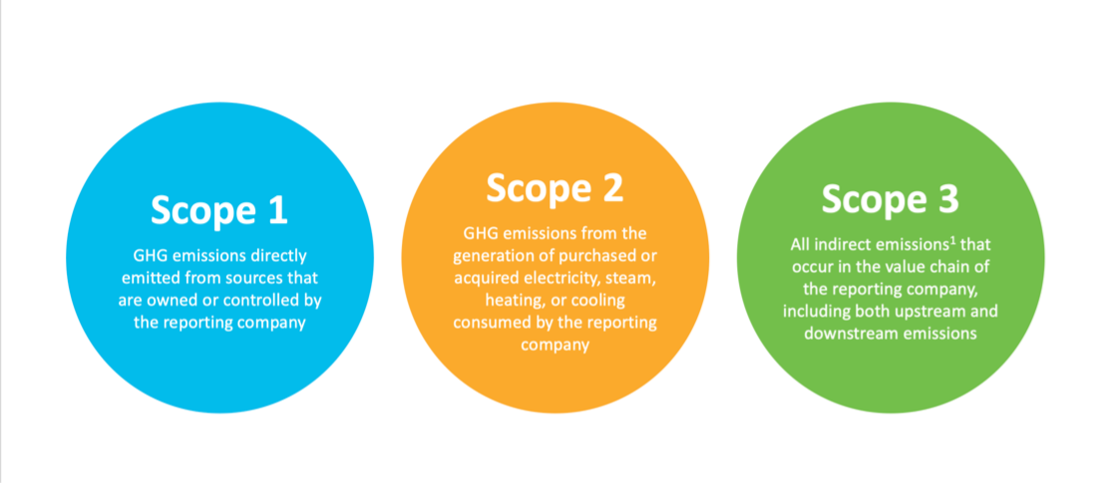 The journey to sustainability is easy with the right partners
Organizations that want results on the sustainability front, need to find the right partners. That's what moves the needle in terms of achieving sustainability goals.
Cisco is not only focused on creating products that help its customers become more sustainable but is also committed to reducing its own carbon footprint. This is reflected in the recent 2021 Cisco Purpose Report. Here are some highlights:
100% of the electricity used at Cisco facilities in the US, Canada, and several European countries comes from renewable sources
We've reused and recycled 99.9% of products submitted for product take back as part of the Capital Equipment Pledge
336,000 pounds of corrugate and 175,000 pounds of plastic wrap eliminated in our packaging shipped in fiscal 2021
We've avoided sending approximately 78% of the waste generated globally at our facilities to landfill in 2021
We've overshot our goal to decrease use of virgin plastics by 20% by 2025 and currently use 38% less virgin plastics
Further, Cisco is leveraging the technology lifecycle approach we've described above to achieve its own sustainability goals. Our facilities in New York City are now a global case study in leveraging technology to build smarter workspaces that not only support hybrid work goals but also delivers results on the sustainability front.
Per 100,000 square feet of floorspace, we've been able to deliver some amazing results. In the case of these  building, it is obviously the procurement and operations phases that matter. Here are some of the sustainability-focused benefits we see for ourselves and can deliver to customers:
Procurement / "Building" phase:

A saving of nearly 23,000 lbs of steel conduits
A savings of 1,000+ lbs of copper
An indirect savings of 11 Metric Tons of CO2 equivalent in materials
Savings of $3 per square feet in materials and labor
Up to 20% faster installs

Operations phase:

Energy savings of up to 27,000 kWh annually
An indirect savings of 24 Metric Tons of CO2 equivalent thanks to lower energy usage
Savings of $3,000+ annually in energy utility bills
Aside from these, sustainable buildings and workspaces built by Cisco's technology enables them to become eligible for sustainability stimulus funds offered by provincial and federal governments and also helps the facility earn the prestigious LEED Platinum and WELL Standards.
Going beyond the technology lifecycle
While the value of a good partner cannot be discounted, organizations that see the best results with their sustainability initiatives will be the ones that adopt the technology lifecycle and think through all phases of their next-gen investments.
As they move from building sustainable data centers and network infrastructure to investing in smart workspaces and buildings and re-imagining their hybrid work futures with hardware, software, and policies that enable staff to work from anywhere, they'll see increasingly greater benefits accrue to them – from a sustainability point of view and beyond.
To learn more about how you can fast-track your sustainability goals, check our resources here or reach out to Cisco now.