We each need to do our part to protect the planet – our green Earth, clear waters, and blue skies. The United Nations, the World Economic Forum, and governments around the world have agreed that organizations and industry need to come together to reduce increasing levels of carbon emissions in order to address climate change, and slowly, help reverse the impact around the world we all live in.
Increasingly, business leaders today understand the importance of sustainability. It is now top of mind for them, their customers, partners, and various stakeholders including investors.
While several international organizations have a voice in this space, the GHG Protocol has become among the most relevant as it creates frameworks to help businesses around the world measure and manage their emissions.
Born out of a partnership between the World Resources Institute (WRI) and the World Business Council for Sustainable Development (WBCSD), the GHG Protocol has created emission reduction targets, categorized in order of priority and impact, as 'Scope 1', 'Scope 2', and 'Scope 3' emissions.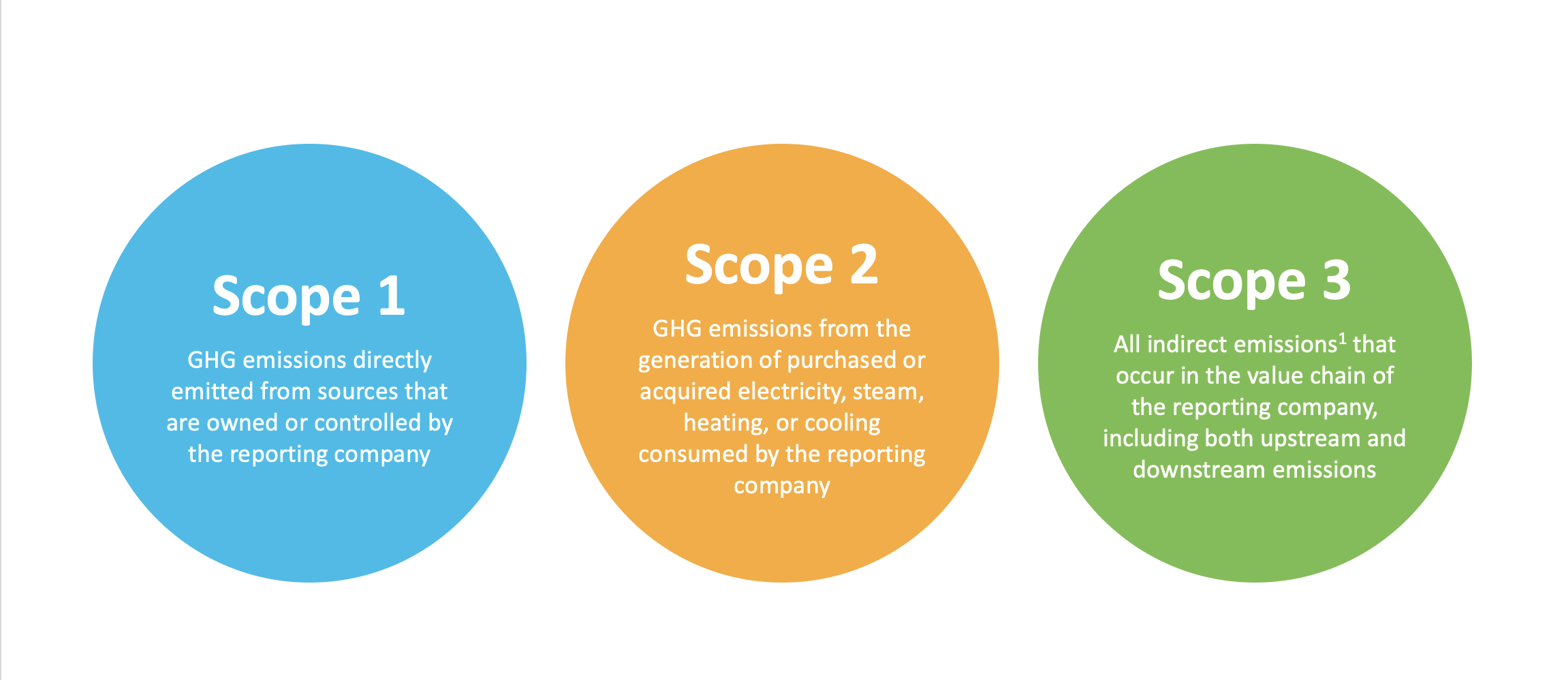 Cisco's efforts to become sustainable already show significant progress on all three scopes. We're on track to achieving net zero carbon emissions for all global Scope 1 and Scope 2 emissions by 2025 and aspire to achieve net zero carbon emissions across all levels (Scope 1, Scope 2, and Scope 3) by 2040.
In fact, there are a few recent milestones that the company is particularly proud of:
100% of the electricity used at Cisco facilities in the US, Canada, and several European countries comes from renewable sources
9% of reused and recycled products submitted for product take back as part Capital Equipment Pledge
336,000 pounds of corrugate and 175,000 pounds of plastic wrap eliminated in our packaging shipped in fiscal 2021
Avoided sending approximately 78% of the waste generated globally at our facilities to landfill in 2021
Decreased use of virgin plastics by 20% (FY18 base year)
Reduced total Cisco Scope 1 and 2 GHG emissions worldwide by 60% absolute (FY07 base year)
In the journey to net zero, however, Cisco understands that it has a critical role to play. One that extends beyond its own transformation.
Having spent the better part of a decade building a sustainable business, we're now in a unique position to help our customers accelerate their journey to net zero emissions as well.
Compounding the impact of our efforts to save the planet
Cisco has been an industry leader with regards to its efforts to become a sustainable business. As a result, our efforts have often been lauded by renowned industry commentators & analysts such as Barron's, CDP, Gartner, PACE, and even Dow Jones.

As a company, we've learned over the years that the journey to sustainability involves more than one path. As a result, we have leveraged a multi-pronged approach.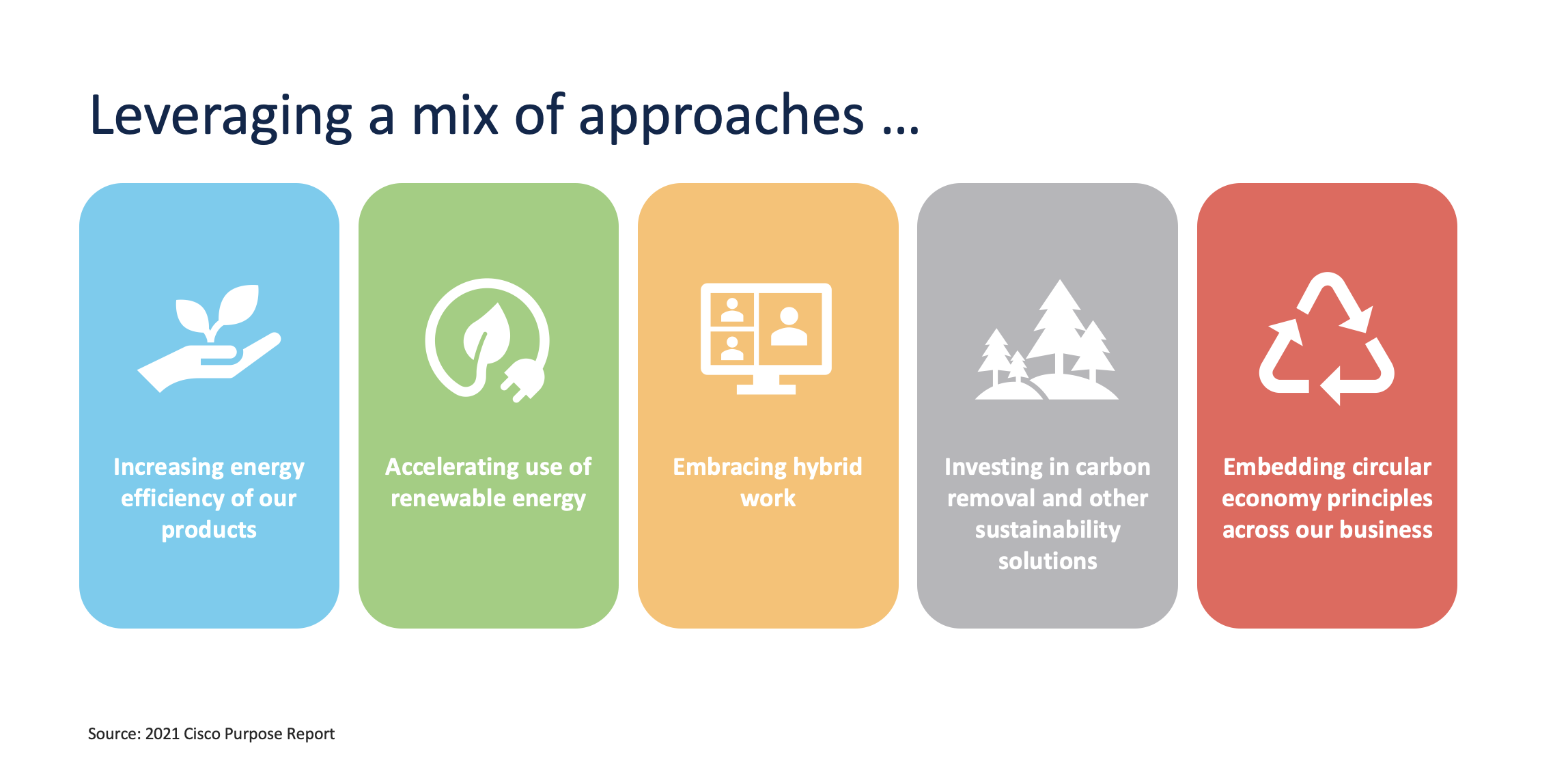 Increasing the energy efficiency of our products
We believe that organizations need to decrease their ICT energy footprint as well as reduce their energy consumption. That's why Cisco has been focused on improving product energy efficiency and decreasing energy consumption.
What's most inspiring to us is seeing this as an opportunity for us to help customers save on energy costs, lower their own GHG emissions, and reduce the global energy demand.
Customers also agree that our commitment to product energy efficiency also makes our products more competitive.
Accelerated use of renewable energy
As of the end of fiscal 2020, we have reduced emissions by 55 percent, and used electricity generated from renewable sources for 83 percent of our global electricity demand.
Our Global Energy Management and Sustainability (GEMS) team operates a holistic program for utilities, energy efficiency, and renewable energy called EnergyOps. This combined approach ensures that our priorities complement, rather than compete with, one another.
The team approaches energy and emissions reductions from both ends, reducing energy demand through efficiency projects while increasing our supply of renewable energy. We're also taking a thoughtful approach to procurement of renewable energy, applying a hierarchy that favors purchases that have the greatest positive impact.
Embracing hybrid work
We now live in a world where hybrid work has become the norm. Web-based communication and collaboration platforms reduce the need for business travel and commute which significantly cut down emissions.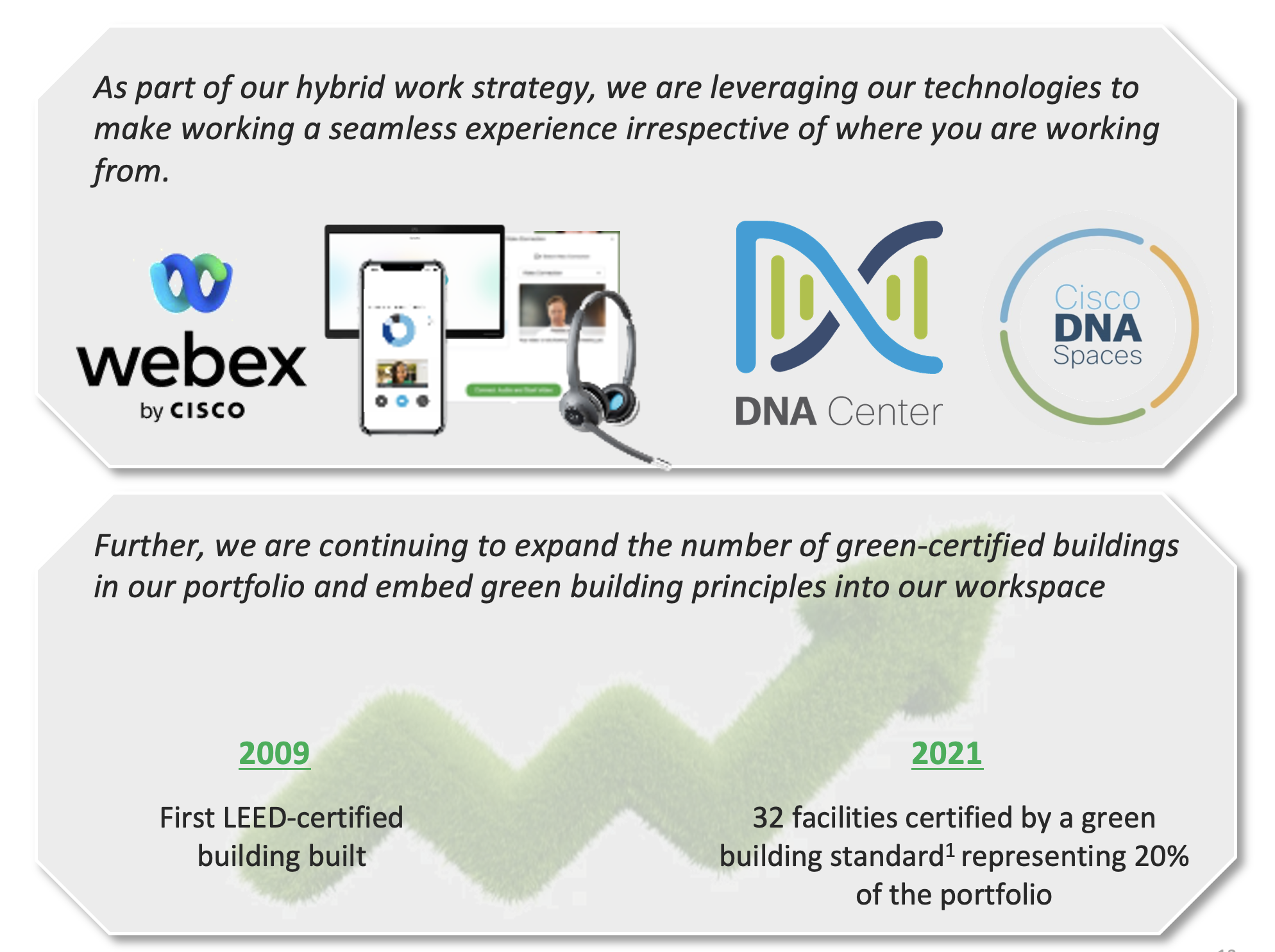 In pre-pandemic world, about half of Cisco's employees would go to office 4 to 5 times a week. In post pandemic, only 25 percent will go to office up to 3 times a week. This alone will result in great savings from an emissions perspective.
Investing in carbon removal and other sustainability solutions
The Cisco Foundation has commitment to spend $100 million over ten years to focus on innovative and/or imaginative climate solutions that drive forward net zero or circular/regenerative economies, and community education and engagement around climate, eco-awareness, and working toward individual habit change and effective collaborative action.
Cisco also runs the Global Problem Solver program to support important #TechForGood projects, with a special emphasis on innovations that drive sustainability.
Embedding circular economy principles across business
The traditional manufacturing model uses virgin materials to create new products. The circular economy, on the other hand, uses design principles to extend the life and value of materials and keeping them in use longer and in the system, limiting the need to extract new resources.
What was considered waste in a take, make and use 'linear economy', is transformed into a system where there is no waste, and all resources such as plastic, precious metals or electronics, are valued and returned into the lifecycle or closed-loop system – the circular economy.
Cisco is committed to embracing the circular economy at every stage of the product lifecycle. One hundred percent of our new products will incorporate circular economy principles by 2025.
Helping customers transform their sustainability agenda to milestones
Cisco has one of the broadest technology portfolios in the industry and can offer solutions that will help companies make progress with their sustainability goals across the value chain.
From providing advice on identifying the most energy efficient and sustainably built technologies, we offer to help customers optimize their operations for speed, energy, and more, to offering great programs powered by circular economy-based practices for when technology products need to be retired.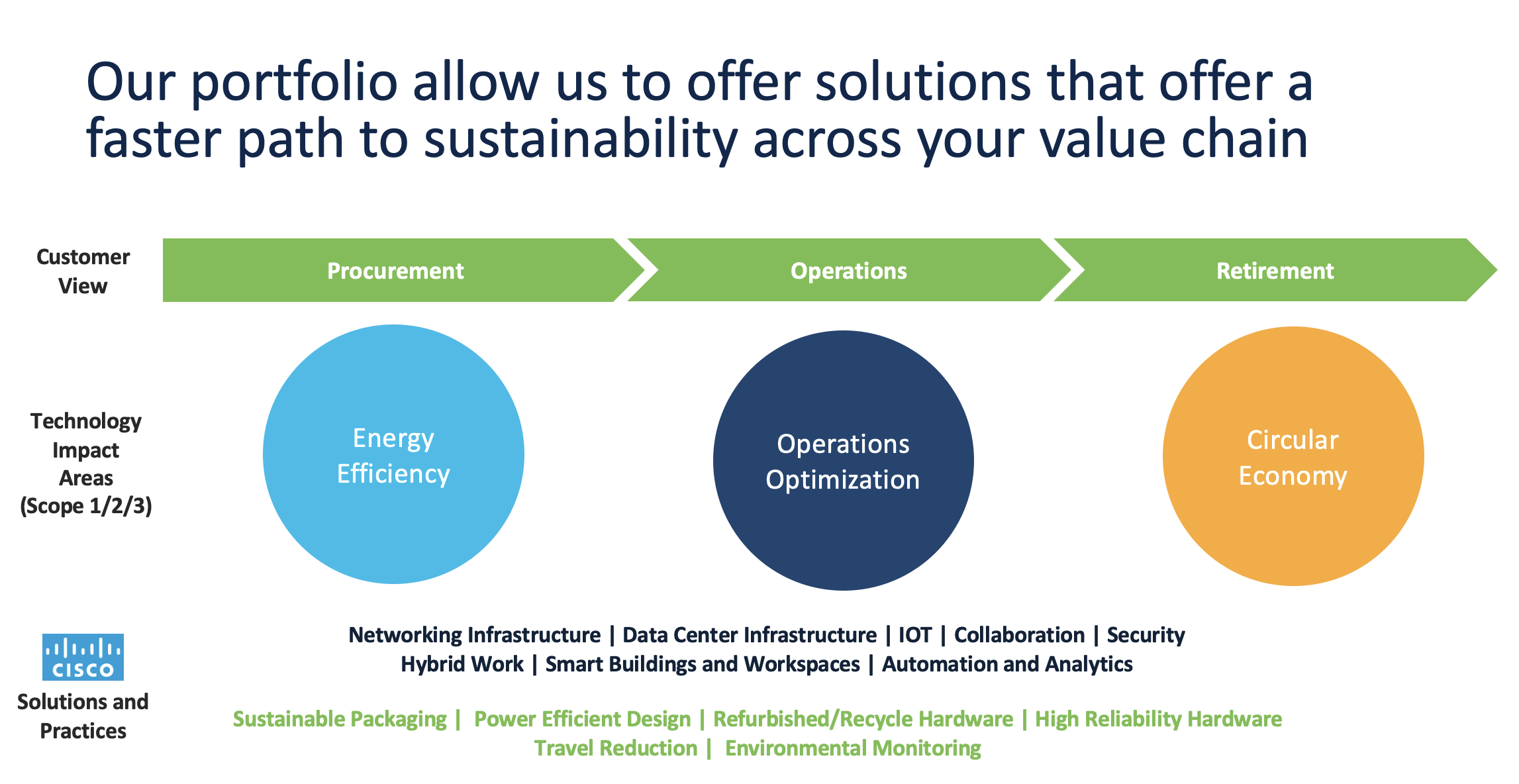 Cisco offers a wealth of technology in networking infrastructure, data center infrastructure, IoT, collaboration, and security. We also create synergistic opportunities to tie these solutions together to offer hybrid work and smart buildings & workspaces, using automation and analytics.
These technologies have been built using sustainable practices and circular economy principles in mind, such as sustainable packaging, power efficient design, ability to refurbish and recycle hardware, also modularity and durability to reduce waste.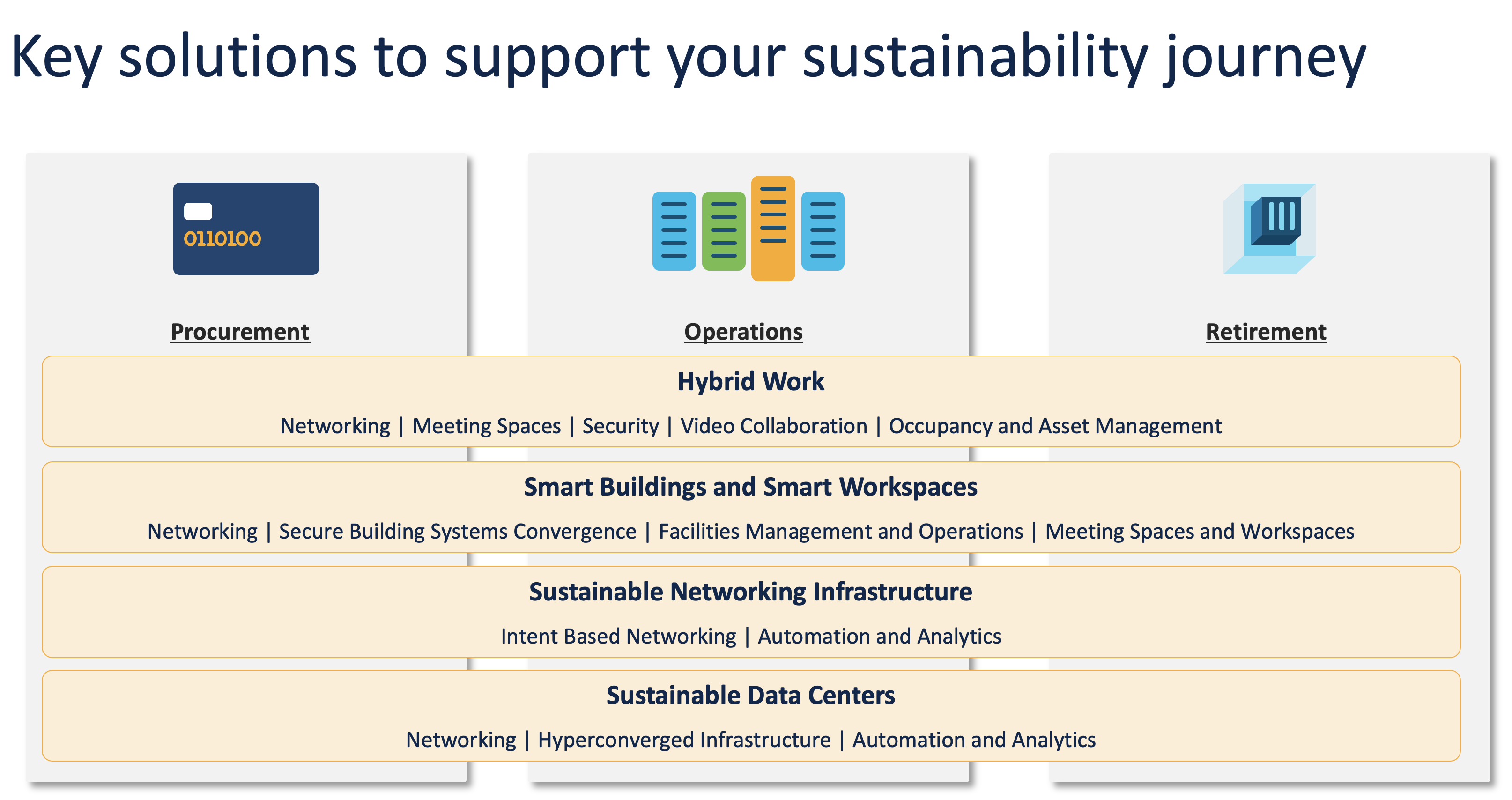 While our customers work with us across dimensions, the four key solution areas that can support them in their sustainability journey include hybrid work, smart buildings & workspaces, sustainable networking infrastructure, and sustainable data centers.
Although we've talked about the environmental impact of embracing hybrid work, the reality is that Cisco's broad portfolio of software and devices make the transition to this new way of working a breeze. We offer the most flexible, effective, and productive hybrid work technologies, each designed to reduce the impact on the environment and drive progress towards sustainability.
Further, our smart buildings & workspaces solutions offer the most power efficient building technology out there through the convergence of building systems and using power over ethernet. In addition, smart workspaces technologies ensure an efficient use of space, through sensors and applications managing energy usage, and maximize resource utilization.
These solutions are built on our sustainable networking infrastructure using our power efficient switches and wireless access points and routers, which gives customers better performance and functionality with lower power consumption.
Of course, we also have automation, analytics, and visibility software to manage occupancy/space as well as ensure employee well-being. We also embed circular economy practices when we build our solutions which helps reduce carbon footprint in the delivery and retirement of the technologies at their end of their life.
In today's world, every customer is on a cloud operating journey and Cisco provides sustainable data centers for customers looking to build hybrid clouds and multi-clouds with best-in-class networking and hyperconverged infrastructure. These are the most power efficient and resource efficient data center technologies out there in this space thanks to Cisco's innovations in ASICs, power efficient design, and automation/analytics.
For customers looking to get the most out of their new investments in technology – or perhaps even looking to optimize existing investments, working with Cisco can help unlock synergies across the length and breadth of their organization's IT infrastructure. All of this ensures customers can commit to sustainability with ease, without affecting scalability or reliability of operations.
Ultimately, everyone needs to do their part – and all it takes to get started is the determination to go green. Partnering with Cisco can help make the journey smoother, faster, and more sustainable.