Hybrid work is different and more complex than how we worked before and during the pandemic. But it's also dynamic, permanent, and mission critical.
We're seeing people work in 'mixed mode' throughout the day and adapt to constantly changing circumstances. Embracing hybrid work is critical to an organization's culture, attracting and retaining talent, and business resilience and agility.
Hybrid work isn't a notion of what the future can be, it's here already. Of course, it is different and more complex than how we worked before and during the pandemic, but the reality is that the situation is not likely to change.
When working from home became the 'norm' two years ago, it led business leaders and their IT teams to think that enabling that transition encapsulated hybrid work in its entirety.
Today, we're returning to the office for face-to-face interactions with teammates and customers. We're also embracing a shift in culture where employees work from office spaces close to where they live so they can focus better, spend less time on commuting, all while living in locations convenient to their families' lifestyles.
Enabling hybrid work requires effort.
More importantly, there's no magic pill (single vendor solution) that accelerates, simplifies, and optimizes an organization's transition to this future-forward state. Finally, it is dynamic, and people will work in 'mixed mode' throughout the day and adapt to constantly changing circumstances.
In fact, hybrid work has had such a profound impact on organizations across the world that we're already seeing changes in hiring practices. This new way of working benefits employees, partners, businesses, and even customers. When implemented correctly, hybrid work is a win-win-win strategy for all stakeholders.
Hybrid work can't be solved in isolation
Nearly two years ago when organizations were forced to go all-in on remote work, the burden of transition lay with the IT team. However, as we transition to hybrid work, leaders need to realize that the responsibility for a smooth transition lies with several stakeholders across the business. In fact, there's no single vendor who can help solve hybrid work.
The IT team, for example, is responsible for employee productivity, customer experience, and security and will bring in tools such as collaboration platforms, SD-WAN for branch network connectivity, and zero trust for home office security.
However, hybrid work is as much a people discussion as it is an IT discussion. The human resources team needs to re-think organizational culture, inclusivity, and wellbeing and leverage a wider range of tools and solutions to reach every last employee.
Businesses also need to re-think their facilities and workspaces. Hybrid work involves coming into an office on some days, but not necessarily for focused individual work.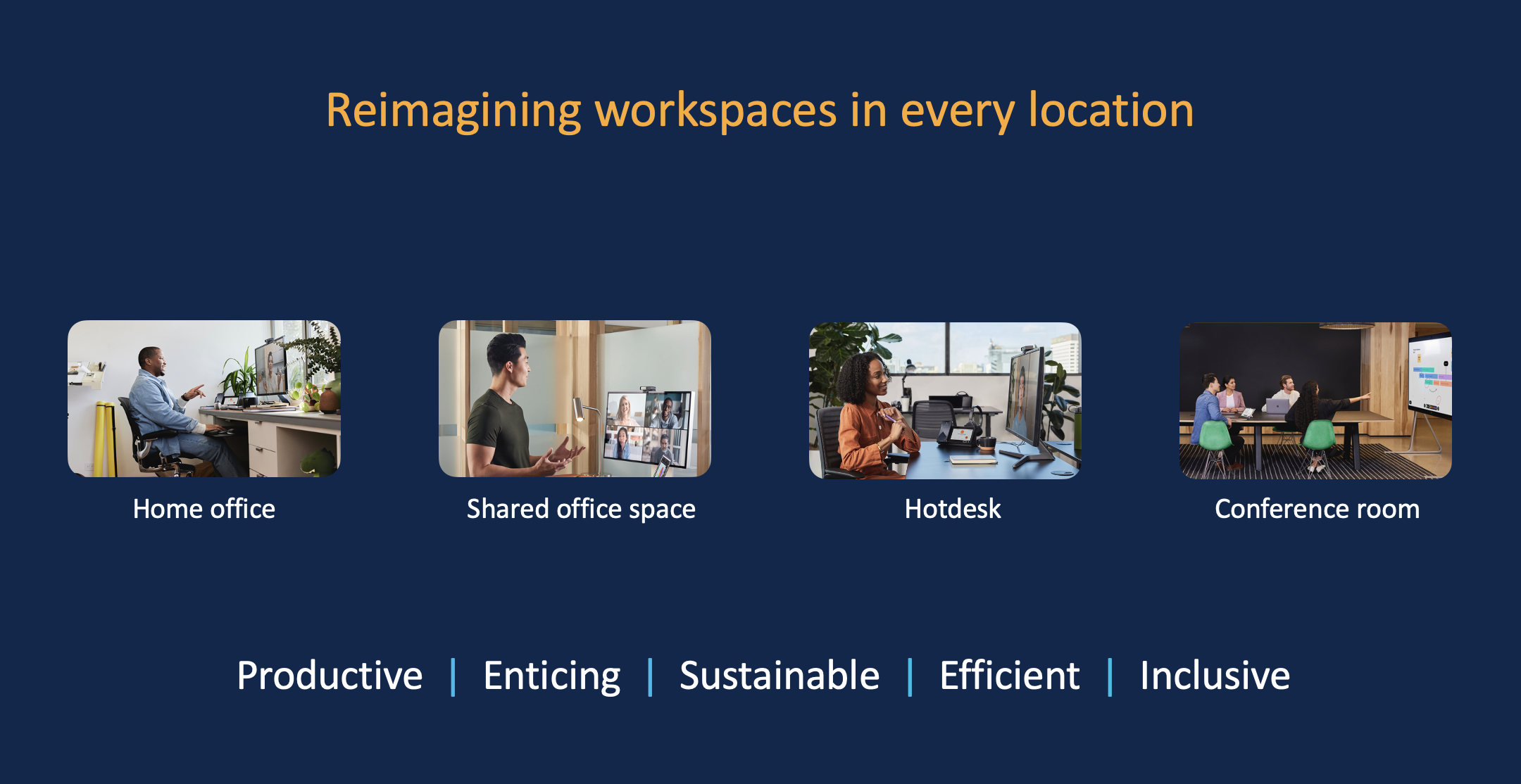 In this new era, organizations need to allocate spaces differently, think about safety, and balance the organization's need for sustainability and efficiency. A number of technologies (and technology partners) such as Wi-Fi 6, AI-enabled cameras, IoT-powered energy management solutions, and so on can make the journey to building suitable facilities easy.
Finally, organizations want to serve their customers in the best way possible which will make a big impact on what hybrid work really means for its people. As a result, they need to explore multicloud, network automation and visibility solutions delivered through cutting-edge solutions such as Cisco AppDynamics, ThousandEyes, and more.
As demonstrated already, business leaders that want to win in the era of hybrid work need to adopt an ecosystem mindset; both, within their organization and while working with technology vendors and solution partners. That being said, as the old adage goes, too many cooks spoil the broth; similarly, too many internal stakeholders may create unnecessary hinderances, and too many vendors will increase complexity, risks, and costs.
Let's take the example of a pharmaceutical company with dozens of research facilities and testing sites, hundreds of scientists, thousands of technicians, an army of security personnel, and the numerous staff in legal, marketing, sales, and other divisions.
Think about the technology fabric needed to support this institution. From Wi-Fi 6 and smart cameras to sensor-powered lights and intelligent badging for staff, to critical network automation and visibility tools to ensure maximum security without diluting the experience of staff anywhere, on campus or at home.
Working with a few vendors to deliver the best outcomes is necessary. However, they need to remember that dashboarding, monitoring, controlling, and managing the various hardware and software solutions become challenging with each new vendor introduced into the mix. Balance is, therefore, key.
Hybrid work makes security and privacy harder
Software makes business happen. Staff and customers rely on applications – delivered via the cloud in this new era – to get tasks done and make important transactions. In the hybrid era, guaranteeing security and privacy is simply harder as a result.
Further, tying the various solutions on-premise and in the digital world, from the campus to the data center to the cloud, and all the way to the edge, requires leaders to think long and hard about security and privacy, especially while they deal with talent shortages in cybersecurity and IT in general.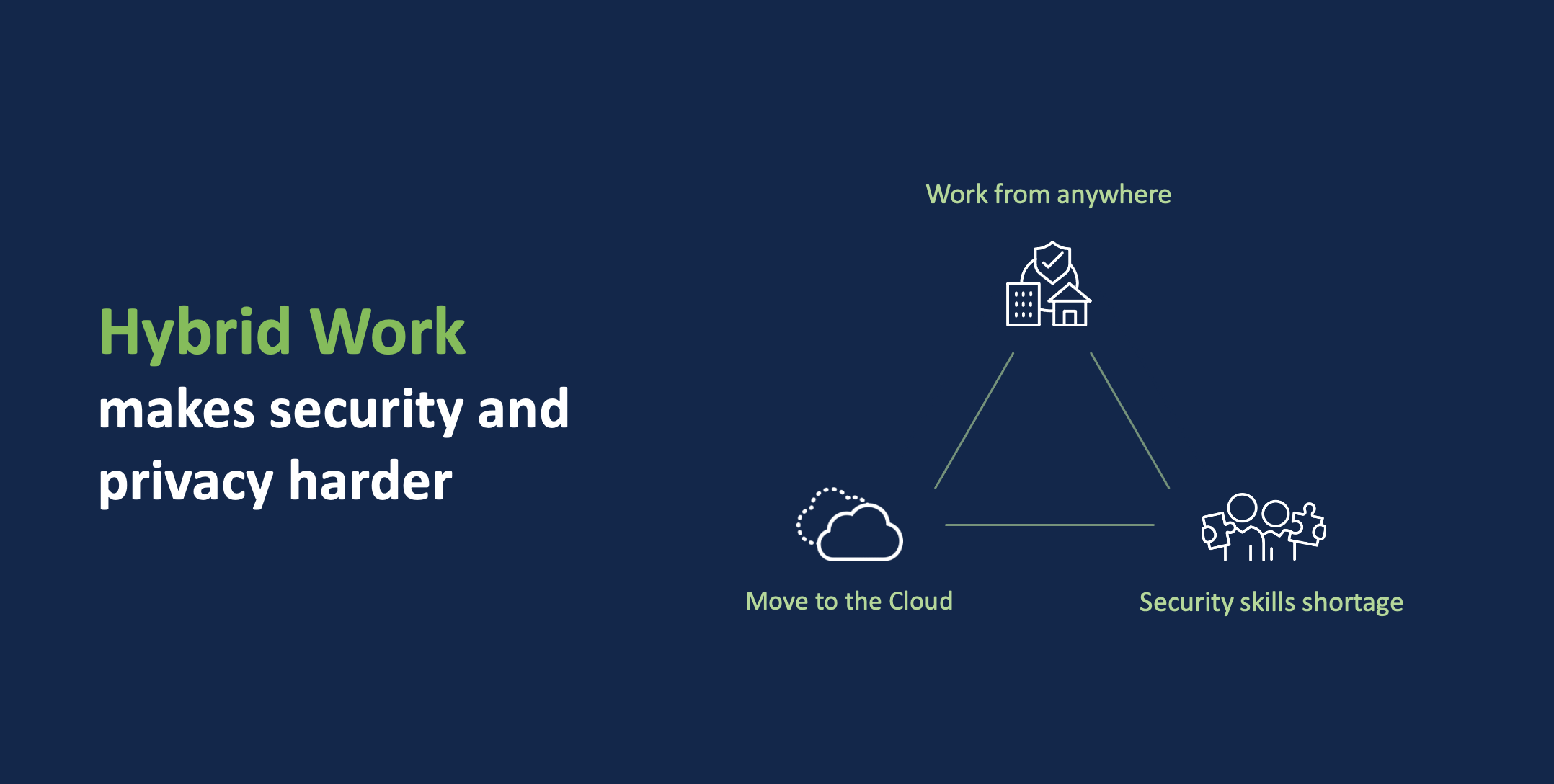 Cisco's team works with several clients looking to close the gap in their architecture, especially in the systems and solutions between the various vendors they work with. The depth of our portfolio allows us to not only provide reliable security but also ensures that the IT team can work smarter and faster, saving them time on routine tasks and elevating their workflows to focus on more high-value issues as they drive hybrid work in the organization.
With Cisco Secure, for example, customers see a 50% decrease in data breach risk & cost, a 95% reduction in detection times, a 50% reduction in vulnerability investigation time, an 85% reduction in dwell times, and a 90% reduction in analyst effort per incident.
All of this is possible because Cisco's solutions not only integrate with one another but also work with solutions from a wide ecosystem of partners including some of the leading vendors in various niche areas.
Hybrid work requires seamless manageability and interoperability
People in organizations work better when they can collaborate seamlessly. To do that, they need software and hardware they use to be interoperable.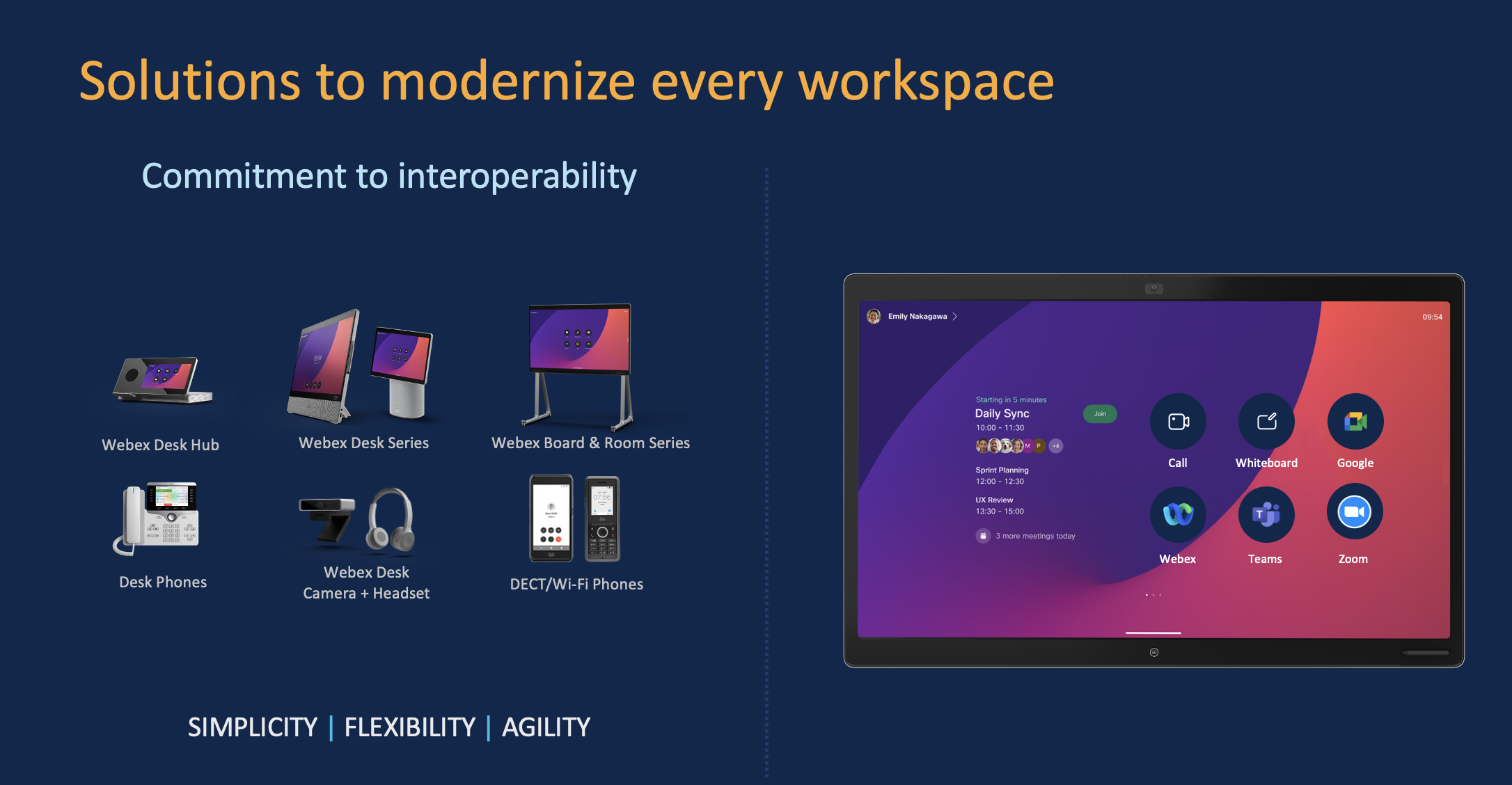 Some of Cisco's customers, for example, use and love Webex. It's what they used before the pandemic for video conferencing, it became their default when they needed to meet when working from home, and now, as some of them return to office in a 'hybrid work' environment, the Webex suite of software will integrate with Webex hardware seamlessly to provide delightful touchless experiences.
However, for those that don't use Webex, for those whose default is Google Meet or Microsoft Teams, Webex hardware is still a great choice. Cisco understands the need for interoperability in the hybrid work environment, which is why our hardware – including the beautiful Webex devices – work seamlessly with other collaboration platforms.
Truthfully, the modern organization in the hybrid world won't just use one collaboration software either. Video conferencing and chat could be supported by one tool but they'll definitely prefer another software to support large events, provide meaningful breakout sessions, deliver interactive sessions with in-built polls, surveys, and more.
The future of collaboration is dynamic and vendors of hardware and software need to embrace interoperability to be most useful to their customers.
Cisco Webex understands this, and our customers enjoy it. For them, it's not only proof that we have a finger on the pulse of the needs of our users but also a relief that working with us guarantees simplicity as they set out to define what 'hybrid work' really means to them.
Think about the big picture on your journey to hybrid work
At the end of the day, transitioning to hybrid work requires conscious effort. There needs to be a shift internally, working with HR leaders, policy makers, facilities owners and managers, and every employee in the organization.
While laying the foundation for hybrid work, leaders also need their IT teams to partner with a few key vendors to future-proof themselves and ensure they meet the needs of staff and the constantly rising expectations of customers. To win in a hybrid world, we must remember that seamless digital experiences and cutting-edge security and privacy are non-negotiable.
Everyone is on a different journey. Businesses need to think about security, collaboration, cloud, and more to create a compelling experience for all stakeholders. After all, hybrid work is beyond technology; it's about people, facilities, technologies coming together.
The leaders that win with hybrid work will be those who see it as a cross functional initiative in the company, leverage it to break down the silos, and drive a shift in culture. They'll also, of course, need to remember that no single technology vendor can solve hybrid work alone, and hence, adapt their approach as they embrace the new future of work.