Sustainability is no longer an afterthought. It's the foundational building block, it takes center stage at every meeting today, and is something that policymakers, business leaders, and consumers are all taking seriously. Across the world, businesses are looking for ways to become more sustainable, while also ensuring the scalability of their operations. All with the goal to reduce our carbon footprint, refuse outdate processes that harm the environment, and reuse resources in a bid to create a better, safer planet.
In many ways, sustainability is also driving a shift to new-age solutions and processes, and ultimately driving business value.
The EV space is an interesting market to talk about in the context of sustainability. Every automaker worth their salt is either selling or prototyping an electric vehicle as part of their fleet across segments, and demand from customers is skyrocketing. According to figures published last year, annual sales of 2 and 3-wheeler EVs reached 260 million units, passenger car EVs reached 10 million units, and sales of busses, vans, and trucks together totaled 1 million units.
The shift to EVs is also making rapid inroads to commercial transportation. The global supply chain is becoming more sensitive to sustainable practices, and as a result, it is preparing to slowly take its feet off the 'fossil fuels' pedal.
While EVs are playing a key role in reducing emissions across the world, the EV manufacturers are taking it one step further by ensuring that their overall business also has minimal emission and is environmentally sustainable.
Architecting sustainable, super-sized campuses with technology to drive business value
Given the strong demand EV makers are seeing, failing to scale up production is almost a sure-shot way to fail as a business. It's why a majority of them are setting up grand manufacturing facilities in large campuses across the world.
One such company – our client – has architected its campus meticulously to leverage technologies such as the internet of things (IoT), artificial intelligence (AI), and more to optimize power utilization, minimize wastage, boost health & safety, and of course, bump-up scalability, among other things. All in a bid to boost sustainability.
From simple innovations such as motion-sensor-powered lighting and temperature-sensor powered multi-source heating to complex use of intelligent IoT-sensors to bring robots to life on the shop floor, their new, well-architected future-forward infrastructure can support it all. All of these allow the customer to embrace the 'reduce, refuse, and reuse' framework across all functions and processes.
From a technology point-of-view, the solution is primarily made up of Cisco's software-defined access (SDA) architecture which includes key components such as wireless, switches, routers, DNA Center, ISE, and more. It's what prepares the organization to truly optimize its super-sized campus.
The client also particularly appreciated the fact that Cisco's strong portfolio was amplified by an equally strong partner ecosystem. This means that they can use a variety of unique and cutting-edge solutions that bring their organization's vision for sustainability to life.
Their core focus on the fundamentals also allows them to meld operational technology with information technology to capture, dashboard, and visualize everything across their business with transparency. As a result, they can double-click into complexities, see things with clarity, and act on & resolve issues with confidence.
This level of visibility also helps boost (cyber)security – which is critical for organizations that infuse technology into their operations by digitizing factories/plant facilities in a world where cybercrime is constantly ramping up.
Of course, they use a Cisco product – Cyber Vision – to make this happen. Cisco Cyber Vision promotes a deeper integration between IT, cloud and industrial control networks (ICS) and allows operational technology (OT) and IT teams to work together to ensure production continuity, resilience, and safety.
Security is at the heart of technology that enables sustainability
The moment a business uses technology to bring their factory online is also the moment the unit becomes a vulnerability that cyber-attackers can exploit.
Despite this, going online is no longer optional – it's a necessity, as competitors thrive in the revolution we call 'industry 4.0'. It enables everything from cost savings to efficiency gains to workflow optimizations, and even sustainable-production opportunities.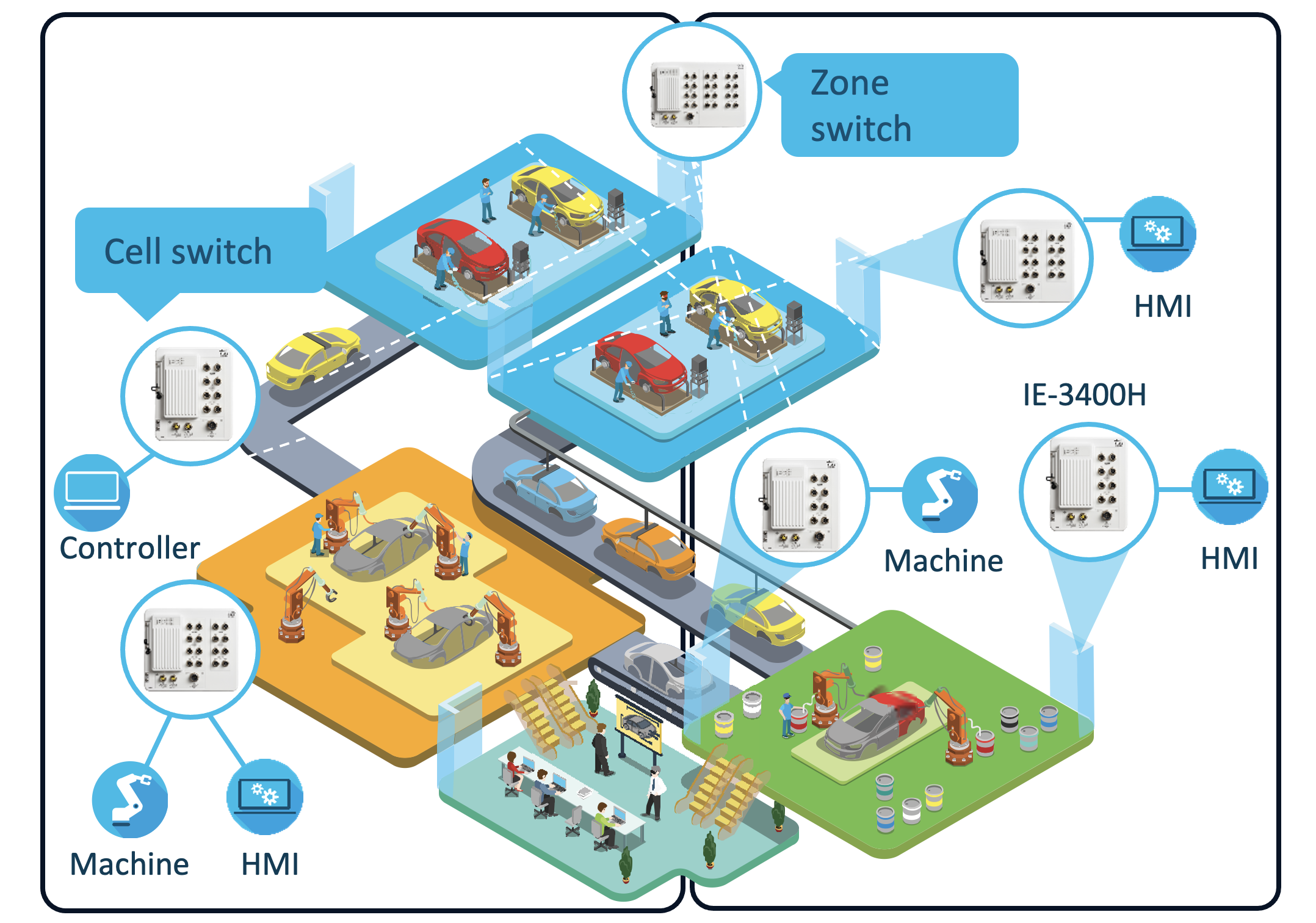 Integrating the factory and its OT with the organization's IT is a great first step as it brings in visibility, generates insights, and enables better decision-making. However, this process also enables the use of security solutions such as Cisco Cyber Vision which make deploying a much-needed safety net around the entire organization seemingly effortless.
Combined with an upgraded, modern infrastructure, it can guard against a variety of threats, in the digital world and the physical world, including protecting key IoT-devices, locking, and insolating critical networks, and delivering campus monitoring through access card solutions and AI-powered, camera-driven workforce sensors.
In the EV space, protecting against all kinds of threats is fundamental – it's what enables their sustainability efforts in the first place. Cisco's work in supporting network and security transformation in such environments has proven that making the choice and investment in the endeavor is key to getting results.
Our own commitment to sustainability, with one FY22 goal being to improving large rack-mounted-equipment system power efficiency to 87% (from 85% achieved in FY19), among several others, gives customers confidence that we're doing more than our fair share in supporting them on this journey.
This is no longer the future, it's the way to succeed in today's market. The sooner that companies realize this and begin mapping their journey to IT and OT modernization, convergence, and security, the sooner will they be able to deliver outsized returns to customers as well as stakeholders.
A lesson in creating business value for tomorrow
 For nearly two decades now, digital transformation has been on the radar of leaders aiming to create business value for themselves and their stakeholders.
Over time, we've learned that 'digital' is a journey, not a destination. Yesterday, digital enabled cost and time optimizations. Today, it enables scalability and sustainability. In the coming months, it's set to empower people to do more with fewer resources, from anywhere in the world. The business leaders that understand this principle of success in 'digital world' will always be at the forefront – always top-of-mind for customers and always attracting and retaining top talent.
The EV maker we helped architect a future-forward network and implement cutting-edge security rests assured that they've made the best investment in their own future. Being the foundation of their digital strategy in the future, it's set to kick-off optimizations and even innovations in various spheres across every team in the company.
This is what business leaders do. They lay the foundation that enables their people. They seize every opportunity to help their teams maximize business value.