Social enterprises are purpose oriented. They have to be. Leaders and staff in such organizations answer to a higher calling, especially when their purpose is to care for communities that need help to survive and thrive. However, whatever the purpose of an enterprise, social or otherwise, it needs to leverage technology to do its best work. It's why many have taken on mammoth-sized digital journeys that help re-invent their infrastructure, re-invigorate their institutions, and re-iterate their purpose for the cloud-first world we operate in.
One of our clients in APAC operates in this space.
They provide a host of services to more than 5,000 disabled individuals every year, including short term accommodation, supported independent living, and behavior support. To provide these services, they rely on a team of around 5,000 professionals committed to delivering the best care and service they can. The institution has about 20 corporate offices, more than 150 full-fledged care facilities and about 300 remote/independent care homes.
This isn't a small organization. It's a prominent institution that deals with a multitude of government and private agencies every day, a host of vendors and suppliers, and a variety of stakeholders. The organization aspired to build an ecosystem of applications that could provide better experiences to all stakeholders, enabling it to better serve its purpose in the new normal.
Reimagining digital experiences for the social enterprise
The client started out with a bespoke healthcare application to support the individuals it cared for – which quickly became the core building block for their ecosystem.
Since this application is critical to meeting the daily needs of customers in its facilities, it ties into the workflows of its staff and has quickly become central to transactions with all kinds of external bodies, be it gauging the need for medicines, stocking the pantry, and even preparing purchase orders for various supplies and services. To make things simpler, the social enterprise is working on a host of applications that support these various functions.
To visualize this in action, imagine a particular site run by this institution, providing care services to individuals with disabilities. The bespoke healthcare application helps staff keep track of which resident needs what kind of food and which medicines and at what time – but data flowing from it helps determine future needs at the site and hence, informs agencies, suppliers, vendors, and stakeholders accordingly.
All of this, of course, is being developed on the cloud. Being a social enterprise, the client is also operating with a pretty lean technology team consisting of just about two dozen professionals spread across all IT-functions. In comparison to the number of residents and staff they support, and the vast (and growing) number of sites, the team's efforts are commendable.
Ultimately, the organization was concerned about two things. The first is connectivity and the second is the application experience it delivers via its digital ecosystem.
Driving a seamless frictionless experience for secure connectivity
For the institution, connectivity is a challenge, especially in their care facilities in remote areas. Tied closely to this is the challenge around providing a secure connection to internal and external parties who are users of applications part of its extended digital ecosystem. What's important to note is that the institution often works with a large number of subcontractors and healthcare workers who need to be onboarded and connected (and off loaded and disconnected) more frequently than regular staff.
To help manage this, the client decided to leverage Cisco's SD-WAN – enabled by Meraki. Doing so not only allowed them to deploy a reliable infrastructure to help everyone connect to the internet, but also ensured users were able to use a feature we call VPN exclusion which provided a better user experience overall and helped standardize the institution's connectivity deployment. To learn more about this, read our technical documentation here.
In terms of experience, given the social enterprise's growing reliance on applications hosted on the cloud, there were quite a few concerns to take care of.
The first was its infrastructure. This was taken care of by the Meraki access points that the institution purchased. Our distribution center was able to send pre-configured equipment to their various sites, making deployment essentially a plug-and-play operation. With smarter, more robust internet access, experiences improved automatically.
Infrastructure built by Cisco is always secured from the get-go, which is why the customer's investments in Umbrella and Duo in addition to Meraki not only protected (and proactively prevented) users of the institution's network from accessing malicious domains but also provided multi-factor authentication capabilities to add another layer of protection to their security posture.
Next, given the use of our solutions, including Meraki Insight, we were able to help the institution gain access to a sophisticated observability and visibility tool. This allowed their small IT team to concentrate efforts on identifying issues (in the internal network or among external factors, as shown in the image below) when something went wrong in their application ecosystem and resolve it in record time.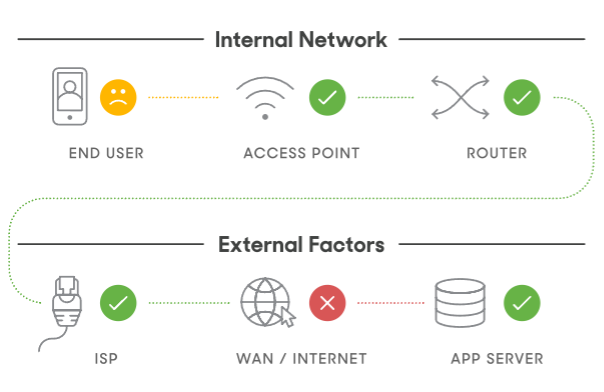 Finally, thanks to the various capabilities offered by the solution they've deployed, the institution's small IT team celebrated the fact that they are now able to automate a number of tasks seamlessly. This not only allows them to lighten their workloads and free their workflows from human-errors but also helps improve experiences significantly.
I always tell our clients that the cloud is not a destination, it's a journey. For this social enterprise, I believe their investment in technology to amplify their efforts to stay on-mission, will create new opportunities for them. With a strong foundation in place now, they're in a unique position to capitalize on those – and deliver greater value to not just their stakeholders but also to the community they serve. They're proud of the work they're doing, and as a company, we're proud to be enabling them in their ever-evolving journey to a strong digital-first future.