On the face of it, the cloud isn't new. The technology has been around for nearly a decade and companies have had plenty of opportunity to understand and leverage it. However, it is also true that the cloud has evolved since it first became available; the pace of change has been more significant in the past 12 months than it has been in any 12-month period prior. The biggest change can be seen in the reference to cloud itself – what was simply cloud in the past is now a spectrum that goes from on-premise to private cloud and public cloud to hybrid and/or SaaS. In summary, 'multicloud'.
In this new normal, the cloud plays a critical role in everything we do as an employee or as a customer as a result of the application-driven ecosystem we now live in. It allows us all to take advantage of cutting-edge technologies such as artificial intelligence and machine learning, the internet of things, and so on. The cloud also makes modern IT environments more agile, efficient and perhaps even cost effective and more secure. In order to do all these things, however, the cloud investments that organizations have made over the years need to move from their 'as is' state to their 'optimal operations' state.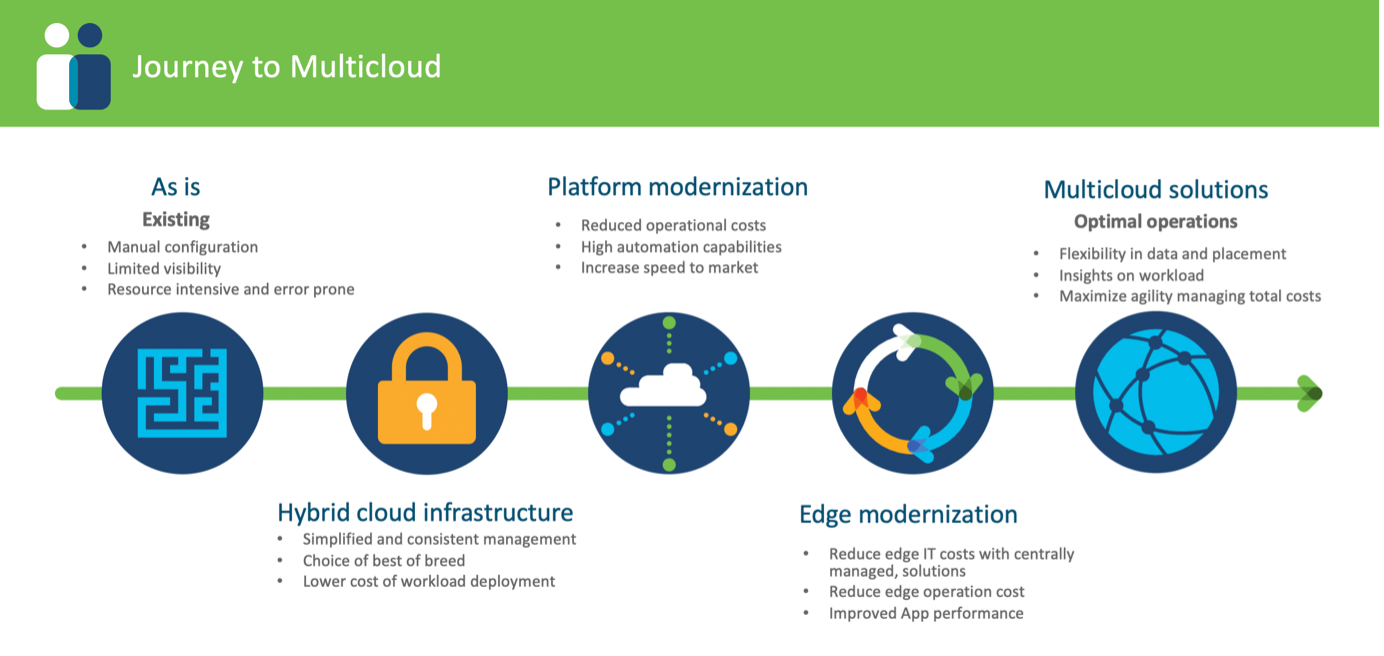 This shift, often referred to as the journey to multicloud, is an evolutionary process where the organization first builds its hybrid cloud infrastructure to lower costs and gain better control of their cloud deployment. Then, it modernizes its cloud platform to bring in automation and increase speed to market. Next, the organization optimizes operations in a way that maximizes agility and reduces total costs – and while this step is continuous and ongoing, leaders often aim to extend the benefits to the 'edge' to streamline operations and improve app performance.
Truth be told, the reality is that the move to the end state isn't really an end state at all. The journey to the best cloud experience never ends, it's a continuous exercise in optimization with a view to delivering delightful experiences to every user at every interaction.
To understand this better, let's talk about a leading global semiconductor manufacturer we work with.
They're a complex organization with a sophisticated research & development arm, a cutting-edge production line spread across a number of independent units, a number of functional teams supporting core functions, and a large and diverse group of managers who are part of a well-structured organization chart. They've invested in cloud-based solutions over the past couple of years and in more recent times, leaned on us to help them accelerate the returns from their cloud deployments.
Cisco is in a unique position to make this possible. More specifically, App Dynamics, Cisco Intersight, Nexus Insights, and ThousandEyes together provide such granular correlation details and broad perspective of an organization's cloud infrastructure and application resources, it wows customers and makes them start thinking about how they can expand their IT ecosystem to make the most of their digital infrastructure and leverage it to create an edge over competitors in the marketplace.
Products and solutions aside, the reality is that cloud deployments involve more challenges when it comes to complex organizations. The reason that our clients in the semiconductor business are keen to create end to end visibility across the enterprise IT domain using a combination of network insights and application insights is simple – application driven observability leads to action which ultimately leads to intelligence (some refer to this intelligence as AIOps).
Personally, I've seen observability help clients, including this particular one we worked with, to dramatically reduce the time required to locate application errors, to rightsize multicloud infrastructure dependencies and to streamlines remediation as well as regular workflows. It also enables them to gain 'one click' access to event level reports and root cause analyses to predict abnormal behavior intelligently. Ultimately, it enables client organizations to really start developing the automations that make their cloud more cost-effective and future proof.
In the case of our semiconductor client, application driven observability really cements their position as a cloud leader. The organization has a number of legacy applications as well as a host of cloud-ready applications – leveraging Cisco's solutions has enabled them to see everything on a single correlation dashboard / pane of glass and to gather data more holistically. Now, they have all the tools they need to aggressively attack metrics such as 'mean time to response' and 'mean time between failures' and target actions to reduce them effectively.
Just a moment ago, I mentioned AIOps, and I know that a lot of leaders find that really exciting but also see it as a difficult thing to deliver.
With Cisco's engineers by their side, our client's IT team realized that AIOps is as complex or as simple as we make it. As a matter of fact, its scope is a function of the organization's investment in it in terms of mapping data to feed the insights platform to make it more and more intelligent. Of course, the right set of solutions is critical because ultimately, AIOps can really turn into a critical business enabler in the cloud era.
From a practical, on-the-ground perspective, weaving together a digital fabric that provides observability really helps stitch together the silos within an organization that IT has created over the years without really affecting business as usual. This doesn't mean that an organization's leaders need to make decisions about applications that are currently in use, their state, or where they're hosted. Instead, it gives them more time to make those decisions keeping all stakeholders and users in mind and ensures they can assess the state of their IT more effectively so as to avoid vulnerabilities in their end state.
Ultimately, cloud success is a critical item on the agenda for every leader because it impacts everyone in the organization. Whether in the semiconductor space or in another industry, I champion the use of intelligent observability and visibility tools to optimize the deployments. All of today's cloud leaders know this. Neglecting observability isn't a smart move on your cloud journey.
Cisco is reimagining how developers of modern applications build, manage, and secure applications. We understand the value of flexibility and choice to ensure you can develop on any technology irrespective of where it resides, how it fuels innovation, and what value it ultimately brings to you as a business. Learn more about our cloud vision in our Chief Strategy Officer Liz Centoni's blogpost.