The last two years have disrupted the airline industry and have forced leaders to re-imagine the post-pandemic dynamic where they see a resurgence in consumer demand.
To deliver a compelling experience for all stakeholders – consumers, employees, partners, and the rest of the ecosystem as they find their equilibrium in this new era, airlines need to adopt a technology-first approach. As a result, leaders are re-thinking their technology fabric, re-architecting their applications and infrastructures to deliver better experiences for all stakeholders.
The demand among airlines – as they reimagine their technology fabric to serve them in the new era – is simple; airline leaders want their security infrastructure to become more resilient, support their need to scale up or down as needed by market trends, and leverage automation capabilities to optimize overall operations.
The best airline leaders understand that modernizing technology will provide opportunities to transform ground operations which is the center of gravity in their industry, granting them mission critical reliability, flexibility, and scalable across their various physical locations around the world.
The pandemic is an opportunity in disguise
For the last 30 years, up until the pandemic, the airline industry saw a year-on-year growth in the number of passengers and the number of trips. As a result, their efforts to digitize were haphazard and involved buying into new systems and solutions and customizing them to their organization's needs.
As time progressed, these systems became critical to business operations but upgrading them is impossible because they're no longer standard versions of themselves. Today, these systems are referred to as 'legacy systems' and the airline industry is burdened with a patchwork of such systems cobbled together to power their operations.
With the pandemic halting operations temporarily and then kicking things off to a relatively slow start, there's an opportunity to overhaul the organization's entire IT infrastructure.
That's exactly what one of our clients is doing.
The popular airline with extensive operations across Asia Pacific is taking one step after another to modernize its infrastructure, move its applications to the cloud to run '-as a service', and leverage secure access service edge (SASE) through intelligent integrated network access and software that not only maximizes visibility and observability but also provides automation capabilities.
Like their peers, the client not only had a plethora of legacy applications such as timesheet management tools, payroll, booking applications for direct and indirect platforms, and more. They also had an unintegrated on-premise infrastructure dominated by legacy web proxy solutions.
In a busy environment like a check-in counter or during a ticket sale being held online, the legacy systems and infrastructure failed to hold up and provided poor experiences to staff and customers – both of whom were closely tied to the same infrastructure through different interfaces. As we return from the pandemic, failing to remedy these issues could prove disastrous.
Further, the cost of maintenance and the man-hours required to manage and patch these legacy environments is simply becoming untenable. Having gone through previous iterations leading technology transformation programs, leaders now know that limiting the number of vendors on the journey to the ideal, future-ready state is critical if they want to avoid unnecessary complexity.
The important decision to be made here is to invest in an overhaul. The smart decision, however, is to work with a single vendor (amid an ecosystem of a few vendors) who can provide solutions that are tightly integrated together and make maintenance, scaling, and even automation seamless.
 A vision to future proof an airline's IT investments through SASE
SASE is made up of SD-WAN (Software Defined Wide Area Network) and cloud-native network security components such as CASB (Cloud Access Security Broker), FWaaS (Firewall as-a-Service), ZTNA (Zero Trust Network Access), and so on.
Because network and security are integrated together, the resulting solution allows organizations to benefit from top-notch security as they move to the cloud and operate '-as-a-service' applications while also granting them a network that is ready to deliver the experiences demanded by users in the new normal. Further, since they have full control over this network, they're able to monitor the traffic and identify bottlenecks that impact experience proactively or in real-time.
The reality of SASE is that the solution is as easy to roll-out, scale, and maintain. In fact, on-going maintenance is a breeze for the IT team, allowing them to focus their resources on endeavors that offer the greatest incremental return on their net promoter scores.
Although airline staff do not work remotely often, they do need to be mobile in the large airports they work in – and their tablets need to connect to the central console and help them get the job done. SASE makes it possible to do this, from anywhere in an airport, regardless of how big it is, without compromising on security.
In the case of our client, each destination they operate in is treated as a branch office and not only benefits from the connectivity offered by the intelligent network deployed but also allows IT teams to be confident about the security of the data and applications as they're accessed on the ground-service crew's mobile devices.
The SASE solution that helped the client win is often referred to as SIGraki, which is the Meraki Umbrella SD-WAN connector which integrates Meraki SD-WAN and Cisco Umbrella. This makes it easy to deploy cloud security across the client's SD-WAN fabric with only a few clicks.
As a result, there's no need to spend hours on manual configuration or building complex routing tables and redundancy anymore. With streamlined network configuration and security enforcement, clients can secure cloud access and protect users on- and off- the network more easily and consistently. Meraki's intelligent path selection with automatic load balancing maximize performance and reliability.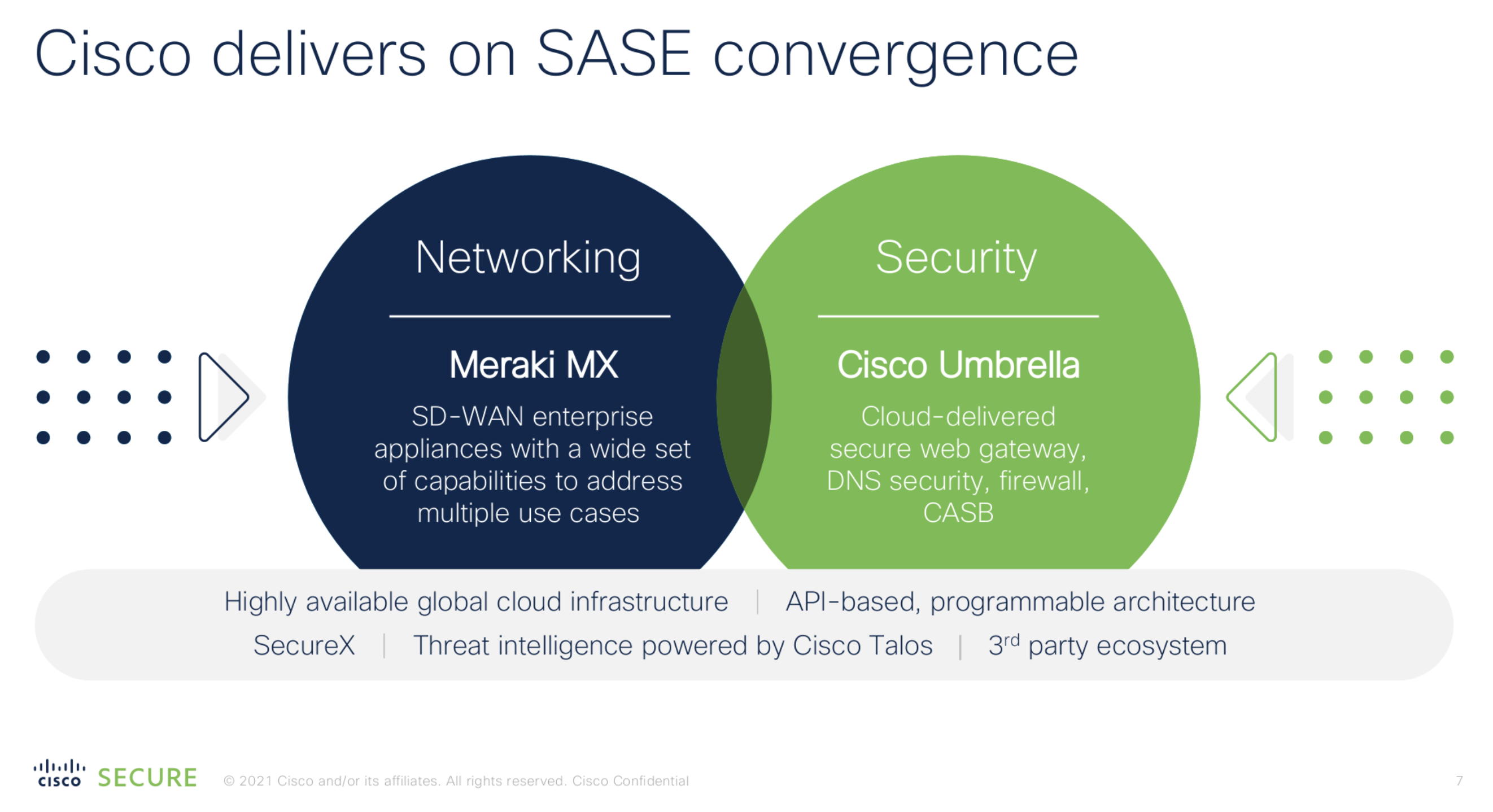 In and of itself, SIGraki, or more broadly, SASE is an efficient matrix of solutions and delivers great results to customers. However, in the airline industry where IT operates at breakneck speeds, the ability to deliver automation capabilities is considered the icing on the cake. From rolling-out policies across branch and home networks with just a few clicks to creating blanket on-boarding and off-boarding procedures and area/location-based access protocols, SASE can handle it all with ease.
From delivering Simple, fast protection of users across a distributed network with simple, flexible deployment options to creating multiple layers of security from a single, cloud-native service, to offering flexible policy enforcement for any use case, to delivering scalable, consistent high-performance security for multi-cloud demands, SASE offers several advantages to airline leaders upgrading their IT.
At present, our client in the airline industry is in a great place – its adoption of SASE has allowed it to modernize its infrastructure in a significant way, avoiding lags in the network, enabling a shift away from legacy applications and towards '-as-a-service', and delivering better experiences. However, the job isn't finished.
Our client is keen to do more and believes that with SASE in its DNA, it can move towards exploring IoT, AI, digital twins, and other technologies to make each 'branch' within an airport smarter, more intelligent, and more efficient. Further, their SASE deployment will also support their endeavors in their corporate office as they reimagine workflows for staff working for the marketing, strategy, and other business teams. They're keen to accelerate their journey to excellence with digital; their peers in the airline industry need to do the same – with a single vendor solution, of course.