It's that time of the year when Cisco recognizes the amazing contribution of our partners. Congratulations to all our partners in APJC for their achievements in the innovation challenge and Geo Awards winners!
https://video.cisco.com/video/6281165798001

Since the pandemic began, technology has been the glue that held businesses together. Our partners have had to have an innovative mindset, agile thinking, and most of all a willingness to do whatever it took to keep the world moving and support their customers.
With that in mind, partners have needed to adapt to embrace challenges head-on and to develop outstanding and innovative new capabilities that makes 'everything possible'.
One of the not-so-secret, secrets to Cisco's success over the last 25 years, has been the very fact that our ecosystem of partners have provided such quality solutions and services to our customers. The market is changing, as are our customers who are seeking more choice via cloud marketplace delivery and/or managed services options versus traditional capex models. It means that Cisco needs to develop new routes to market so our partners can continue to meet the customer's choice as they innovate and grow.
Cisco is committed to being a partner-led company and that will only be strengthened as we transition away from on-premise to cloud software solutions. In fact, that software centricity will make it even easier for customers to buy (and our partners to sell) software and services through our various buying programs, like Enterprise Agreements.  Buying programs means consolidating customers licenses in the most optimal way to manage their investments & technology, often resulting in easy to manage and monitor solutions, and ensuring they achieve the desired outcomes for their business.
One example is the rapidly increasing customer preference for managed services. Without understatement, this is one of the most significant shifts for our customers and provides our partners with a great opportunity to provide additional services and support to their customers.  We are investing in partner enablement to take advantage of this opportunity together. There are four key pillars: scaling partner-managed offers; integrated staffing; operational efficiency; and building a best in class partnering framework.
Another key customer requirement is to meet their needs of supporting a hybrid work strategy. Within which Cisco has already developed extremely sophisticated capabilities for customers to deliver simple, smart, and secure remote work experiences for their employees. Our partners are leading the way by delivering game-changing software solutions like Webex to their customers.
Partners who combine their services within an 'end-to-end' lifecycle motion – such as the Cisco Customer Success Portfolio, will be empowered to help their customers achieve their business goals faster. We are building an environment for our partners to help customers reduce the total cost of ownership of Cisco infrastructure investments, offer flexibility to adapt quickly to changing market dynamics and maintain competitive advantages even as technologies evolve at speed.
In the Asia Pacific, Japan, and China region, our partner growth and enablement strategies will focus on:
Delivering appropriate products and solutions as and how our customers wish to consume
Acceleration of end-to-end customer experience practices in lifecycle and scale services
Developing support for more managed services offerings and cloud marketplace solutions
Creating appropriate enablement and programs to support partners to accelerate 'hybrid work'
Supporting ongoing Partner solutions and innovation with Cisco technology embedded everywhere, to meet these fast-moving customer requirements
This month we bring everything together to show how everything is possible and to celebrate our combined success in the 2021 Partner Summit.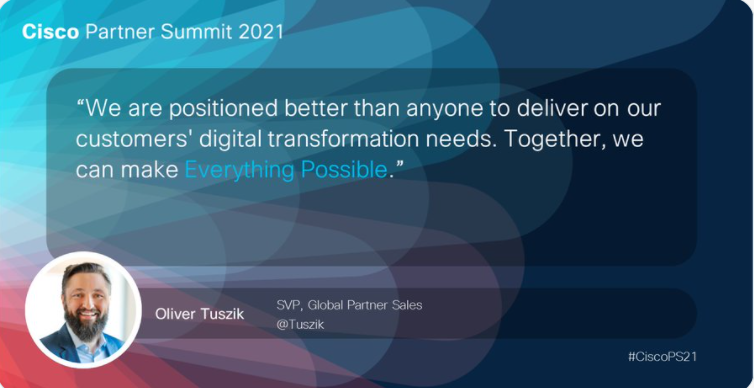 In the past, this event would have been restricted to invited Cisco partners only, but today with the digital experience so critical in running an event we are able to be more inclusive and open this event up to our entire APJC Partner Ecosystem. To put that into numbers, in 2019, 350 APJC Cisco partners participated in the live event, but in 2021, close to 5,000 partners are attending.
At the Summit, we really want to reinforce Cisco's commitment to our partners through the importance of our four Cisco Partner Priorities:
Trust
Innovation
Choice
Profitability
By staying true to these priorities as we grow together with our customers in an exciting future, no doubt we will find that truly, in partnership, everything is possible.
Resources:
News Release: Cisco Simplifies Software and Services Buying Program at Partner Summit 2021
Cisco recognises outstanding partners https://newsroom.cisco.com/feature-content?type=webcontent&articleId=2207050
Partner Summit 2021 Global Awards https://blogs.cisco.com/partner/announcing-ciscos-2021-partner-summit-global-award-winners