In Australia, the Victorian State Government is committed to building a world class education system to continue to enhance Victoria's status as the 'Education State'. Schools are the front line of this effort to build a system that provides every student with the knowledge, capabilities and attributes to thrive, equipped with skills that the future workforce and industry need, and expect in a digital world. Building excellence and equity means providing access to high quality education, regardless of their background or circumstance.
Technology is transforming education by democratising access and helping overcome barriers of distance. Students and teachers no longer have to be in the same four walls of a classroom for learning to take place.
Securely Enabling Remote Learning and Administrative Collaboration
Education is changing. Teaching, learning, and administrative decision-making doesn't have to be conducted in-person. Students are more digitally engaged than ever before. Equipped with laptops, tablets, and smart phones, they can tap into tech-driven engagement outside of physical classrooms. Educators can collaborate seamlessly with teachers and administrators and can facilitate meaningful communications with, and between students, through remote access and virtual learning.
The Department of Education and Training Victoria has embraced this through its Connected Learners Program, which is designed to meet the needs of 600,000 students and 50,000 teachers across 1,600 government schools.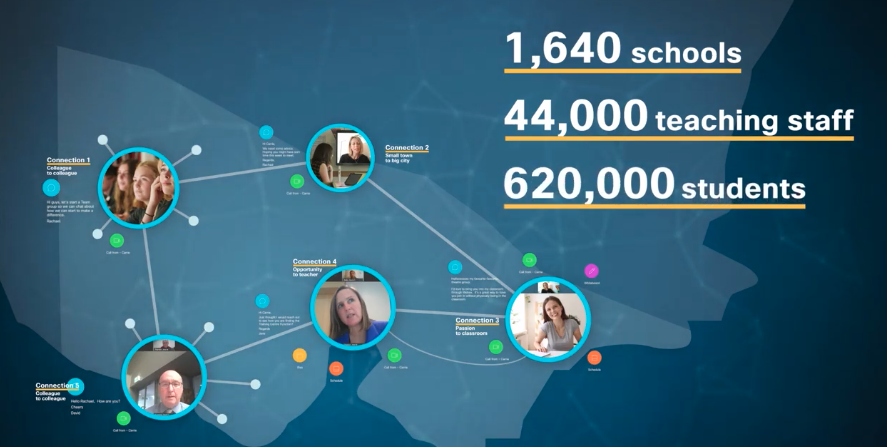 Watch: Delivering a technology enabled experience in Education
The Connected Learners Program has seen the Department invest in upgraded Wi-Fi and the doubling of internet speeds for rural schools, while also introducing new virtual conferencing and collaboration tools in the form of Cisco's Webex Teams across all government schools. This is the largest deployment of Webex Teams in education anywhere in the world and is designed to ensure that education outcomes and engagement levels improve across all of Victoria, regardless of how remote a school might be.
This investment is designed to create a comprehensive program to meet the current and future needs of students who are growing up as the first digitally native generation and opens up new possibilities for learning experiences by bringing the outside world into the classroom in a safe and managed way.
Enabling educators and students to connect through the Digital Schools Network
Cisco is also connecting Victorian government schools to the Digital Schools Network, a community-of Interest program designed to enable educators and students to connect, collaborate, learn and share experiences and resources within a secure digital collaboration platform across borders.
Through the Digital Schools Network schools can run joint classes or sessions with local and international schools and can participate in live virtual excursions, giving students access to cultural experiences that would be otherwise out of their reach, all enabled through Webex Teams. It also creates options for providing a more comprehensive curriculum using distance learning, especially for smaller schools and those in regional areas that don't have access to specialist teachers in subjects such as languages and music. And it helps to develop students' digital literacy, problem solving and collaboration skills – all of which are critical for a working life in the digital world.
But it is not just students who are benefitting from this new era of broadband collaboration. Educators are gaining access to new options for professional development, especially for those in regional areas, through setting up regular conversations and group discussions. For instance, we are seeing numerous examples of teachers creating Webex Teams groups to better communicate around school goals and bring in expert advice from outside of their immediate school community.
Opening opportunities for professional development, through the Connected Learners Network
The Connected Learners Network is also opening opportunities for professional development by putting teachers in closer contact with other professionals and specialists. Teachers spend the vast majority of their working lives in close contact with their students, and this naturally limits their opportunities for self-development – especially for teachers in regional areas who face barriers in terms of lengthy travel times to attend courses or meet with more experienced peers. Using Webex Teams puts teachers in face-to-face contact with their peers and mentors, enabling natural conversations without the need to travel long distances.
While the opportunities are boundless, one of the greatest legacies of bringing digital collaboration to schools is that it levels the playing field for all students and educators, regardless of where they live.
In the words of Elizabeth Wilson, CIO at the Department of Education and Training for Victoria: "The investment in the Webex virtual learning capability has opened new possibilities for learning and teaching that are unprecedented."
And while the opportunities for students are coming to be understood, the potential for teachers is only just starting to be explored.
There is so much more to the world than the four walls of the classroom, and we are so pleased to see the Victoria Department of Education and Training helping students and teachers reach beyond those walls with the help of Webex Teams.
Supporting resources on how to transition to virtual learning with webex can be found here.