Roadshow Round-up: Over 1,000 people from more than 300 Australian and New Zealand (ANZ) partners flock to Cisco's Webex Roadshow, as Cisco shares insights into how to win big with cloud calling and collaboration in 2020. Find out more about the highlights below!
More than 300 Cisco partners joined Cisco's collaboration experts at the Cisco Webex Calling Roadshow which visited Sydney, Brisbane, Melbourne and Auckland between November 27 and December 5 2019.
A snapshot of what the Roadshow offered:
Leading Cisco collaboration experts, including Director of Sales Operations, ANZ Collaboration, Peter Self; Cisco's Head of Strategy and Communication Collaboration, Lukas Carruthers, and Regional Manager, Cloud and Hosted Sales, Rob Wyatt
Insights around the fundamental shift that is occurring as calling workloads are moving to the cloud
Exclusive demos featuring the Cisco Webex Calling solution, and of the now fully integrated Cisco Webex platform
Dedicated training sessions, and updates on the steps Cisco has taken to support the partner community to secure long term profitable relationships with customers.
New Webex Calling and Webex Contact Centre capabilities now available in the region 
Webex Calling, which was announced earlier this year offers an enterprise-grade cloud calling and team collaboration solution through a flexible subscription model. It provides businesses with a smooth migration from on-premises deployments to the cloud at a pace that meets business strategy, with award winning user experience at every step.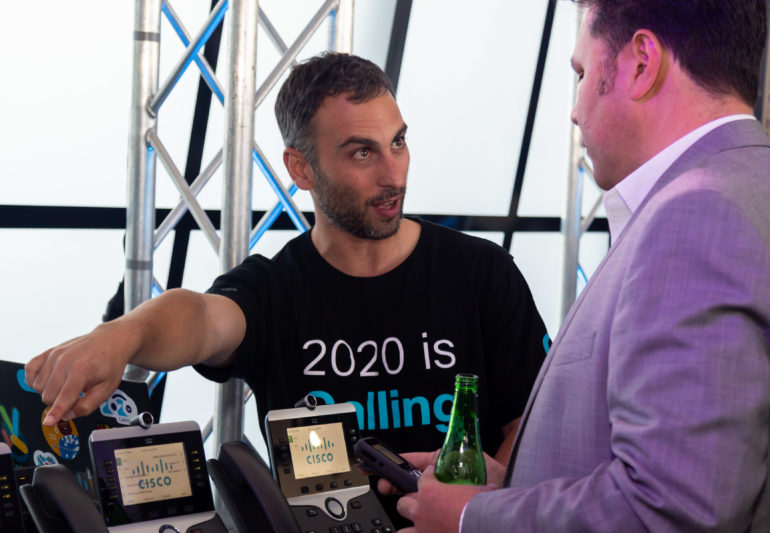 Webex Calling has already received significant traction locally, and partners at the roadshow had access to demo sessions to better understand the full capabilities offered by the solution, set to revolutionise the world of cloud calling.
The release of Cisco Webex Contact Centre in the region was also officially announced during the Roadshow, and will provide ANZ businesses with a unified, omnichannel contact center solution that is centrally managed and administered from the cloud to improve operational efficiency and reduce costs.
The addition of Cisco Webex Calling and Cisco Webex Contact Centre to the Webex portfolio, which already included Webex Teams and Webex Meetings, means that Cisco is now the only vendor to offer a fully integrated, single cloud collaboration platform.
Speaking at the Roadshow, Peter Self said: "Cisco is the number one cloud calling and collaboration vendor. Our role is to leverage our heritage in infrastructure and real time collaboration to continually invest in innovation so that we stay at the forefront, and that's exactly what we're doing today with our leading, integrated Webex platform."
"Our ambition is to remain THE cloud collaboration leader. The strength of our local partner network will help bring that vision to life, as we have a collective opportunity to grow the Webex market share in the region, and stay ahead of the game."
Extra regional support for ANZ partners 
The extension of two regional Cisco data centres was announced, which will support the increasing growth of Webex in the region.
Cisco also unveiled the release of new channel initiatives for local ANZ partners, including a new rewards program and sales incentives.
The collaboration market is in transition, and Cisco is leading the way
PBX (Voice over IP private branch exchange) is reaching its end of life, new digital workplace initiatives are being implemented by organisations, corporate cloud-first strategies are becoming the norm, and Unified communications as a service (UCaaS) functionalities now exceed on-premise. According to Gartner, 90% of IT leaders will not purchase new on-premise based UC infrastructure by 2021.
Cisco is well positioned to once again lead the charge in this new transformation era, as demand for new cloud-based calling and collaboration solutions continue to rise in 2020.
"The opportunity for the market is huge, and we're here to support our channel partners in the region, so they can create new growth opportunities in 2020 thanks to the fully integrated Webex suite. Our ambition is to empower our partners to lead the way, and together bring the ANZ market to another collaboration era," added Self.

Thinking about what's next for 2020?
You can partner with Cisco for Webex Calling today, to create new growth opportunities for 2020.