We are absolutely thrilled to move up to #2 Best Place to Work in Australia, building on the top 3 spot last year!
This recognition reinforces the value and work we've been doing to listen and create the workplace culture where our employees can thrive. Whether this is through the meaningful work they do each day, offering flexible work using Cisco's Webex technology, our giving back and caring culture where our employees have Time2Give days to volunteer with organisations that matter to them.
This in the context of the increasing pace and constantly changing tech landscape – no day is the same and our employees love it!  As a global company, Cisco is disrupting and transforming and it is an exciting place and movement to be part of. We regularly take the pulse of our employees to understand how we can improve and evolve all elements of what it's like to work at Cisco. It starts with listening, asking for feedback, reviewing, adapting and implementing initiatives where we can improve our workplace experience.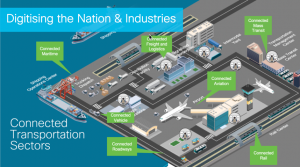 So, what makes Cisco Australia & New Zealand such an amazing place to work? Here are a just a few insights that we've been working on the last few months that help to shape our culture at Cisco.
Meaningful work that makes an impact
Digital transformation and strong infrastructure are important to ensure Australia is future ready in a digital world. We are investing $61 million over the next three years with Cisco's Country Digital Acceleration (CDA) strategy – a long-term partnership with national leadership, industry and academia. By fast tracking Australia's digital agenda with integrated technologies and automation, the country will grow GDP, create new jobs and provide innovation and education across public and private sectors.
Cisco is investing in projects and programs that will accelerate Australia's digitisation and help build a modern economy that is skilled, innovative, creative, inclusive and capable of adapting quickly as new opportunities emerge. Find out more here.
---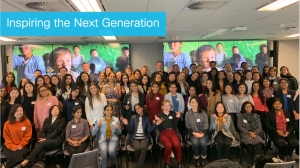 AUSTEM2020 – building the tech talent pipeline
We made a made a 5-year commitment to tackle the STEM skills shortage and help create an innovation economy, increase productivity and boost jobs growth – AUSTEM2020. It includes an acceleration of Cisco's Networking Academy program to train 100,000 students via public-partnerships with not-for-profit education providers and schools in industry relevant, job-ready technology skills, as well as a mentoring focus with 20% of our employees mentoring 20 hours a year, by 2020.
We are on track to meet this target next year thanks to our industry leading mentoring programs – Cisco's MentorMe and CSIRO's STEM Professionals in Schools which have grown exponentially!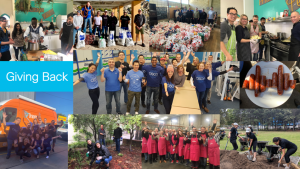 Giving back is part of our DNA!
We celebrate our communities by helping out where we are needed, raising much needed funds (which is matched by Cisco). We regularly host team building and volunteering initiatives through organisations such as the MAD Foundation, Orange Sky, St Kilda Mum's, Foodbank, Starlight Foundation, Dandelion Support Network and Red Cross.
Last year over 450 employees volunteered more than 3,300 hours!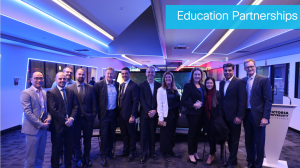 Industry collaborating with the education sector
Cisco believes the education and research sector can play a pivotal role in Australia's success through innovation drivers, as major employers in their
own right and as a skills pipeline for the jobs of the future. Cisco has been investing significantly in STEM education, research and innovation programs and partnering with universities and TAFE's to create the best digital campus experience and strategic partnerships.
We have made a number of announcements with our university partners, including with Victoria University and our world class Cybersecurity Training facility in Melbourne's western suburbs. Find out more here.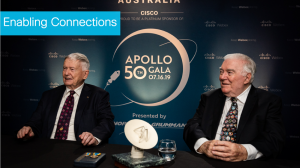 Making Memorable Connections
Being part of special moments in history and connecting people is core to Cisco's values. To celebrate man's first step on the moon, Cisco reunited the Australian trackers with their colleagues, the US astronauts for the 50th anniversary of the moon landing using Cisco's Webex technology! Special indeed. Find out more here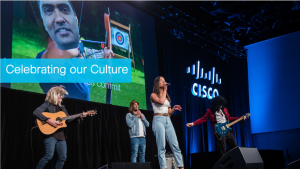 Getting creative and proud!

One of the biggest competitions in the Cisco team's calendar is the 'Battle of the Branches', in which the nine Cisco sites across Australia and New Zealand battle it out for naming rights of 'best branch' of the year. The culture capital (aka Melbourne) performed to Bohemian Rhapsody with huge cheers for the live band who absolutely nailed it, and the video clip had lots of gems showcasing why 'Melbourne really matters, to me.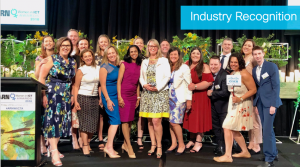 Celebrating our differences
It's not every day your industry peers recognise the contribution or impact you make, however Cisco is regularly recognised in awards. Our employees drive a range of programs to support diversity in the workplace such as Women of Cisco, Cisco Disability Awareness Network and Cisco Pride.
The Women of Cisco employee group works to connect the women across Cisco and encourage others to join the sector through a range of initiatives, such as mentoring within Cisco as well as female students in high school through the program known as Girls Power Tech. You can find out more here.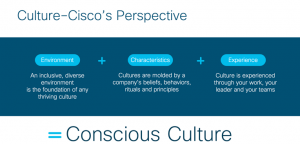 Cisco's Conscious Culture

Cisco is committed to full spectrum of diversity, inclusive of gender, age, race, ethnicity, orientation, ability, nationality, religion, background, culture, experience, strengths, and perspectives… and it's on this foundation of diversity that makes our culture so unique.
We take time to recognise Moments That Matter –those defining career and personal moments that are important to each of us. They encourage everyone to unwind, reflect on successes, and connect with one another in a fun, friendly atmosphere. Nourishing this culture of celebration allows people to bring their authentic self to work, whether in the form of actively participating in Cisco's employee resource groups, giving back programs, local office activities, birthday day off, or global campaigns. At Cisco, we cherish the Moments that Matter for every one of our people.
---
And this is certainly one of those moments – a historic moment in our company history and the Cisco team around the world is celebrating! Cisco has been named #1 World's Best Workplace by Great Place to Work!! This is a huge achievement and our people at the heart of it.
Australia's placing at #2 in the local Great Place Work awards is something we are very proud.
Huge thanks to everyone in the Australia and New Zealand team who makes Cisco the best place to work in the world! #wearecisco #lovewhereyouwork