Lunar New Year is a key cultural moment in the calendar for many, with more than 17 percent of the workforce in Australia celebrating it. At Cisco, we have 280 employees who are part of an inclusive community known as the Connected Asian Affinity Network (CAAN), which advocates for Pan-Asian talent, deepens community connections, stands for social justice (including giving back), and amplifies cultural pride.
Lunar New Year injects the spirit of joy and new beginnings to many of our employees. We spoke to the CAAN community to understand what this time of year means for them, and how we can be allies to them in the Year of the Rabbit and beyond.
Lunar New Year: A connection to your roots and good fortune
By Steven Chung, Chapter lead for the Connected Asian Affinity Network
As a Korean Australian, I was always taught the importance of knowing your roots as they help establish your identity. For Lunar New Year, which we call "Seollal", we gather at our parents' place to celebrate the new year with homemade Korean dishes such as "Tteokguk" soup made from rice (savoury) cake and "Jeon" pan-fried mini pieces of seafood, vegetables, and meat.
Historically in Korea, family would carry out the tradition of "Charye", term used to describe the worshipping of  their ancestors, however in our family, we bow to our living parents as a sign of respect for all the sacrifices they have made in providing us with an education and opportunity in this beautiful country of Australia.  A traditional Korean bow is to kneel all the way down to the ground and say to our parents: 'saehae bok mani badeuseyo' (새해 복 많이 받으세요, which translates to "Please receive a lot of good fortune for the New Year".
Our parents then share their words of wisdom and blessings to each member of the family. This is special to me and to my children who will continue the tradition when we pass away. In the end, what is passed on is not only the Korean culture but the importance of family unity and how blessed we are to have each other.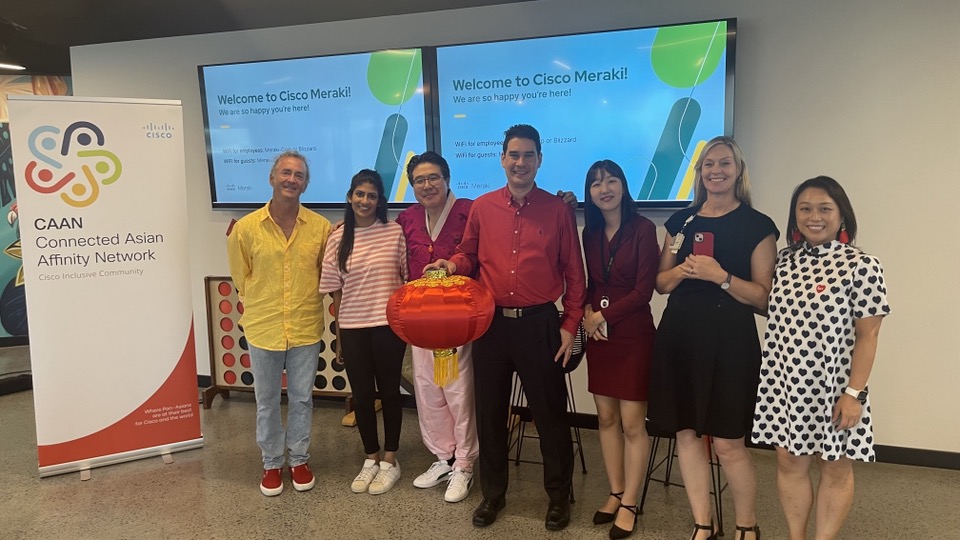 Coming together at Cisco to celebrate
 At Cisco, the CAAN team hosted events in Melbourne, Sydney, and with an option to join virtually. We had a fantastic turn out to join in the celebration, in which we shared the history of Lunar New Year celebrations across different pan-Asian countries. This included explaining cultural traditions and customs associated with the holiday to gain a deeper understanding of its significance.
During the event we also celebrated promotions within the CAAN community. This helped to recognise the achievements of members of the community and encouraged others to strive for success.
Guest speaker Hang Vo the CEO of Sacred Heart Mission, which offers homelessness services in Melbourne, spoke about her experiences celebrating the Lunar New Year and shared her career journey to become a leader. This provided attendees with insights into the challenges faced by leaders in the pan-Asian community and how to overcome them.
The team also raised $700+ for the Sacred Heart Mission by auctioning off a few items including dumpling making classes. It's a great start to one of our key focuses this year: giving back.
Allyship for this community, and how you can help
I only recently realised how powerful it is to have an ally for any minority group such as the Pan-Asian community. "Harmony" is an important characteristic for most Pan-Asian people and generally we avoid conflict which is generally viewed as being invisible or weak, unfortunately. I can only speak for myself, but I know many of my Pan-Asian colleagues would agree, having another voice to amplify our concerns and open more opportunities through an ally is so urgently needed in our corporate and social environment.
In a corporate environment, we need ally who can amplify the voice of Pan-Asian employees who are disadvantaged because they are not the typical extrovert employee where "squeaky wheel gets grease". Allyship can help them shine by bring them out during the meeting and highlighting other qualities they possess and reinforce their strengths and talent they have.
What I hope for the Year of the Rabbit.
The Year of the Rabbit is the symbol of "longevity, peace and prosperity". I hope for good health to myself, my friends, and families. We have worked so hard during and post this Covid period. We need to slow down and chill for longevity.
I also hope there is calmness in the world. Peace is what we really need to secure the future of our children. Korean Lunar New Year ends on 5th February, and I wish prosperity for you for the year ahead.