Cisco has signed a memorandum of understanding (MOU) with the Australian Cyber Collaboration Centre (A3C) to further elevate cybersecurity capability and skills at a critical time, with the evolving cyber threat for critical infrastructure operators, and increased exposure to ransomware, phishing and malware attacks for many Australian businesses, large and small.
Cyber security has emerged as one of Australia's most significant economic and strategic threats, costing the Australian economy $33 billion in FY21 according to the Australian Cyber Security Centre. A cybercrime was reported every eight minutes in Australia in 2020/21 – a 13% annual increase and 25% of those attacks were on critical infrastructure. The challenge is becoming greater with more and better-resourced attackers and continuing skills shortages forecast for cyber talent.
Cisco relocated its Adelaide office to Lot Fourteen in November 2021, co-locating with A3C, and this MOU builds on the Collaboration. Cisco's vice president for Australia & New Zealand, Ben Dawson visited the A3C headquarters in Adelaide to sign the agreement with Mike Barber, CEO of A3C.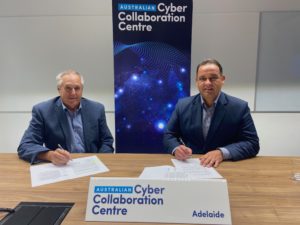 L to R: Mike Barber with Ben Dawson
Collaborating to build new capabilities and skills
Gaps exist globally in critical cyber skills, but also environments to facilitate research, testing and practical learning with the continually evolving cyber threat landscape.
Cisco is investing in cyber skills development and assets, expanding the industry leading Networking Academy program with education partners to meet the growing demand for digital and cyber skills required today. Currently, there are more than 3,000 students enrolled in Networking academy cybersecurity courses.
A3C's Cyber Range is a facility that organisations can use to carry out security testing of equipment or network configurations in the knowledge that their production networks are safe from interference. Cisco will also provide the latest networking and collaboration technology to upgrade the facility. The Cisco Networking Academy partners – universities, TAFE institutes and schools will also have access to the Cyber Range facility, further expanding its impact.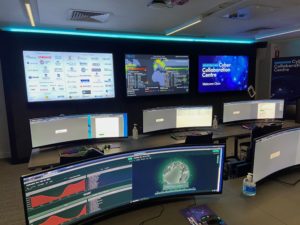 Securing Critical Infrastructure
Cisco is working with the South Australian universities which are also members of A3C, to understand common threats and build solutions for critical infrastructure operators. Also, how to make technology platforms more resilient in the face of cyber threats, and how to create a safe space for cyber security innovation before moving to full deployment.
A Critical Infrastructure Lab – a test lab facility for all critical infrastructure operators will also be located at A3C. Cisco will provide the latest perspectives on securing critical infrastructure with key recommendations to the 11 sectors – view the latest Cisco's Securing Critical Infrastructure Whitepaper.
Working alongside A3C reinforces Cisco's commitment and global cyber security leadership – with the National Industry Innovation Network and support for research, upskilling and reskilling in cyber security, building the ecosystem to be better prepared and equipped to tackle increasing global cyber threats.