News Summary:
Cisco Meraki expands its IoT portfolio by launching a new indoor air quality sensor MT14, a smart automation button MT30, and a new MV analytics capabilities
Expanded portfolio addresses smart workspace requirements and the evolving needs of enterprises to protect people, places, and things
The industry's first high-end Wi-Fi 6E access points deliver top speeds and performance with the security needed for hybrid work
Today, Cisco Meraki announced expanded IoT and LAN portfolios with new technologies to support hybrid workforces around the globe with smarter and safer workspace environments. As businesses continue to evolve toward a digital-first model for their operations, it is critical that users, employees, and customers have exceptional experiences. With expanded technologies, these experiences can easily be delivered by converging best-in-class networking, security, and IoT. From hybrid workforces to smarter workspaces, organizations can seamlessly optimize network performance across any environment.
Safe environments and smart spaces
The hybrid world has changed where and how we work. Organizations are challenged to adapt quickly to a constantly changing environment. Closing the gap between the physical and digital has become a necessity with today's renewed focus on health and safety.
To accomplish this, organizations need better ways to understand the environment – from people, places, and things. If they're going to adapt, survive, and thrive, they need to create smarter spaces that provide insight into these ever-changing environments, that simplify data analysis, and turn that data into actions—such as automation, process improvement, or increased sustainability.
Meraki already powers thousands of these smart spaces, combining our  smart cameras and environmental sensors with a rich ecosystem of partners to tie it all together. And today, we are announcing new products and machine learning capabilities that further accelerate our customers' ability to evolve their smart spaces.
Indoor air quality sensor: The new MT14 is an indoor air quality sensor, providing insight into overall air conditions to improve comfort and safety. MT14 monitors humidity, TVOCs, PM2.5, and overall noise levels to help organizations create more comfortable environments.
Smart automation button: The MT30 is a smart automation button, designed to streamline common tasks or trigger specific actions. Paired with the new Automation Builder in the Meraki dashboard, organizations can build custom workflows to automate any task, like alerting staff members when a customer needs assistance, turning off Wi-Fi to help students focus in school, replenishing material on a manufacturing line, or controlling office lighting to decrease energy consumption.
New video analytics capabilities: Second-generation MV smart cameras now support custom computer vision (CV) models. With the ability to deploy these custom AI models on-camera, customers can leverage the device's edge computing power to address new, unique business problems—like quality control in a restaurant, or optimizing pallet usage in a warehouse. or what desks are in use.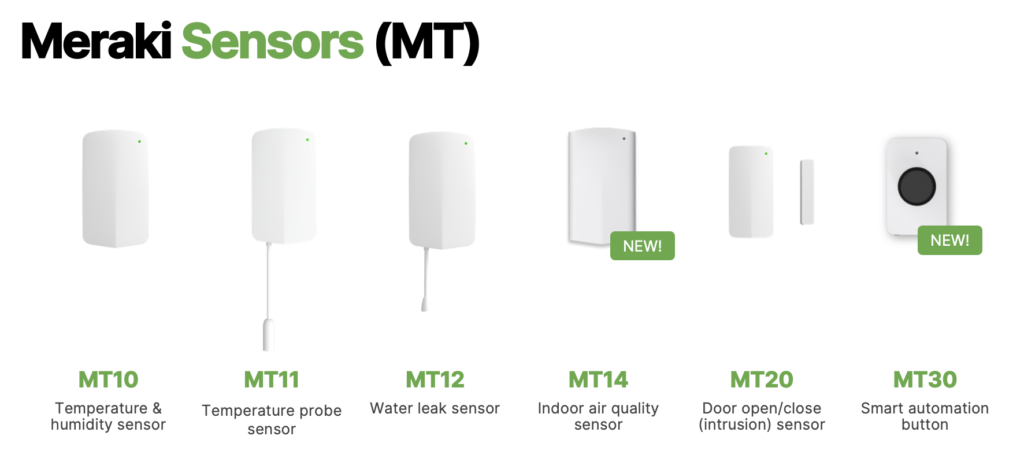 Hybrid and remote workforces
Businesses of all sizes are adjusting to the major digital transitions that have reshaped IT plans and operations over the past two years, spanning hybrid cloud to connect private and public clouds, AI (Artificial Intelligence) and ML (Machine Learning) for the adoption of IoT, and hybrid work to connect everyone and everything securely. Hybrid work success is not simply the ability to support a remote workforce. It is the ability to adapt to change as it happens. It is all powered by reliable, mission-critical connectivity.
For hybrid work to work, a fundamental change is required in how organizations use and rely on technology. Connecting more people and more devices across more places requires ubiquitous wireless connections and increased network strength and resiliency to deliver the best experience every time, with no interruptions.
New wireless networking and analytic innovations include:
Wi-Fi 6E: The new Wi-Fi 6E access point MR57 is the industry's first high-end 6E access points that address the most demanding hybrid business environments. Wi-Fi 6E technology expands capacity to exceed gigabit performance.
AI and data-powered network: AI and data-powered Meraki Health capabilities can help IT teams proactively troubleshoot their networks, automate end-to-end network operations, and start using hard data to plan for the future of their architectures. Meraki Health transforms the data captured from over 23 billion weekly interactions across the Meraki platform into meaningful context and trusted recommendations for IT teams. Meraki Health helps IT teams provide secure, connected experiences for employees with enhanced performance and support, regardless of location.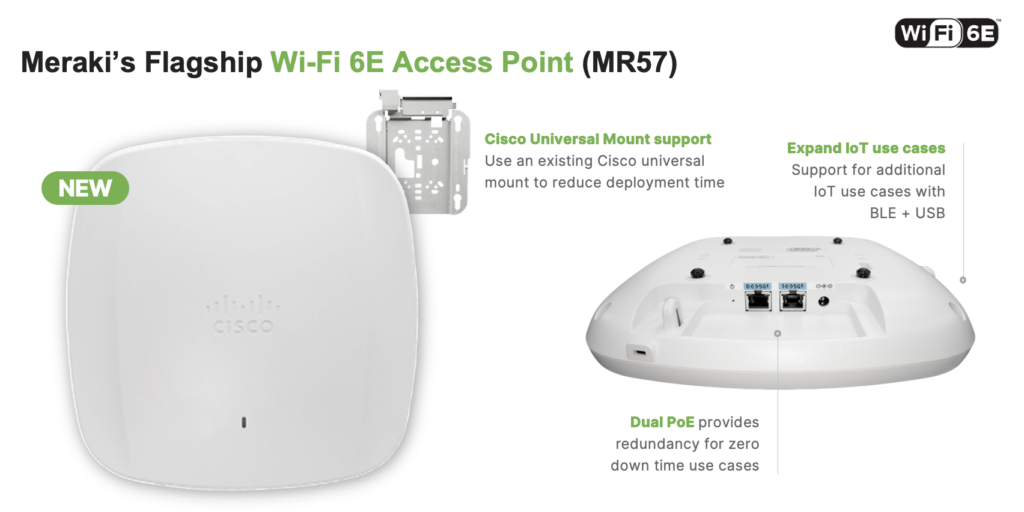 Availability:
MT14 indoor air quality sensor available starting April 12
MT30 smart automation button available starting April 12
Custom CV model for second-generation MV smart camera available starting April 12
MR57 Wi-Fi 6E access point available starting April 19
Additional Resources:
Six ways for IT leaders to reduce carbon footprint
Guide: Experiences are everything
The Total Economic Impact™ Of Meraki MV Smart Cameras
Cisco (NASDAQ: CSCO) is the worldwide leader in technology that powers the internet. Cisco inspires new possibilities by reimagining your applications, securing your data, transforming your infrastructure, and empowering your teams for a global and inclusive future. Discover more on The Network and follow us on Twitter.
Cisco and the Cisco logo are trademarks or registered trademarks of Cisco and/or its affiliates in the U.S. and other countries. A listing of Cisco's trademarks can be found at www.cisco.com/go/trademarks. Third-party trademarks mentioned are the property of their respective owners. The use of the word partner does not imply a partnership relationship between Cisco and any other company.