Today marks international women's day globally. We asked three of our senior leaders about their career histories, the challenges they experience, and what the day means for them.
Karen Schuman

I started my professional career in healthcare consulting, working with hospitals looking to digitise their medical records process. A colleague recommended Cisco and I've never looked back. I've been at Cisco for over 20 years, having started in service provider channels in the United States of America. In 2006, I moved to Cisco Australia. I've been fortunate to move countries with Cisco, and hold various roles in our partner organisation, service provider side and direct sales teams. Today, I lead the small business segment for Cisco Australia New Zealand. I'm extremely lucky to be supporting such a dynamic segment – small businesses are the heart of Australia and New Zealand!
Covid-19 and the lockdown has been tough for us all. On the positive side, it has really brought a level of awareness and understanding on work / life juggling. I say juggle, because, particularly with those over the last two years having to assist with home schooling, it has been a juggle. As a mother of three, in the past, I often felt embarrassed if my child spoke loudly during one of my calls or interrupted me. Now, all that has changed. Colleagues are more empathetic. Now they understand the challenges of a screaming kid or barking dog. Now is OUR time!
Today offers a chance to build an inclusive, fair and equal world; where women are given the same opportunity, and same pay. As a mother, I hope and wish that my daughter has more opportunities to excel than I did. And I smile when I see her challenging the norm, asking, and expecting MORE. A HUGE shout out to the US Women's National Soccer Team who, after six years, smashed bias with equal pay!
Marleese Attilakos
I've been in ICT for 22+ years. I joined Cisco six years ago after 16 years at another global vendor and prior had a family start-up in the transport sector. I wanted to join Cisco specifically because of the pace of change and reinvention of the business it moved to a software company. I saw this as an important market shift and an exciting opportunity to upskill in software as a service.
I initially joined as an account manager in the public sector team looking after major agencies and worked my way to a management role in the commercial sector team within three years. The same year I was recognised in industry by ARN Women in ICT Shining Star Award for my industry contribution. Four months ago, I was promoted to the Cisco Meraki country manager for Australia and New Zealand. This is a dream role with a combination of all my passion areas – sales, strategy, people leadership and driving a strong collaborative culture.
Earlier in career I did struggle to find a voice and wasn't confident to just jump into the conversation as I was often the only woman in the room. Over time I learnt it was an opportunity to use diversity to bring different thinking to challenges and I put myself forward for stretch assignments to build a network, skills in other functions and my confidence. There has been a change in industry and increased focus on an inclusive future across industry and the benefits of building diverse teams. This creates a fantastic platform for all of us to share our learnings with the next generation of talent.
You can pivot your career at any age. I take every opportunity to change fixed mindsets every day. There is a place for every Women in ICT and not all roles are technical. I like to share my career path as it's a non-linear career journey. On a personal level, I went back to university at 40 and re-skilled in a masters in cybersecurity, drawing from no technical background. I broke my own bias that you can pivot your career at any age and the importance of continued upskill throughout my career.
Georgia Jenkins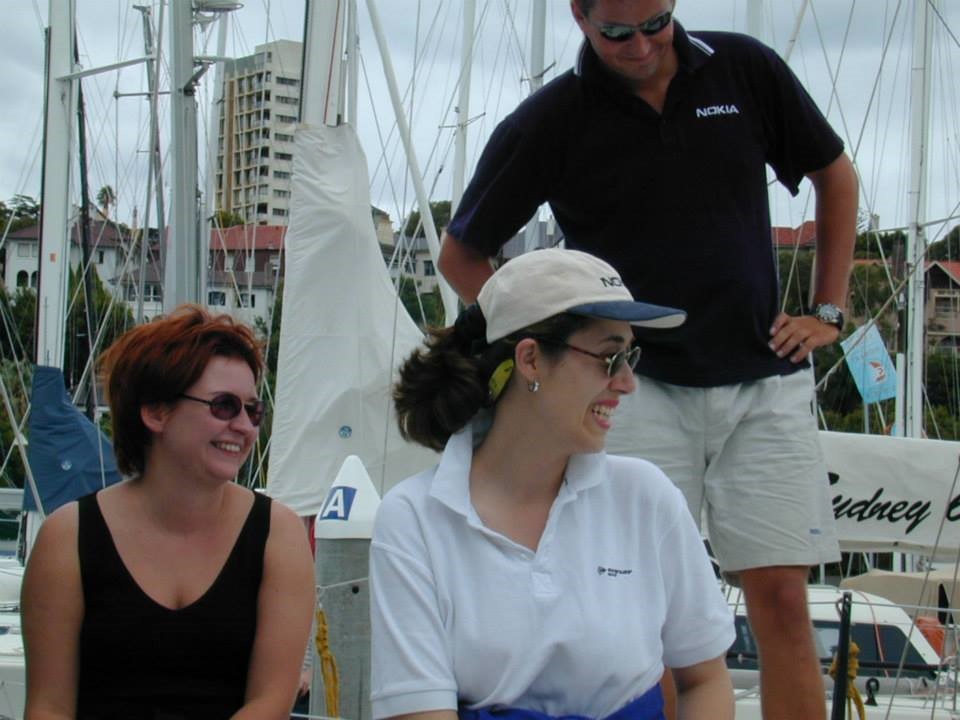 I started my career as an Accountant. Back in the late 90's I was working for a Swedish company and the head of sales at the time commented, "you would be great in sales. If you go and do some sales training, I will give you a job." So, I did! Within a year I was working as an account manager on his team. (Thank you to Peter Bolger CEO Pivotal Group for changing my career!)
From there, I moved on to various sales management roles in the telecommunications industry, travelled and worked on tenders throughout the Asia Pacific region. I also moved to western Europe to look after global services sales, before coming back to Australia. A stint in government as an executive director at Service NSW got me interested in the public sector before I started my current role in Cisco. I've been in the technology industry now for over 20 years.
As a woman in the industry, I think it's still challenging, particularly for younger women working in male dominated industries. However, I want to believe that it is getting better compared to when I first started working. Larger organisations are now more mindful of creating a more inclusive culture and there are also more women at all levels of management – which helps all of us.
For me, introducing diversity into teams I have built and managed is important. By having a team of people from different cultural and professional backgrounds and gender you are introducing diversity of thought, capabilities and I believe, creating a stronger team. Managers need to ensure they recruit responsibly to create an environment where bias and stereotypes do not exist.
My advice to other women in the workforce is – back yourself. You don't have to be the smartest person in the room, you don't have to 'act like a man', just believe in your abilities and what you bring to the table. At the end of the day, we all have something to offer.