The last couple of years have been tough for many, especially as our personal and professional lives go through a tug of war to find the right balance. Working further apart physically has unexpectedly brought many of us closer through virtual, but more meaningful, connections. From seeing into your colleagues' homes to talking about post-pandemic wishes, working in a hybrid model has fostered transparency as we navigate our wellbeing among unexpected challenges.
Time away from work becomes increasingly important in uncertain times, especially when life throws a few curveballs your way. The road to return to work with extended time off can be a challenging and overwhelming period. And there's one group at Cisco dedicated to ensuring this is a smooth process, to help people get Back to Business with a positive experience.
The Back to Business employee network supports employees returning to work from any period of extended leave by creating a supportive, safe environment to share experiences. They also work to educate Cisco Managers on how to support employees returning to work. These networks can make a world of difference in tough times.
My manager had my back: "You will be looked after at Cisco. And I was."
One employee in Australia shared what this time meant for them when their partner was diagnosed with cancer last year. "The day we found out; I was completely able to focus on my partner as my Manager told me to take all of the time I needed. He even offered to visit us – it was a small gesture but meant so much to us."
"It was such a relief to hear."
After taking two weeks off the only ask from their manager was to make them the contact for their out of office message. "It was such a relief to hear." The support this employee received included regular check-ins to see how they were doing, respect and support around appointment days, and sharing personal experiences to let them know they weren't alone on this journey.
While the first few months of getting back into a routine wasn't easy, the employee shared they felt supported to help them transition back into a rhythm again and receive help as needed. So much so that they nominated their Manager for the Back to Business awards – recognising those people leaders who go over and above for their teams returning to work.
Supporting peers: ask questions, check-in, be a friend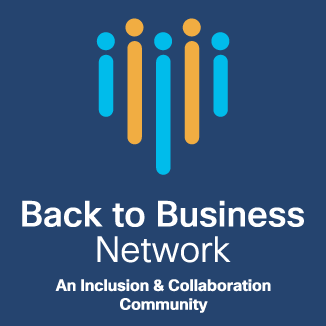 "If there's anything I'd like for someone to be left with from this story, it's that going the extra mile can go far: ask questions, check-in and be a friend. I recall at one stage early in the journey I was feeling overwhelmed with the warmth and so appreciative for the care and support I received from the team and many of my colleagues – those who checked in."
"A big weight was lifted when I learned cancer hasn't spread – so it's all monitoring from here. I couldn't imagine what it would've been like if we hadn't checked earlier. To everyone out there, don't be afraid to ask questions and get checked."
"I remember going through that time and hearing that I will be looked after at Cisco, and I truly was."
Back to Business is a network offering a supportive community and safe environment to share experiences and connect with Cisco employees across the world going through similar circumstances, such as returning from extended leave.