By Helena Ng, Technology Lead for Small and Midsize Business Sales, Cisco Australia, and New Zealand.
I've been part of Cisco for 16 years. I was working as a wireless specialist engineer at a start-up, Airespace – which was then acquired by Cisco. I've also worked in solutions marketing, specialist technology sales, and business development across the Asia Pacific region. I currently support the sales teams to grow our market and drive strategic sales programs in Australia and New Zealand. I am cross-technology and curate the portfolio of products specifically for their suitability in the Small and Midsize business market, covering everything from networking, security, collaboration, storage, compute, cloud hosted software.
For seven years I've been mentoring female university students as part of Cisco's MentorMe, which used to be known as the Lucy program. I also volunteer with the CSIRO to support teachers as they help kids nurture their interest in science technology engineering and math.
I am grateful to have time to give back at work as it's aligned with my values and mission to actively maximise diversity in ICT. I really value being able to contribute to that vision as a mentor, and as part of a group I co-lead within Cisco known as the Connected Asian Affinity Network which is dedicated to helping Pan-Asian professionals grow.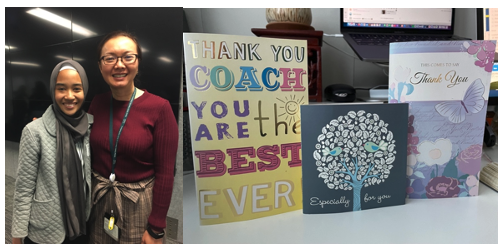 Through mentoring I am reminded of the foresight and drive in young women and notice those who see the unusual opportunity of pairing with an experienced professional tend to get the most out of the experience. They remind me of the feeling of optimism combined with uncertainty that can characterise a young person contemplating their future career, and how a surefooted trusted advisor can provide support to solidify their self-confidence and help them bloom.
I've heard from multiple mentees that they swim against the tide of opinion from family or through subtle societal messages in choosing degrees or industries that are male-dominated, and it is heartening to be able to provide an alternative pragmatic perspective to them. Mentees can be so inspiring, such as the courage of a former CEO who was starting a new life for her family in a new country, recertifying her qualifications for local recognition and yet joyful at every step.
Mentors will often say that they get as much out of a mentoring relationship as a mentee, because it's true.
It's so easy to go from one challenge to the next in life, hardly looking back to see or appreciating the progress you've made. Mentoring reminds you of how much you have learned and being able to celebrate how much you have learned and recognise that you carry the gift of being able to coach others in paths you've trodden before them.
Education and vocation is such a concrete step towards addressing class-based social inequality and by whatever small contribution, I'd like to think that I'm exercising my civic duty in busting any myths or self-limiting perceptions about capability or suitability that may deter a person from pursuing a career in IT. IT has been good to me – I may not fit the mould of a typical technology industry veteran and it is not lost on me that I might serve as a comforting example for others who may not see people like themselves reflected in the room they are about to step into.
Cisco's MentorMe program has kicked off for 2021, mentoring over 170 female students across 17  universities in Australia and New Zealand over a nine-week program.