Did you build robots in primary school? Cisco has been partnering with CSIRO to bring Science, Technology, Engineering and Maths (STEM) Professionals to schools to share some insights about their roles, and in some cases, even build robots!
STEM Professionals in Schools is a national volunteer program that facilitates partnerships between schools and industry to bring real STEM into the classroom, run by CSIRO.
As part of Cisco's National Engagement Strategy, Cisco is committed to mentoring as part of its broader AUSTEM 2020 commitment to training 100,000 students in critical networking/STEM skills announced in 2015.
The Cisco team are passionate about educating the next generation in STEM, and have been working with their local schools to bring their passion to the classroom. We've asked John, Terry, Wayne and Chris to share what they've been up to.
John Evans, Systems Architect, Canberra
I've been working with kids in year 4 at Farrer Primary School, introducing them to the physical device – Adafruit Circuit Playground Express and then an introduction to block-based programming of the Circuit Playground Express.
We have stepped through the fundamentals of taking inputs on the device, such as a loud noise or shaking the device, then programming it to create an output from those actions, for example to turn on the lights, changing the colours on the lights, or playing sounds. It's a little technical but provides the fundamentals for programming.
Next steps will be to combine a maker project with a programming project as teams and make something and bit more complex.
Terry Weber, Regional Sales Manager, Brisbane
I taught STEM at two schools last year. The first was Clayfield College, working to introduce year 4 students to STEM. We used Microbit computers and we built lots of different circuits. Each week we've had a different project covering the following milestones: building a wind generator, measuring moisture in soil, and creating old school games such as snake and flappy bird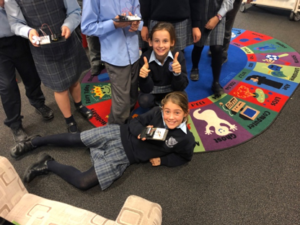 I also taught at St Mary's Parish School in Goondiwindi. Goondi (pronounced Gundy) is about four hours from Brisbane near the NSW border. I sent Microbits out to the school and taught them each week via Webex. The kids are a composite of years 3-5 and we spent one hour per week building circuits. Using Webex has been an awesome experience as we get to interact easily, and I've also taken advantage of the document scanner camera on the DX80 to show circuits up close. The feedback from the school has been extremely positive!
I did do a one-day visit to St Mary's for a STEM day where we had 50 students join in on program!
Wayne Varney, Customer Delivery Manager, Melbourne
I delivered a well-received presentation to a large group of Year 10 students at Mentone Grammar in Victoria on topics including the Basics of Networking and Cyber Security Threats/Mitigation.
 Janet Bradburn, APJ Data Centre Specialist, Sydney
I think influencing the next generation is critical when it comes to making a career in technology 'cool'. It's also important to show the diversity of roles available and the benefits of working for a company like Cisco.
Last year I worked with Balmain Public School. As I'm not technical myself, I focused more on the business side of technology by sharing some of the dramatic changes technology has influenced across our society. We then spent some time discussing both the benefits and also the challenges of those changes. It was great to hear the kids' thoughts and questions – they were quite interactive. We then ran a small project where they had to work on developing a solution to an interesting problem, using technology, the best of which then went on to develop a business plan for their idea.
I will continue to work with the STEM program this year and can't wait to see what the kids come up with next!
Chris Miles, Business Solutions Architect, Canberra
I am really passionate about STEM mentoring as the Cisco lead for STEM partners in Australia and New Zealand. I love seeing children develop and grow skills in STEM. I've worked closely with Mawson Primary School, about how computers make decisions through a journey with Ozobots. This was a term project that had the kids creating their own choose your own adventure stories and then bringing them to life through little robots.
This included developing an adventure storyboard, and an Ozobot introduction in which we talked a lot about computers and programming, logic and the conditions that apply to get it all working