Managed services is the most exciting and disruptive market transition in the technology and technology services industry right now. The global managed services market for managed service providers has already surpassed US $ 400 billion and a recent Canalys study has shown that while 90% of partners globally expect their managed services revenue to grow in 2023, 61% of those partners see that growth to be in double digits. In Europe, the Middle East and Africa (EMEA), 34% of partners expect manages services growth to be upwards of 20%!
In EMEA customers and partners are very mature when it comes to managed services and customers expect partners to lead with consultative models that progressively dovetail into outcomes around operational efficiency, higher uptimes, enhanced cybersecurity and focussed sustainability metrics. Canalys growth forecasts show EMEA managed services revenue likely to experience a compound annual growth rate (CAGR) up to 12% between 2023 and 2025.
The post-pandemic world is experiencing an unprecedented pace of disruption and digital transformation faster than anything we have ever experienced. This disruption cuts across industries, countries and geographies. Customers buying behaviours are evolving with the focus shifting from core capabilities of technology products and platforms to very specific outcomes and experiences.
While CIOs continue to have important roles to play in technology decision-making, cross-functional stakeholders such as Chief HR, Digital or Marketing Officers now have an equally or even more important say in the process. Line-of-business stakeholders care about their customers' experience and competitive differentiation. CFOs are laser focussed on new consumption models and reducing dependence on traditional point-in-time, capex-based spending, while CEOs are more involved than ever in trying to future-proof their businesses in a rapidly changing world.
Customers want to focus on their core competence and the needs of their customers, as opposed to building large internal IT teams to run their day-to-day technology operations. Partners who are leading with managed services, have the capability to deliver outcomes and experiences which address the care-abouts of cross functional stakeholders across the entire spectrum. Partner managed services are the bridge between technology capabilities and customer outcomes and are the key to meeting our customers where they are and helping them accelerate their business transformation initiatives.
At Cisco, partners have always been at the heart of everything we do, with more than 90% of our business globally being managed by our world class partner ecosystem. This would not be possible without the continuous innovation at Cisco, with our partners at the forefront of translating that industry-leading innovation into value for our customers.
Managed Services in EMEA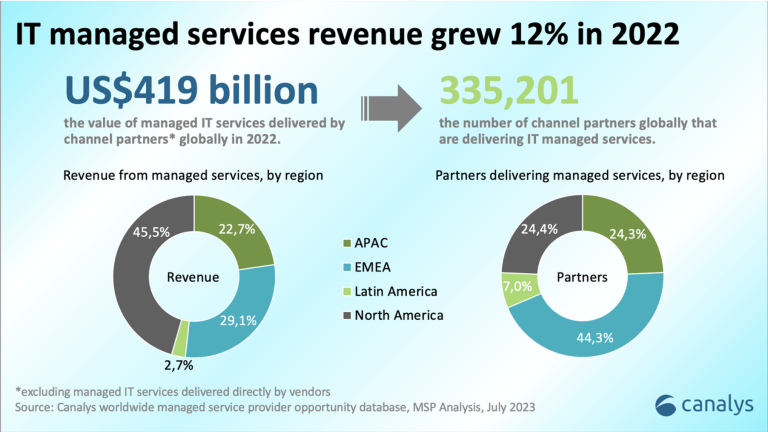 One interesting point that stood out in the study was that almost half, 44% to be exact, of partners throughout the EMEA partner ecosystem are already delivering managed services. This is higher than any other geography in the world and EMEA is already a US $ 122 billion managed services market. EMEA partners also lead with innovation by consuming APIs across Cisco's architectural platforms to enhance managed services operational capabilities and customer experience. We will continue to double down and invest in managed services provider partners who are in this journey with us, across the entire partner landscape, from service providers to global systems integrators and regional value-added resellers. We are committed to supporting our service provider partners fast-track their strategic objectives and leverage Cisco-branded partner managed services to create competitive differentiators for themselves and consistently enhance the value delivered to end customers.
Cisco's Partner Managed Operating Model
Our partner managed services operating model is based on a partner managed success framework, which outlines milestones in the journey from engagement and offer development which sets the foundation, to very focussed activities like service creation and sales acceleration. Service creation is a vital stage in the managed services journey, where we assist our partners with detailed methodologies and frameworks around partner managed ready offers across several of our products and platforms. This allows our partners to fast-track the service creation process and reduce time-to-market for their Cisco offers. Sales acceleration is about taking the market-ready partner services and integrating them with the partner's sales and go-to-market motion. This includes seller enablement, go-to-market planning, marketing and demand generation activities.
Partner Managed Services and Sustainability
Cisco's focus on sustainability has been categorically stated in our company mission and purpose. Delivering managed services allows our provider partners to play a meaningful role in how our customers are using our technology solutions throughout the different stages in the lifecycle. This gives our provider partners the unique opportunity to ensure that we help our customers achieve their sustainability goals as an embedded outcome in the day-to-day operational processes. This ranges from smart energy optimisation in live production environments to designing solutions using products which are natively energy optimised. And since the provider partners are focussed on outcomes, customers are always assured of achieving their business objectives with a strong focus on sustainability metrics. We are now actively working on adding sustainability certifications to our branded Cisco-powered partner services, which our top managed services provider partners are leading with.
There is no doubt that partner managed services represent a significant growth opportunity for our partners to drive revenue and higher profitability. And it is now proving to be the magic key that equips our partners to help customers achieve sustainable business transformation and deliver consistent levels of partner success for all partner types.
The research results from Canalys show that in this era of collaboration, managed services are being crafted to suit the dynamic landscape of the present day. This adaptable solution holds advantages for everyone involved: partners, vendors, and customers alike. To find out more about the managed services growth globally and how it relates to the Age of the Partner, I invite you to read Alexandra Zagury's blog.