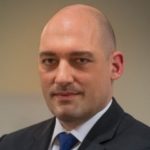 Sustainability has long been a central component of Cisco's mission to power an inclusive future for all. We are placing greater urgency on making measurable progress towards addressing the global climate crisis and intend to drive change that matters. With that in mind, we are launching Cisco Green Pay, a circular IT payment solution for Cisco's sustainable technology.
Introducing Cisco Green Pay
Cisco Green Pay offers a 5% incentive on Cisco hardware, enables predictable payments over five years, provides free product returns, and helps Cisco fulfill our commitment to 100% product recovery. When the equipment is returned, the customer receives a certificate confirming that it has entered the circular economy. Eligible Cisco sustainable technology includes Green Meraki, the Cisco IoT (Internet of Things) portfolio, smart building solutions, and Service Provider (SP) infrastructure. At the end of the term, customers return the hardware free of charge to adopt newer and more sustainable technology or extend the term for one year.
"Cisco Green Pay allows us to drive the adoption of more sustainable Cisco technology to further support our customers' and partners' environmental and sustainability goals," said Wendy Mars, President EMEAR, Cisco. "This payment solution will drive circular consumption of our sustainable architectures by removing costs for returning and transporting equipment that Cisco will then remanufacture into new products."
Supporting Customers' Transition to Circular IT
Cisco Green Pay helps customers more effectively reach their sustainability targets through Cisco sustainable equipment. It also minimizes waste and offers predictable payments that align with the technology lifecycle.
At the end of the lifecycle, we work with customers to pick up the equipment at no cost to ensure it is properly handled and enters the circular economy, and the customer receives a certificate of confirmation. Upon return, the equipment is stored in a secure location and data is cleared from returned hard drives to protect data security. Cisco reuses and recycles 99.9% of what is returned to us, which helps our customers meet their sustainability goals and ensures responsible disposition of equipment.
Benefits to Our Partners
Cisco Green Pay will help partners support their customers' sustainability strategies and increase customer loyalty by ensuring legacy equipment is removed in an environmentally friendly way.
The program also helps partners exceed customer's business objectives by adding adoption and lifecycle services that help accelerate customers' time to value and return on investment. Cisco is committed to helping our partners find new ways to service customers and improve their business offerings while helping all involved create more sustainable business practices and goals.
Additional Initiatives Driving Sustainability
Cisco is one of nine companies that have committed to applying circular economy principles to recover value along product lifecycles. That means designing products that are more energy efficient and are more easily repaired and reused, creating packaging that uses fewer raw materials, and implementing programs that maximize reuse and recycling—like Cisco Refresh. Cisco Refresh is genuine pre-owned Cisco equipment that has been completely remanufactured to like-new condition and helps customers shrink their carbon footprints by diverting waste from landfills.