I'm excited to give you some insight into our Customer Experience team by sharing the stories of those who make it happen, our experts themselves! In this blog, Amine Ikibi walks us through 'a day in his life' as a Portfolio Activation Specialist.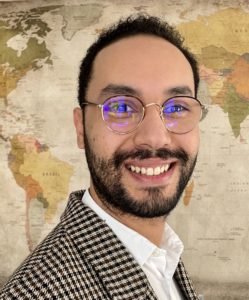 In the course of a year, my typical working day – like everyone else's – has changed a lot. But although we're no longer in the office, customer experience remains just as, if not more important than ever.
Being a Portfolio Activation Specialist, I need to establish strong relationships with my clients to offer a personalized service that shows we understand their business and can help them achieve their goals.
But the vendor-buyer relationship has been transforming for years. I've seen it move from a transactional model to an increasingly collaborative and cooperative one, with people like me serving more and more as strategic partners.
This is echoed in IDC's IT Supplier Customer Experience Report, which also explores how this has only accelerated since the start of COVID-19. It makes for interesting reading and reaffirms my belief how CX's importance will only continue to grow, so I feel privileged to be working right on the cutting edge here at Cisco!
In the meantime, I hope my own experiences can enhance your own approaches to customer experience.
What is a Portfolio Activation Specialist (PAS)?
People always ask me this and my answer changes day-to-day (very much like the job).
So, I've borrowed this description from our website, which describes the role as a highly critical, strategic advisor and onboarding expert that engages with customers to accelerate their consumption of Cisco's Enterprise Agreement.
To then answer your next question, Cisco's Enterprise Agreement is a way to simplify software license management by consolidating multiple subscriptions and renewal dates into one subscription and one renewal date.
In a nutshell, I support customers to transform their business and drive decisive business outcomes, as simply and effectively as possible. And as you can see, customers are at the heart of everything I do.
I'm also the first point of contact for many clients, meaning my role takes on added importance – if the experience I deliver isn't up to the high standards of IT buyers, this will almost certainly have a negative knock-on effect for all of their other interactions with Cisco.
In fact, such is the importance of Customer Experience, IDC reports it to rank above DevOps capabilities, cloud-native skills and the availability of options supporting digital transformation projects for IT buyers when selecting suppliers.
This is another strong reminder of how the buyer-supplier relationship is becoming less transactional and more collaborative.
The importance of communication
A typical day in my virtual office will see me talking to a variety of people – both internally and externally.
In terms of clients, I'll usually meet with several key decision makers a day, with hour-long sessions designed to help with anything and everything from onboarding, to consulting on how best to maximize the value of products and reporting on performance or any areas for improvement.
Sounds simple, right? But meeting clients is just the fun part! Before any session, hours of preparation and studying their business needs go into planning the sessions to make sure they're as personalized, impactful and meaningful as possible.
Going above and beyond is all part and parcel of delivering an optimum Customer Experience. The rising complexity of enterprise processes, systems and ecosystem dynamics has accelerated along with the rate of technology development.
IT may be abundant, but no one can go it alone. IT suppliers need to have high-touch customer models in place that go beyond classic service implementation approaches.
But I couldn't do it without my colleagues: internal collaboration is key and on any given day, I'm required to upkeep a constant, productive relationship with sales and other teams to make sure we're learning from each other and are aligned to deliver a consistent experience for our customers.
Of course, this has become more challenging since the start of the pandemic – it's no longer possible to swivel on your chair and ask a quick question, grab a coffee, or establish and build the relationships and friendships like you can in the office.
However, I must say that Cisco's leadership has been brilliant at doing everything they can to keep us connected and motivated, with regular activities, catchups, games and quizzes – with the added incentive of prizes!
Succeeding together
Given the disruption of last year, it's hard to predict what will happen within the industry going forward.
But I do think there's a huge opportunity for my team as we continue to educate, internally and externally, about the importance of strategy, software and the subscription model of business that we strive to deliver every day.
In the IDC report I mentioned earlier, automation, self-service and off-the-shelf solutions are listed as the main factors that will help simplify IT acquisitions. But the rising number of complex projects will require true collaborators rather than simple suppliers.
From my own experience, I can only agree: collaboration for me is the key to customer experience and I very much look forward to working ever closer with my colleagues and clients in a post-pandemic world.
Explore the best Customer Experience solutions to help you on your journey here.