I'm excited to give you some insight into our Customer Experience team by sharing the stories of those who make it happen,  our experts themselves! In this blog, Helen Watson walks us through 'a day in her life' as a Customer Success Executive here at Cisco.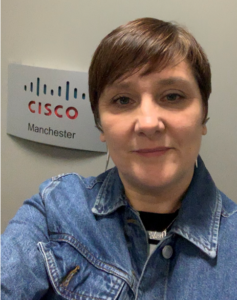 What does a typical day look like for me? Well its starts with a big mug of coffee – because really I'll need it.
Being a Customers Success Executive, my job means just that: ensuring our customers are successful. I'd describe myself as an orchestrator. Not because I'm musically inclined. But because I'm touching base with so many different departments, making sure we're all aligned.
Although, maybe that music analogy is right. As the voice of the customer inside Cisco, I need to make sure everyone is reading from the same hymn sheet as it were: whether it be techies, accounts, or even up in the C-suite. That means having a great relationship with everyone, understanding what motivates people, and doing everything I can to, well, create a symphony of progress.
It's a busy job – but an important one too. A recent IDC report says 47% of enterprises say a supplier's ability to help them plan, implement, and manage a solution is important to them. In such a competitive market, the thing that really makes Cisco standout is the exceptional customer experience we offer.
A strong partnership
I work pretty much exclusively on our BT account – and trust me, that's enough to take up all of my time. Our latest project has been support around transforming the underlying infrastructure when condensing BT's 300 offices into just 30 campuses.  This is part of their Better Workplace Programme. As you can imagine, there's a lot to do.
So a typical day might start with a morning team catch up about that project. I'll then spend my time trying to spot any bottlenecks or business challenges and break down any barriers to technology adoption.
Later in the day I might have a catch up with accounts and go over strategies for selling new products or renewing infrastructure. This is a really important part of my job, but I think a key thing for me is that I'm not targeted on revenue. My target is always Net Promoter Score. And I think that helps in several ways.
Firstly, it really puts BT at ease. When I meet someone new, it's the first thing I say to them so that they know my aim isn't to sell. I succeed when my customer is happy, so that means they know I'm always striving to help them achieve their goals. Secondly, it really helps my relationship with accounts. They don't need to worry about me swooping in and stealing a sale – meaning we can help each in our separate goals while still achieving the same outcome.
I think another thing that helps is that I have spent 15 years working at BT. The culture, the contacts, the ambitions – they are all familiar to me, so I feel a real emotional connection to my customer. When I head over to the BT office (in the pre-COVID days at least) I would sometimes even sit at my old desk! So I see myself as a real conduit between the two companies. BT's problems are my problems, and my customers know I have a sincere desire to help.
I truly think Cisco has got the best CX lifecycle model in the business. In fact, BT liked it so much, they wanted to replicate it in their own business for when selling to their customers. They see Cisco as setting the gold standard for customer experience, which is great for both of us to be able to work together in harmony. Building their CX team and helping them get their CX Advanced Certification has been a big project for me, and we should have this finished up by July this year.
BT have seen really great results so far, and I'm sure their new approach to customer experience will continue to help them in the future.
Succeeding together
What does the end of my day look like? Well, it can be as unpredictable as the beginning. Catching up with procurement perhaps, supporting Customer Success Executives in other parts of the business, or simply ensuring we're prepared for our weekly catchups with BT and our quarterly success reviews.
The IDC report I linked to before says hands-on customer experience offering services that match client needs are increasingly important – and I couldn't agree more. I'm thrilled to read the report praising Cisco's Customer Experience offering – it's a real vindication of what we do day after day.
It's a dynamic, fulfilling and utterly brilliant job. No two days are the same – just as no two issues are the same. But what really makes the job a joy is working with so many people. Connecting with them, helping them, and when needed, utilizing their skills to solve problems.
It's not about selling a solution then forgetting about it. It's about joining our customers on their journey, making sure their satisfied that our solutions are delivering the outcomes they need. There's no quick fixes, and we don't always get it right. But through listening, working hard, and ensuring we keep those lines of communication open, there's no obstacle we can't overcome together.
Explore the best Customer Experience solutions to help you on your journey here.