Future social historians may find themselves scratching their heads when assessing the appeal of the standard corporate office in the late 2010s. At a time of high-speed broadband and commonplace video calling, why did almost all office employees, they may rightly ask, choose to congregate in a work environment with poor lighting, bad furniture, and terrible food options?
For the latest generation of workspaces, a day in the office is now an experience. The new office comes complete with an on-site gym, ergonomic seating, tasteful planting, a podcast studio, and healthy eating options. It is a place you want to commute to.
Millennium is one of the best examples of this type. Opened in 2022 overlooking Lake Geneva, it features 1600 workplaces – along with a delicatessen, nursery, art gallery, dry cleaner's, hair salon, concierge, and a 500-space car park with a car wash.
"Why wouldn't you want to spend all day here?" says Martin Schlienger, Millennium CTO.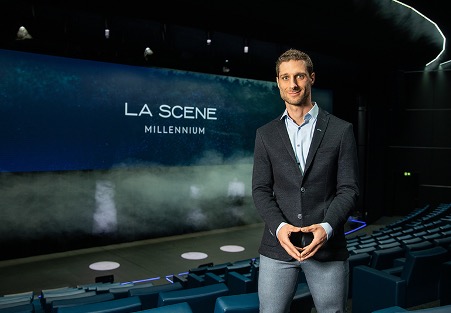 Creating a frictionless experience
As expected, Millennium in Switzerland boasts the latest in smart building technology. The glass façade responds to the day's weather, altering its tint to provide a glare-free environment. Power comes from the roof-top solar panels. Energy consumption is finely tuned. The building meets the highest sustainability standards.
"Our goal was to create an unforgettable experience without neglecting sustainability and efficiency," says Schlienger.
For regular visitors, it is a home-from-home experience. When you enter the building, the security gates recognize your identity automatically and send the information to the smart elevators through recognition software. An elevator is waiting, taking you directly to your floor. Air quality is monitored and maintained throughout the building. Facilities booking is all-digital. Wi-Fi connectivity is pervasive.
"We want to create a frictionless experience for visitors," says Schlienger. "The building can get smarter. We want Millennium to continue to adapt."
Schlienger's point is that Millennium is a live exercise in new features and data-collection. All rooms are modular, equipped to suit multiple purposes. There will always be new data opportunities, new smart building features, and ongoing user feedback. In effect, offices are in a continual features race. What appears novel today will quickly become standard.
This means Millennium can never be static. For Schlienger and the team, the challenge is to keep exploring the limits of the new workplace experience.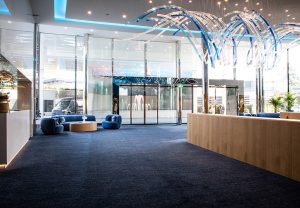 Innovation managed off a single platform
This unique facility is all made possible by the underpinning technology: the entire building, including the catering and service outlets, are connected to a single Cisco DNA network. Everything can be controlled from here: including monitoring the air quality, the all-IP network, transmission of audio and video data to every area of the building, and monitoring the smart façade with its self-regulating windows.
Schlienger and his team come from the technology sector. They had a clear tech vision for the building, but recognized they would need help in the planning, design, and implementation.
"We had the knowledge," says Schlienger, "but given the size and complexity of the project we needed reliable professionals alongside us."
Thanks to Swisscom's extensive expertise and Cisco's Catalyst network infrastructure, Millennium now benefits from a reliable and powerful IT infrastructure that meets the company's exacting requirements. The project is part of Cisco's Country Digital Acceleration (CDA) program, one of more than 1,500 projects underway in 46 countries. CDA is a collaboration between Cisco and government or private sector leaders to build sustainable, secure, and inclusive communities powered by ethical and innovative technology solutions.
"Swisscom has accompanied us throughout the process, from the development of our vision to the implementation of our project. Their expertise and integration with our technical teams have contributed to the success of Millenium," concludes Schlienger.
Do you want to know more? Follow this link.