Cisco Collaborates with DCDT to Launch New Phase of Country Digital Acceleration Program
News Summary:
Cisco signed a Memorandum of Understanding (MoU) with South Africa's Department of Communications and Digital Technology (DCDT) to help further develop and strengthen the country's digital economy.
The collaboration will focus on economic development, digital skills and talent development, sustainable critical national infrastructure, cybersecurity and digitisation of government services.
To date, this partnership has provided IT and digital skills training to nearly 260,000 students in South Africa through the Cisco Networking Academy.
JOHANNESBURG, South Africa, Oct. 13, 2023 – Today, the Department of Communications and Digital Technologies and Cisco signed a Memorandum of Understanding (MoU), launching a new phase of the Cisco Country Digital Acceleration (CDA) Program in South Africa.
The Memorandum was signed between the Department of Communications and Digital Technology (DCDT) Director-General: Ms. Nonkqubela Jordan-Dyani and Cisco SA GM: Ms Smangele Nkosi. The Signing Ceremony was overseen by the Honourable Minister Mondli Gungubele and Cisco Chair and CEO, Mr. Chuck Robbins.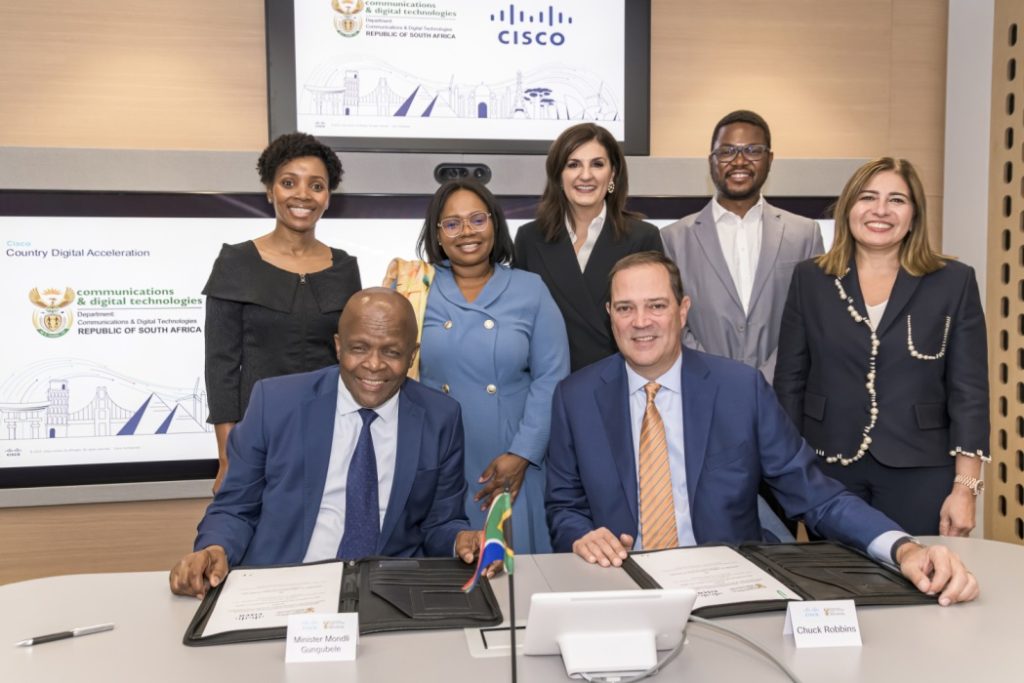 The MoU outlines the continuation of the collaboration between Cisco and DCDT, initially launched as a three-year program in 2019. The next phase will focus on economic development, digital skills and talent development, sustainable critical national infrastructure, cybersecurity and digitisation of government services. As part of the CDA Program, Cisco will continue to support South Africa's long-term digital skills movement, contributing to the country's digitisation agenda. Additionally, Cisco will play a vital role in facilitating digital upskilling and training, promoting job creation, and driving positive economic growth.
Commenting on the initiative, Minister Mondli Gungubele said, "With digitisation as the engine of economic growth, we are proud that Cisco's collaboration with DCDT will contribute towards the growth of South Africa's economy. Together, we will accelerate digital skills transformation, empowering South Africa's youth and SMMEs, while enabling an inclusive future for all."
"Together with Cisco, we've made substantial strides in tackling challenges related to skills development, job creation and digital education. The positive results of our collaboration have inspired us to embark on the next phase. As a result, we have agreed to further expand our collaboration and venture into new domains, with plans to harness Cisco's expertise among others in cybersecurity. Reflecting on the achievements of our initial Country Digital Acceleration collaboration with Cisco, I am confident that we will continue to achieve our shared goals", said Director-General, Nonkqubela Jordan-Dyani from the Department of Communications and Digital Technology.
"This new phase of Cisco's Country Digital Acceleration initiative reaffirms Cisco's commitment to advancing socio-economic growth in South Africa by accelerating the digital economy. We believe that by empowering communities and businesses with key tools and technologies, they will thrive in South Africa and beyond," said Chuck Robbins, Chair and CEO, Cisco.
Building on the success of the past three years, Cisco and the Department of Communications and Digital Technologies (DCDT) will collaborate in several areas including:
Economic Development: Cisco will expand its network of EDGE ("Experience, Design, GTM (Go to Market) and Earn") Centres to support Small, Medium and Micro Enterprises (SMMEs) in the technology sector with business mentoring, incubation and training opportunities to help advance their market access and exposure. Cisco will also support the DCDT DigiTech programme aimed at advancing the commercialization of locally developed digital innovations.
Growing South Africa's Digital Economy with Skills and Talent Development for All: Leveraging the Cisco Networking Academy, one of the world's largest and long-standing IT skills-to-jobs programmes, Cisco will strengthen its collaboration with technical and vocational education and training ("TVET") colleges and work with DCDT to establish new Cisco Networking Academy partnerships in correctional facilities. Cisco will also continue to support the creation of Digital Learning Hubs in public libraries.
Building a Sustainable and Secure Critical National Infrastructure: Cisco and DCDT will identify projects that build and improve South Africa's underlying digital infrastructure and foundational services in key areas including energy, transportation, healthcare, government services, agriculture, mining, national ports, broadband connectivity, modernisation of government IT infrastructure and national cybersecurity.
Digitisation of Government Services and Preparing the Public Sector Workforce for a Digital Future: Leveraging Cisco's Digital Solutions for Connected Government Services, Cisco will help develop architecture blueprints focused on citizen experience, mission critical services, public safety, justice and cybersecurity. Cisco will also work with the Department of Communications and Digital Technology (DCDT) to help make digital education content available to government employees and officials through the establishment of a Government Digital Academy.
Highlights of the first phase of the DCDT-Cisco Country Digital Acceleration Program in South Africa:
Through collaboration with tertiary education institutions and TVET (Technical, Vocational Education and Training) colleges, Cisco's Networking Academy has trained nearly 260,000 students, of which 50% identify as female.
As of end November 2023, Cisco will have six EDGE Centres across South Africa, beginning with the first EDGE Centre in Pretoria in 2018 and, most recently, two EDGE Centres in Johannesburg and Cape Town in collaboration with WomHub, a female-led business incubator.
Over the past years, CDA and the National Library of South Africa (NLSA) launched a series of digital learning hubs across the country.
---
About the Cisco Country Digital Acceleration (CDA) programme
Cisco's CDA Program teams with governments, industry, and academia to connect the unconnected and grow GDP around the world. With 1500 active or completed projects in 49 countries, CDA is transforming agriculture, creating energy efficient power grids, driving new economic opportunities, and sowing educational and healthcare opportunities. To compete in today's global economy, every nation needs modernized digital infrastructure and a digitally empowered workforce. CDA is making it happen.
To learn more: https://www.cisco.com/c/en/us/about/country-digital-acceleration.html
About Cisco 
Cisco is the worldwide technology leader that securely connects everything to make anything possible. Our purpose is to power an inclusive future for all by helping our customers reimagine their applications, power hybrid work, secure their enterprise, transform their infrastructure, and meet their sustainability goals. Discover more on The Newsroom and follow us on X at @Cisco.
Cisco and the Cisco logo are trademarks or registered trademarks of Cisco and/or its affiliates in the U.S. and other countries. A listing of Cisco's trademarks can be found at www.cisco.com/go/trademarks. Third-party trademarks mentioned are the property of their respective owners. The use of the word partner does not imply a partnership relationship between Cisco and any other company.
About the Department of Communications and Digital Technology (DCDT)
The Department of Communications and Digital Technologies (DCDT) is a government department that is mandated to lead South Africa's digital transformation to achieve digital inclusion that must result in economic growth through creating an enabling policy and regulatory environment.  The vision of the Department is to be a leader in enabling a connected and digitally transformed South Africa.
The National Development Plan indicates that by 2030, ICT will underpin the development of a dynamic information society and knowledge economy that is more inclusive and prosperous. A seamless information infrastructure will meet the needs of citizens, business and all the public sector, providing access to the wide range of services required for effective economic and social participation – at a cost and quality at least equal to South Africa's competitors.
DCDT therefore plays a crucial role in fostering broader economic and social participation by all citizens through digital transformation underpinned by the Fourth Industrial Revolution (4IR). The Department is focused on creating a South Africa where citizens can enjoy greater economic and social prosperity and comfort, enjoy higher levels of health, wellbeing and safety through levering the 4IR.
---
Media contacts
Mariaan Christian
Cisco Communications Lead, Sub-Saharan Africa
E-mail: machrist@cisco.com
Jane Moshoeshoe
Department of Communications and Digital Technologies
E-mail: JMoshoeshoe@dcdt.gov.za