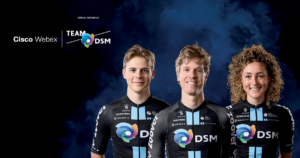 Cisco Webex and Team DSM today announce a new strategic partnership to drive collaboration between Team DSM's cyclists, team members, specialists, partners, as well as engage with their global fan base. As the official collaboration partner, Cisco Webex will integrate its secure devices and applications into Team DSM's daily activities as they train to compete in the UCI WorldTour races, and prepare for the future of sports.
Team DSM will leverage Webex devices and applications to collaborate across different timezones, languages and locations. The Team's cyclists will use the collaboration tools in and out of races to continuously improve their performance and reimagine how to work in the era of hybrid sports – which combines the physical and digital world. Webex will also enable them to be more inclusive of broader audiences who cannot attend races or meet in-person.
Vaughan Klein, Senior Director of Collaboration, Cisco EMEAR, said: "More than ever before, collaboration technologies like Webex will enable sports to be hybrid by bridging in-person and virtual experiences, and support world-class teams like Team DSM to reach their full potential. We're proud to partner with Team DSM as they reimagine how they work, connect and train in the new normal and constantly step up to 'keep challenging' the status quo. It is an inspiring vision that touches millions and contributes to their ongoing success."
Jan Wermink, Head of Business Strategy, Team DSM said: "We are thrilled to share this partnership with Cisco Webex. Cisco is a world leading IT company and a true driver of innovation. Our philosophy within the team is about a committed joint effort to constantly improve and achieve our dreams. Cisco is all about collaboration, networking, security, sharing information and fast communication and therefore a genuine match with our team. Furthermore, this strategic partnership opens up great new opportunities of engagement with our fans. We look forward to our cooperation in the coming years."
 To learn more about the Cisco's official collaboration partnership with Team DSM, click here.
END
About Cisco Webex:
Cisco Webex delivers collaboration solutions that give everyone a voice — and business the ultimate edge. Because, when businesses enable employees to bring their best selves to work, everyone wins. Designing for these connections is at the heart of everything we do — from product design to new innovations to the way we engage inside and out. To learn more visit www.webex.com.