Remote working during the pandemic has challenged society's cultural norms around the workplace
87% of office workers want the ability to choose whether to work from home or office, and manage their hours, even when offices open up
63% want to maintain the autonomy they experienced during the pandemic lockdown
Experiencing better balance of life around work, 54% were able to incorporate more exercise into their daily routine
If they were CEO for a day, 79% would prioritize ensuring effective collaboration and communication in the new world of work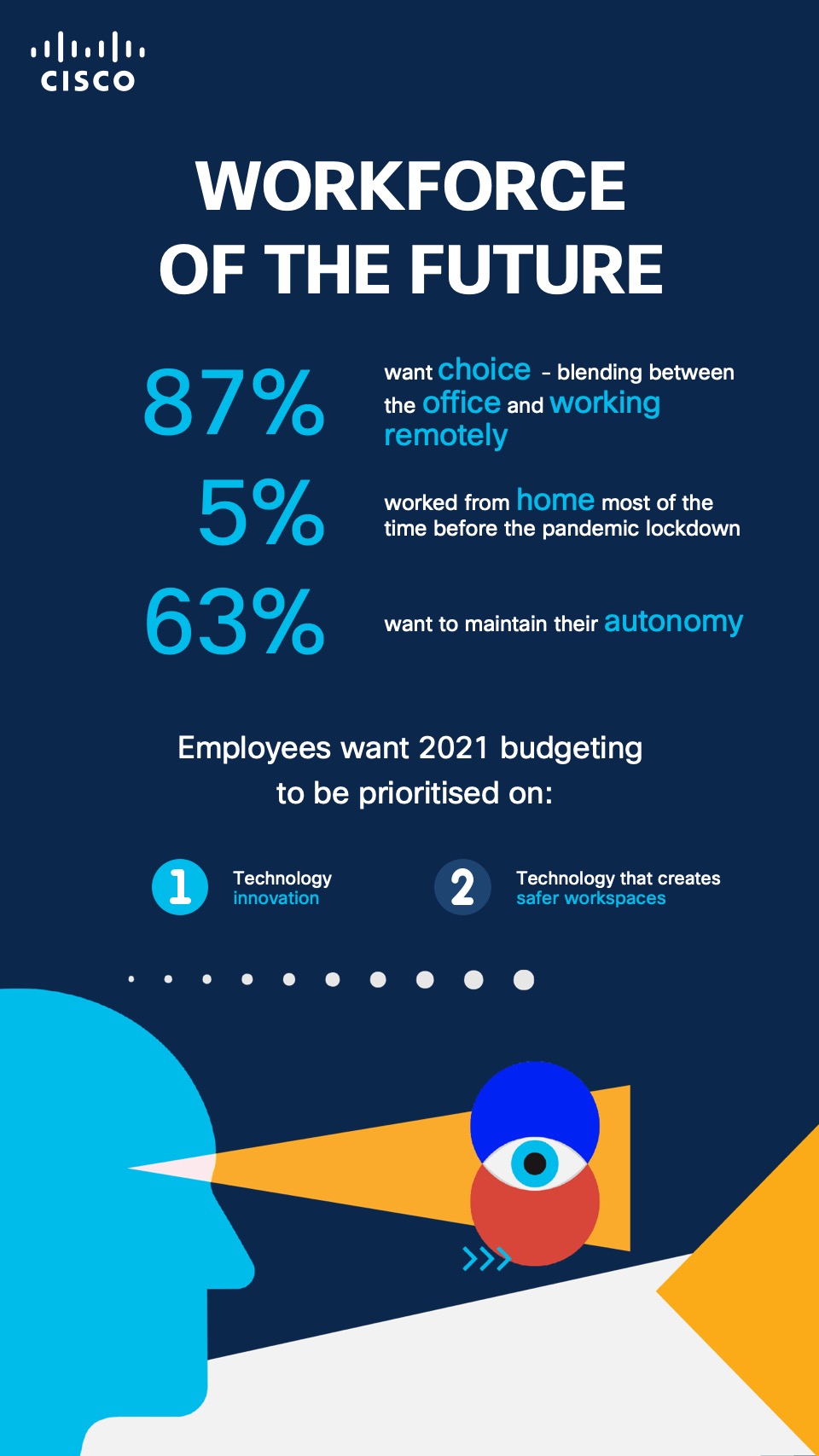 London, United Kingdom, 14 October 2020 – Working from home may have been an adjustment at the start of the pandemic lockdown, but according to Cisco's Workforce of the Future survey, employees want to keep hold of many positives that emerged in our new way of working. Increased autonomy (63%) and working well as a dispersed team (66%) are two main benefits; plus 61% want to keep hold of faster decision-making.
Workforce of the Future, a Cisco commissioned survey of 10,000 respondents across 12 markets in Europe, the Middle East and Russia, asked office-based employees for their expectations of employers from 2021 onwards. Results show that employees see this as a watershed moment, challenging culture norms around the workplace.
Even though only 5% of those surveyed worked from home most of the time before the lockdown, now an overwhelming majority hope to keep this increased autonomy. One size will not fit all, as 87% want greater ownership in defining how and when they use office space – blending between being office-based and working remotely.
Reflecting on the last six months, two thirds (66%) now have a greater appreciation of the benefits and challenges of working from home. Positive changes were afoot, as leaders showed increased trust in their teams to do their jobs well (39%). Employees were able to better balance life around work, with 56% incorporating more exercise into their daily routine. In a similar spirit, 58% want to continue travelling less and use that time more productively.
Commenting on the results, Wendy Mars, President for Europe, the Middle East, Africa and Russia, Cisco said: "The pandemic and the rapid adoption of digital technologies is fundamentally changing the nature of work. We are seeing new patterns emerge; people want choice and flexibility, teams are more distributed and a company's culture is more important than ever. Collaboration technology that uses AI, environmental sensors, and advanced analytics are all critical to empowering employees, keeping teams connected and productive in every location, whilst increasing workplace safety."
Collaboration technologies and digital skills – a solid foundation for business resilience and growth
If given the chance to be CEO for a day, employees would prioritise embedding effective communication and collaboration, above everything else.
For this to happen, 78% of employees believe businesses need to provide the workforce with similar technology at home as in the office. In fact, 65% agree that one of the big positives to come from lockdown is proof that employees don't need to be in the same room to collaborate effectively.
Employees believe the 2021 budget priorities for their business should be investing in the technologies needed for remote work and bringing in technology to make the office a safer space from a health perspective.
Employees of all ages are also calling for upskilling: 76% think more training on technology and digital skills will be fundamental to business success in 2021.
###
About Workforce of the Future
Cisco commissioned Censuswide to survey 10,095 workers who have been working from home for 10 consecutive days or more, in 12 countries, since the start of lockdown. These countries are the UK, France, Germany, Spain, Italy, Poland, Russia, the UAE, Switzerland, Netherlands, Belgium and Luxembourg. The survey included workers in businesses from 2 to 500+ employees across a number of sectors. The survey was carried out between 11th – 25th August 2020.
About Cisco
Cisco (NASDAQ: CSCO) is the worldwide leader in technology that powers the Internet. Cisco inspires new possibilities by reimagining your applications, securing your data, transforming your infrastructure, and empowering your teams for a global and inclusive future. Discover more on The Network and follow us on Twitter at @Cisco
Cisco and the Cisco logo are trademarks or registered trademarks of Cisco and/or its affiliates in the U.S. and other countries. A listing of Cisco's trademarks can be found at www.cisco.com/go/trademarks. Third-party trademarks mentioned are the property of their respective owners. The use of the word partner does not imply a partnership relationship between Cisco and any other company.INFOGRAPHIC-Workforce-of-the-Future.pdf