By Angelo Fienga, Technical Architect, Collaboration Solutions
In these unprecedented times, Webex, and other videoconferencing solutions, have stepped to the fore, allowing many workers to 'go remote' – often for the first time. Cisco has recently seen a significant rise in the number of WebEx users, and it's clear that WebEx is providing a fantastic solution for the needs of many workers and businesses.
Of course, for many people, there's a learning curve: Not everyone will be used to working from home. We've published several blogs looking at how home workers can avoid distraction, maintain their work/life balance, and ensure good health and diet.
But what if you have issues with the technology in your home when trying to videoconference?
Whether you're a Webex veteran, or using it for the first time, here are a few handy tech tips to help you enjoy the best Webex experience at home.
Opening Webex – get your settings right
Using the Webex application will usually offer the fastest and best-optimised experience. You can download the WebEx app from cs.co/get-webex-meetings, or via the iOS or Android stores. Upon installation you can easily set up meetings directly from the WebEx app, or by sending a meeting link in a Calendar invite.
When you open WebEx for a meeting you may find that the app has switched to default audio settings (such as the computer's built-in microphone or speakers). First ensure that any desired audio peripherals such as headsets are properly connected, (for example, checking Bluetooth connectivity via your system settings). When you open WebEx, check in the audio settings that the audio output and microphone are correctly selected.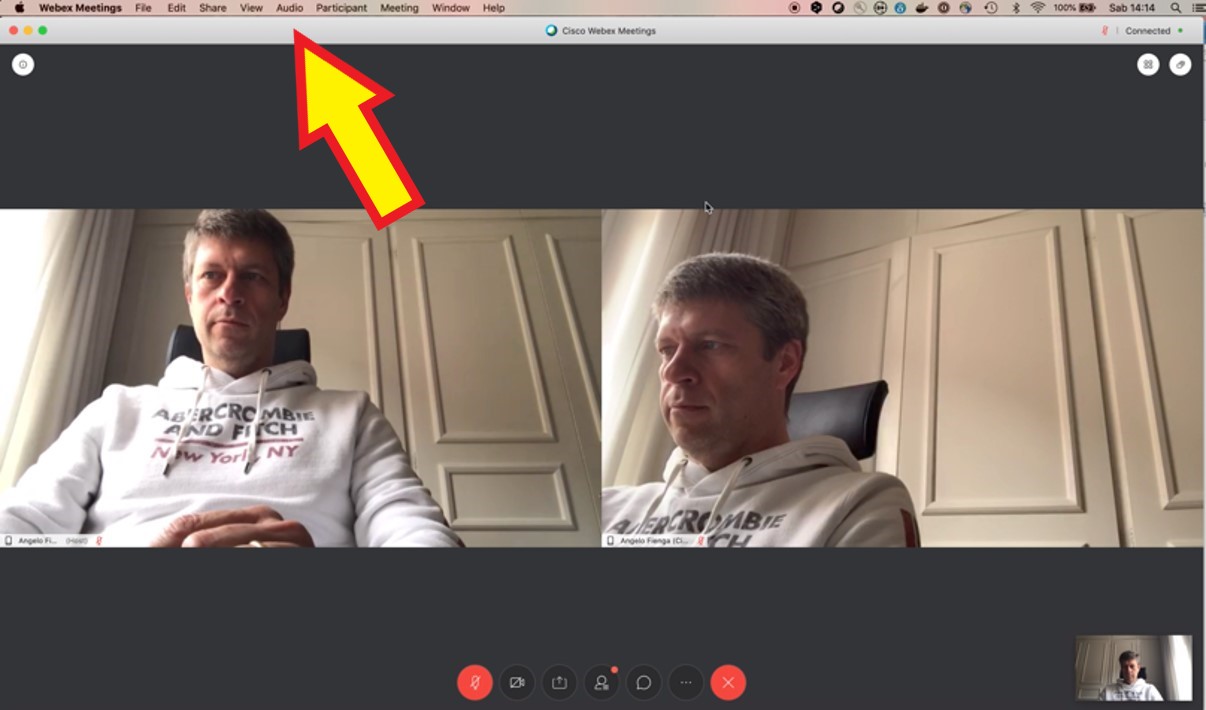 Has your computer got the resources it needs?
Many applications and background processes on your computer can chew up CPU or bandwidth resources, or 'lock' you out of elements of the computer that you need, such as the camera. To ensure the optimum experience in bandwidth-limited environments we would recommend shutting down mail clients, automatic backup services, automatic software updates, and other unnecessary processes where possible.
It's also an idea to check the strength of your Wi-Fi signal, as a weak signal can affect video quality. If you are experiencing low signal strength you can either bring your PC/Mac close to the hub, invest in a better hub, or connect your computer via a network cable.
Are the devices in the rest of your house slowing your connection?
Smartphones and tablets are so much a part of our lives that we almost don't think about the fact that they are 'connected elements'. Phones and tablets, however, often have frequent data synchronisation or backup services running. Anyone browsing social networks or sending heavy attachments could also be taking bandwidth away from your meeting.
Also, think about the bandwidth the rest of your 'connected home' might be using. Are other members of your family trying to videoconference, stream movies, or play online games? Do you have Smart Home devices, such as remote surveillance or remote backup solutions running? Any of these can be a serious drain on your finite bandwidth. Consider investigating whether any of these can be put on pause for the duration of important meetings.
A few extra pro tips
If you continue to experience any bandwidth issues, there are a number of additional tech 'quick fixes' you can try to optimise your experience.
If you continue to experience bandwidth issues, simply turn video off. This will reduce bandwidth use enormously.
WebEx doesn't actually require a VPN to work. It's possible that your VPN may not be configured for the needs of videoconferencing traffic. If you experience bandwidth issues, you can try turning any VPNs off for the duration of your meeting (though bear in mind you may need a VPN to access other company resources as part of your organisation's policies)
If you continue to experience issues (for example, maybe the internet connection to your house is faulty), did you know you can actually dial into a webex using an ordinary phone? And that WebEx can call you back on any number you state? Learn more at cs.co/dial-in.
Similarly, if you need to screen share, but you have a problem with your connection, consider sharing content before the call.
At any time you can select help Health Center / Audio & Video Statistics to see real-time information about WebEx's features and resources. You can also check status.webex.com for an updated status of the service (though this does not identify any problems on your own network).