It doesn't seem like long ago that IT was viewed as little more than a cost centre – the department that merely enabled and maintained the systems that power wider business strategies. Thankfully, today, with the near-total digitization of business processes, most organisations recognise the central role of IT, defining and driving Digital Transformation initiatives.
However, as I recently pointed out during a talk at Gartner's IT Symposium/Xpo in Barcelona, a bridge is required between the skills and language of IT and the needs of the business. And not every IT department is perfectly positioned and governed to play this new, expanded role to build a bridge between their existing team and execution of a successful Digital Transformation program.
That's exactly the mission that the department in EMEAR that I head up, Cisco's Business Architecture Centre of Excellence, was set up to address.
The Digital Era requires the IT Department to transform
The figure below shows some of typical areas that the IT departments we interact with want to evolve in order to drive the Digital Agenda of their organisation.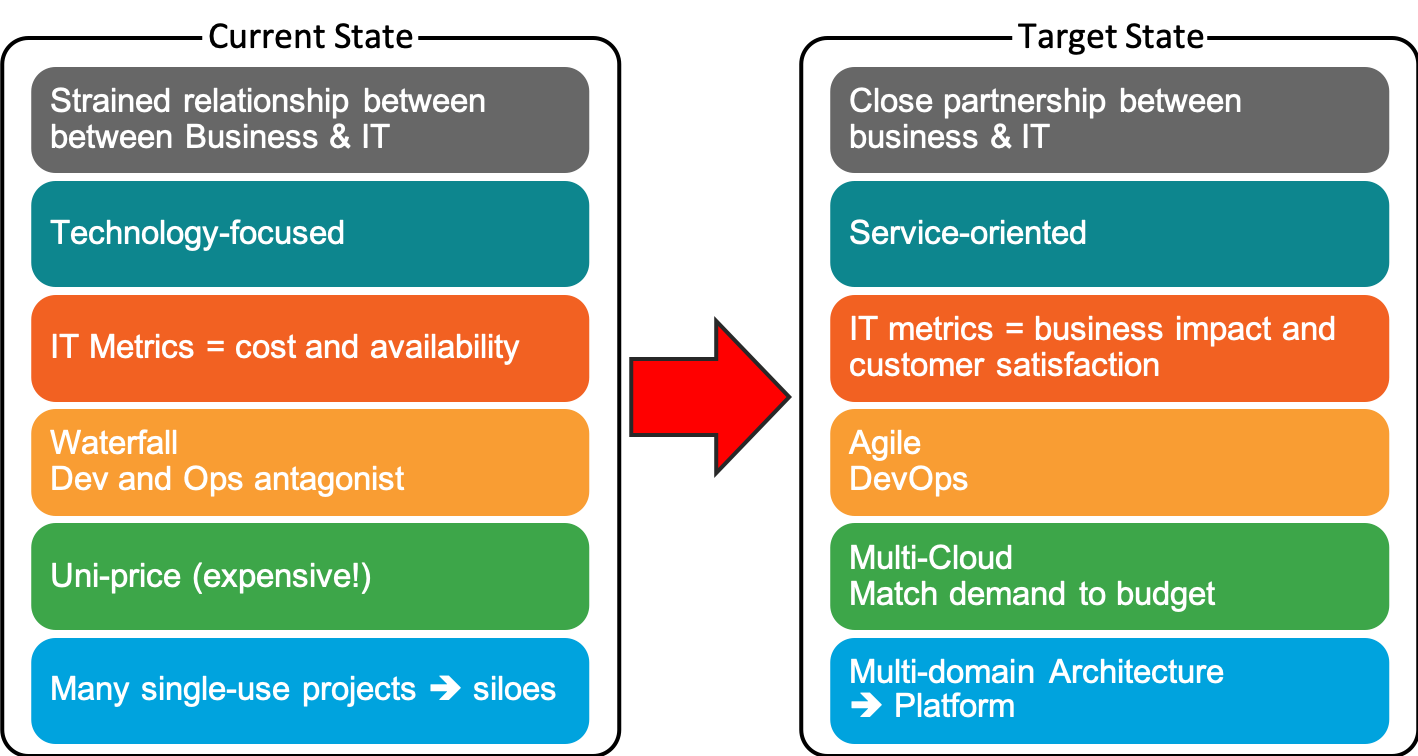 There are many challenges to address: How can the organization develop a trusted relationship between business and IT? Which operating model will bring the most agility to the Lines of Business (LoB), and provide the best return on investment? How can IT become an effective broker for the rest of the organization, and how to shift the mentality from "running stable technology" to "driving business innovation"? Which ground-breaking technologies will become the key vectors of innovation?
Success, in answering these questions, relies on IT's ability to address all the moving parts in a holistic and agile manner.
Where should an organization begin?
We begin this journey with our customers through a simple one-page strategy, which we call a "Digital Journey Dashboard". Such a dashboard can provide a clear benchmark on where you stand today in your digital transformation journey. This is the stage at which an organization can also start to define its Business Innovation Sprints (BIS) – periods of intense activity focused on a specific goal – that will deliver maximum business impact in the months to come. Such documents make it easier for an organization to explain how and why IT is strategic to the future success of the organization. Most excitingly, such a document can open access to new resources, and allow IT to tap into the budgets allocated to Digital Transformation initiatives.
There are a few key things to define as part of this process: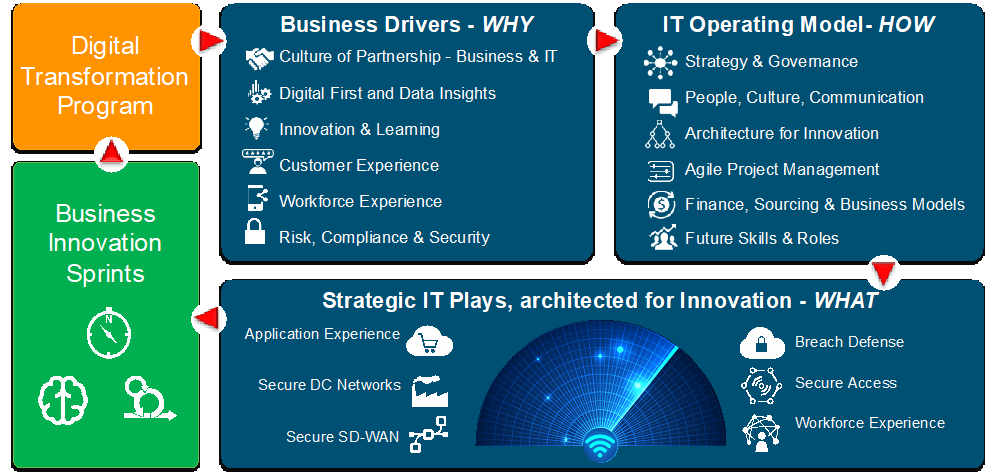 Defining your business drivers (The 'WHY?'): An organization needs to spell out its key business drivers and identify the most impactful initiatives to realize its objectives. Here is where you answer the question: What does "Digital Transformation" mean for YOU?
Defining an appropriate IT Operating Model (The 'HOW?'). Here is where you examine how IT is (or should be) organized, and how success is (or should be) measured. From this point, the organization (and its consulting partners or vendors) can propose concrete suggestions to maximize the value of IT to the business, with a range of actions necessary to deliver IT agility, flexibility, security and cost-effectiveness.
Defining strategic IT Plays, architected to drive innovation (the 'WHAT?'): This is where we build the platform that will accelerate your business innovation. Rather than purchasing individual solutions that you're left to integrate, the better approach is to look at which "Strategic IT Plays" will bring most benefits, for example: Secure Access, Secure SD-WAN, Secure DC Networks, Breach Defence, Workforce Experience, Application Experience.
In my experience, any digital transformation program that doesn't address these 3 pillars – both holistically AND in an agile way – will fail, resulting in a waste of time, energy and resources.
From the Big Picture to the Business Solution
Once an organization understands the WHY, HOW and WHAT, it can embark on a period of intense focus on how it will address specific needs – the aforementioned "Business Innovation Sprint": at Cisco, this takes the form of a 1.5-day workshop based on Design Thinking techniques. Here, cross-functional teams (Business & IT) can understand user challenges throughout their journey, redefine the root problems and identify new solutions and processes that were not initially apparent. The result is a pilot, which can then be brought to production.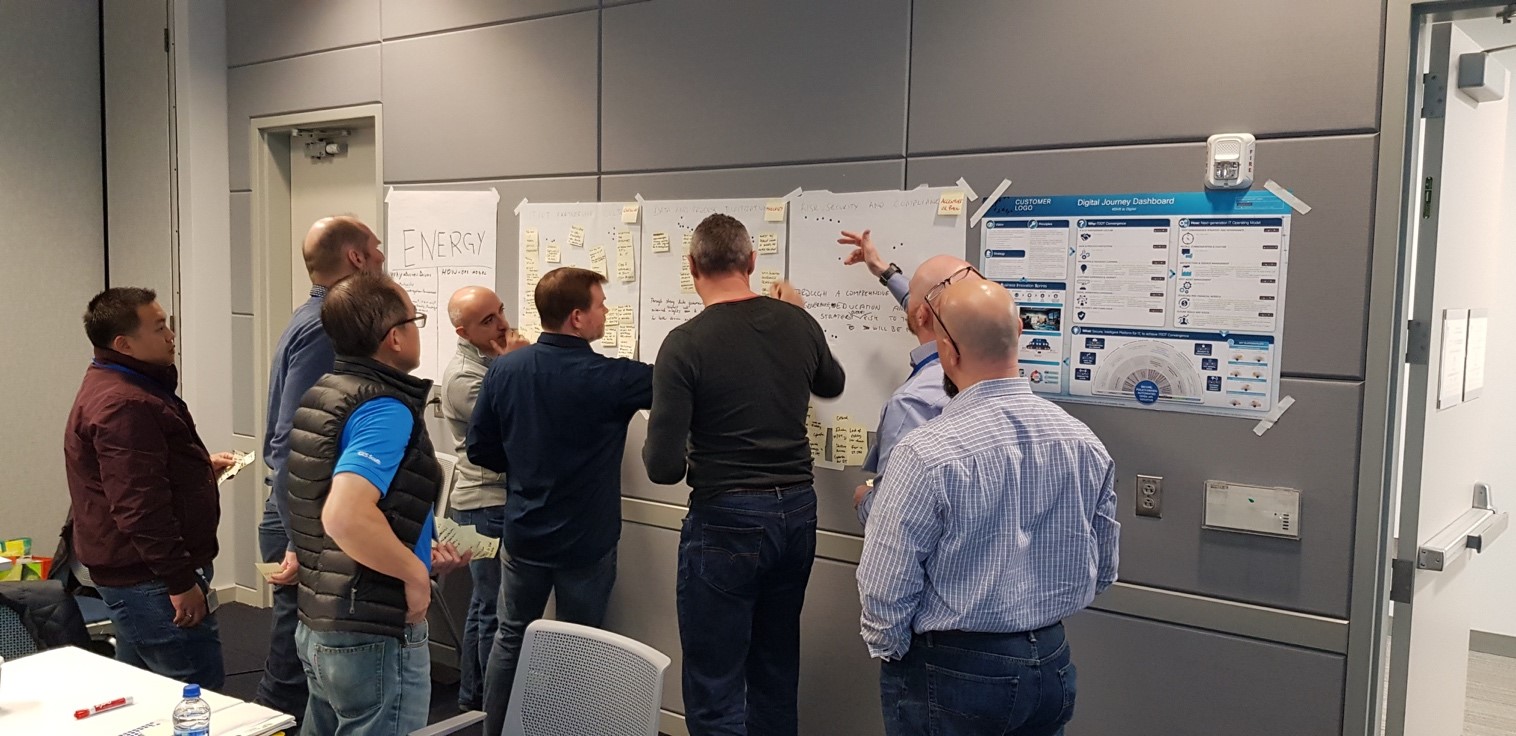 This is a highly involved process, which requires real expertise. There's no quick 'cheat sheet' for any organization looking to successfully define its Digital Transformation needs and begin the journey to fulfilling them. But I'll finish off with what I regard as the elements you need for such a program to be successful:
Engage with a capable and trusted partner that understands business process and technology, and which can build a bridge between IT and the wider business stakeholders. You'll almost certainly need their expertise in order to transform successfully.
Ensure all stakeholders are involved from the start, so their wants and needs are addressed, and they are 'bought in' completely.
The process should be interactive, high-energy, creative and leverage powerful visual communication of objectives and outcomes. This will help you expose the untold/unseen in your organization.
Keep everything agile: proceed quickly through continuous iteration. Fail fast, and if you don't like it, change course quickly.
Above all, keep it practical. Everything should be focused on implementable programmes and outcomes. Think 'Practice over Theory'.
If you would like to learn more about Cisco's Business Architecture Centre of Excellence, or engage with our team, you can email Patrick Bikar.