It's no secret that networks are currently undergoing a vast, transformational shift. There are a number of reasons behind this – applications moving to a multicloud environment, for example, and the explosion of different types of devices being accessed from everywhere, especially in IoT. It's never been more important for IT and networking professionals to have an accurate picture of the lie of the land – where networking is today, and where it's going.
These are the topics Cisco explores in its inaugural Networking Trends report, released last week, which examines the state of the evolution of enterprise networking across the world. This report brings together research from across Cisco, from its leaders, fellows, and engineers, and includes insights from the Global Networking Trends Survey of over 2000 IT leaders and network strategists worldwide.
A strong appetite for AI, automation, and IBN
Looking at the European cut of the survey (i.e. the 520 respondents across The UK, France and Germany) it is clear that there is a strong appetite for both AI and network automation. Nearly a third of these respondents plans to deploy intent-based networks within two years, and nearly two-thirds plan to deploy systems that will help them analyse and remedy network issues using automation and AI. These findings are broadly mirrored at the global level.
It is clear to see why such automation solutions are required. Of these European respondents, 76 percent spend over half their time troubleshooting network issues. This is slightly higher than the global average (73 percent), and points towards the need for further automation of network operations to free up staff for value-add activities. The fact that IT staff spend so much time keeping the lights on will likely be a major factor driving in this appetite for automation.
Considered as a group, those European countries appear to place security slightly higher up the priority ladder than the global average. While across the globe AI in the number one investment priority, followed by security, within Europe the trend is the other way around. IT professionals in UK, France and Germany, on average, place a slightly higher priority on investing in embedded network security capabilities. However, both remain top areas for investment.
"IT teams today are running complex mission critical networks that are increasingly capable of providing rich data. But using that data to improve the operations, security, or business impact of the network requires new tools. That's why IT teams are embracing intent-based networking, AI and machine learning — because the business demands it," said Scott Harrell, SVP and GM, Cisco Enterprise Networking. "AI will help IT break the cycle of maintaining the status quo. By embracing predictive analytics and AI-based operations, IT teams will pivot from being consumed with maintaining the status quo to becoming an enabler of new business innovation.
The European respondent group also appears to be slightly ahead-of-the-curve when it comes to active deployments of SD-WAN, with 62 percent having already deployed it (compared to a global average of 58 percent). And, as is the case in the rest of the world, the vast majority of businesses (93 percent) plan to initiate some form of SD-WAN deployment within the next two years.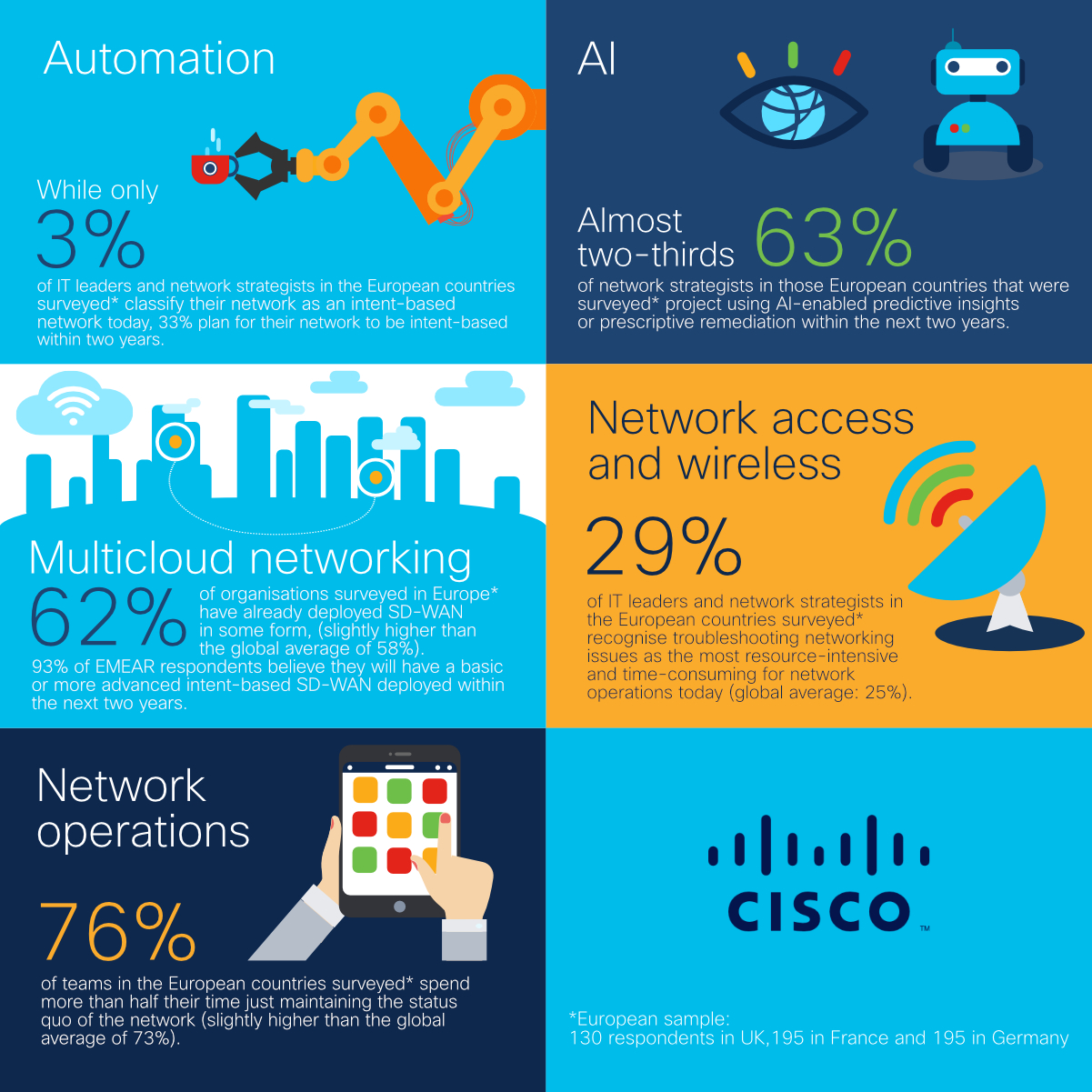 A more comprehensive breakdown of some of the European stats (i.e. UK, France and Germany) can be seen below.
Automation
According to those IT leaders surveyed in Europe*, network automation (40 percent), and IBN (10 percent) are among the technologies that will have the most impact on networking over the next five years.
While only 3 percent of IT leaders and network strategists in the European countries surveyed* classify their network as an intent-based network today, 32 percent plan for their network to be intent-based within two years.
On average, 24 percent of IT leaders across UK, France and Germany identified a siloed design and operational approach across access, WAN, data centre (DC), cloud and security domains as causing an obstacle to their adoption of advanced networking technologies
AI
Almost two-thirds (63 percent) of network strategists in the European countries surveyed* project using AI-enabled predictive insights or prescriptive remediation within the next two years.
Only 19 percent of network strategists in the European countries surveyed* believe a lack of maturity in AI technologies poses an obstacle to network modernization (similar to the global average of 17 percent)
Security
43 percent of network teams (both globally and in Europe) identified improved embedded network security capabilities as a priority.
Multicloud networking
62 percent of organisations surveyed in Europe* have already deployed SD-WAN in some form, (slightly higher than the global average of 58 percent).  93 percent of EMEAR respondents believe they will have a basic or more advanced intent-based SD-WAN deployed within the next two years.
Network access and wireless
29 percent of IT leaders and network strategists in the European countries surveyed* recognise troubleshooting networking issues as the most resource-intensive and time-consuming for network operations today (global average: 25 percent).
19 percent of organisations in the European countries surveyed* provide policy automation and segmentation for reducing the threat surface.
Network operations
76 percent of teams in the European countries surveyed* spend more than half their time just maintaining the status quo of the network (slightly higher than the global average of 73 percent)
IT leaders in the European countries surveyed* would prioritise their network teams' resources to focus on
1. Collaborating with lines of business (38 percent)
2. Better protecting the network, applications and data (35 percent)
3. Integrated multi-domain policy enforcement (30 percent)
More than a third of IT leaders in the European countries surveyed* prioritised the importance of achieving better network co-ordination and integration with other IT teams and lines of business.
27 percent of IT leaders in the European countries surveyed* identified the lack of necessary skills as a main obstacle to transitioning to an advanced network.
The full report has a vast amount of additional insight at a global level – including attitudes and guidance regarding the networking skills landscape, 5G, IoT, and more. Click here to download the complete Cisco 2020 Global Networking Trends Report.
Additional Resources
---
The European sample consists of 130 respondents in UK, 195 in France and 195 in Germany