As European Cybersecurity Month progresses we continue our roundup of Cisco's recent news and opinions in the security realm.
First-off, proving you're never to young to start thinking about safe online browsing, Cisco has helped a group of schoolchildren at GITEX in Dubai understand some of the potential perils and pitfalls of online activity, and how to avoid them. [This reading was held in the show booth where Cisco simultaneously unveiled its Classroom of the Future technology, designed to boost co-creation and collaboration between students, teachers and parents…]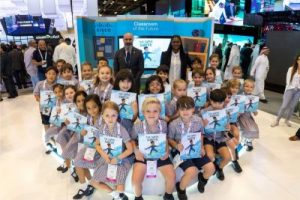 Students Encouraged to Surf Safely with Cisco at GITE
Press release
Cisco hosted a group of schoolchildren in a fun and informative reading session as part of the company's efforts to raise awareness among young generations of the safe use of the Internet.
The cybersecurity industry around the world continues to suffer from a shortage of cybersecurity professionals. As a continuation of its wider programme of national investment in Italy, Cisco has unveiled 700 places on a programme that will offer people between the ages of 18 and 35 the opportunity to attend a training course in computer security for free, and potentially pique their interest in a longer-term career in security.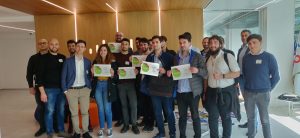 Cisco: another 700 scholarships for young people who want to become cybersecurity experts
Press release (Italian)
Cisco Italy is providing 700 scholarships for Italian individuals to become cybersecurity experts. This is part of the second round of a programme within 'Digitaliani', Cisco's broader investment plan to accelerate digitalisation in Italy.
Also, over on Cisco's European Cybersecurity Awareness Month 2019 microsite, Cisco Talos is showing off its real time threat intelligence map. Here you can see reported and assessed threats as they appear around the world in real-time, and click through to get further data, as well as navigating to potential remediation options. The map also acts as a portal to find out more about Talos, its work and services.
And last but not least, in the US, Wendy Nather, Cisco's Head of Advisory CISOs, Duo, is preparing for the upcoming Gartner IT Symposium by thinking about what it Really means to offer 'continuous' security and protection, and how Cisco can help.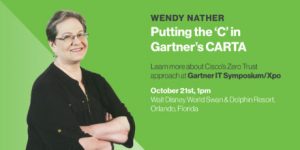 Putting the 'C' in Gartner's CARTA
Wendy Nather, Head of Advisory CISOs, Duo Security
As we get ready for the Gartner IT Symposium/Xpo in Orlando, we've been thinking more about every element and imperative in their CARTA model: Continuous Adaptive Risk and Trust Assessment.
Want to learn more about Cisco's views and offerings? Why not head to one of Cisco's many English-language security resources, including: